Step away from Guangzhou's urban streets to discover its parkland oasis – Yuexiu Park – with an expert private guide. The 4-hour tour shows off the park's highlights, with fascinating explanations of the city's history and legends. Hear tales of the Ming Dynasty at Zhenhai Tower, and then learn about the city's transformation from impoverished state to prosperous city as you stop at the park's Temple Of The Five Immortals. Finish with a walk down bustling Shang Xiajiu Road to learn about the street's Qilou architecture.
Highlights
4-hour Guangzhou walking tour with a private guide
Explore Yuexiu Park and walk around the ruins of the old Ming Dynasty city wall
Pose for photos in front of Zhenhai Tower, and discover the highs and lows of its 2,000-year history
Hear little-known tales about Guangzhou's five-ram legend as you visit the Temple Of The Five Immortals

Stroll down Shang Xiajiu Road in the city's Xi Guan neighborhood and learn about the buildings' Qilou architecture

Enjoy personalized attention from a knowledgeable private guide
What You Can Expect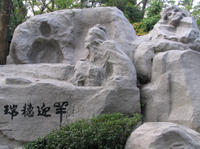 Leave your central Guangzhou hotel by air-conditioned minibus and travel with your private guide to Yuexiu Park, to see some of the city's A-list attractions. As you travel, your guide will talk to you about Guangzhou – its culture, history and, most importantly, its sights.

As Guangzhou's largest downtown park, Yuexiu is a vast site, covering some 213 acres (86 hectares) with three artificial lakes, a mountain, plus countless cultural relics. Knowing the best places to see can be difficult, so let your private guide introduce you to Yuexiu's highlights while exploring on foot.

Pass along the remnants of the old Ming Dynasty city wall, and see Zhenhai Tower – an iconic city landmark. Hear the history of this elegant, 14th-century pagoda, and learn about the Ming Dynasty who ordered the tower to be built -- reputedly to subdue an omen about the new emperor. After been destroyed and rebuilt five times, the tower has become an important city museum, documenting Guangzhou's rich history over 2,000 years. Take a look inside, and learn more about this fascinating city as you explore with your guide.

Another of Yuexiu's star attractions is the Temple Of The Five Immortals – an emblemic Guangzhou monument – so pose for pictures by it as you guide explains its significance. Hear of the 2,000-year-old five-ram legend, when five immortals in bright robes rode to the impoverished city on goats, and fed the locals with rice. After giving their blessing, the immortals left, but their goats stayed behind and swiftly turned into stone. Guangzhou then turned from a dwelling of poverty and famine into an affluent city – a fact that remains true to this day.

Stroll out of Yuexiu Park, and finish your tour with a walk down Shang Xiajiu Road in Guangzhou's Xi Guan area. Admire the Cantonese-style architecture of the buildings that line the streets, and soak up the buzzing energy of modern-day Guangzhou on this historical street.

Return to your minibus and then finish your tour at the start point.
December 2014
great to tour the parks and walk around. my guide spoke good english and was
at the hotel on time. she was very gracious. thanks for this tour.
November 2014
January 2015
The booking was easy, we contacted the tour operator to make sure everything was confirmed. While booking I had provided the hotel address and paid the full price for the tour. The guide was supposed to come to the hotel but upon confirmation we were told that we need to meet the guide at a different location and they will charge us an addition 900 Yuan to get picked up from the hotel. Since we did not speak the language we had no option but to accept. This sort of rip off is a standard in China and Hong Kong. We had the same experience on the Hong Kong tour.
Otherwise, the tour was excellent and our guide was really good. If not for this pick up issue, I would have given it a 5 star.
Advertisement
Advertisement