Escape from Guatemala City for a 5-day journey through rural Guatemala, including accommodation and round-trip coach transport. Explore the UNESCO-listed colonial city of Antigua with a 3-hour sightseeing tour; practice your haggling skills at Chichicastenango's lively market; and admire the glorious volcanic backdrop of lakeside Panajachel. Keep your camera close by as you cruise along the serene Lake Atitlán and experience Tzutujil Mayan culture in colorful Santiago Atitlán.
Highlights
5-day tour of Guatemalan towns from Guatemala City
Take a guided walking tour in the colonial city of Antigua
Visit Chichicastenango's bustling open-air market
Enjoy the scenic tranquility of Lake Atitlán and its surrounding volcanoes on a boat ride
Soak in the colorful atmosphere of Santiago Atitlán, an indigenous village
Learn about the Spanish and Mayan influence on local customs

Recent Photos of This Tour
5-Day Tour from Guatemala City: Antigua, Chichicastenango, Panajachel and Santiago Atitlán
What You Can Expect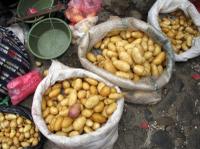 Immerse yourself in Guatemala's landscape, culture and history during this 5-day journey. Four nights' lodging, transportation between all locations and some meals are included. See Itinerary section for details.
Itinerary
Day 1: Guatemala City – Antigua When you arrive in Guatemala City, your guide will greet you at La Aurora International Airport (GUA) or the bus station and transfer you to your hotel in Antigua. This charming colonial city once served as the heart of Central American economics, politics and religion and has been named a UNESCO World Heritage Site. Here, you can relax for the rest of the day and prepare for the exciting trip ahead!
Overnight: Soleil Antigua in Antigua or similar

Day 2: Antigua (B)After a hearty breakfast at your hotel, embark on a half-day walking tour of Antigua with your group. Your guide will take you to see the top attractions of the city, referred to as Antigua Guatemala (Old Guatemala City) after earthquakes destroyed many of its buildings in 1773.
Your 3-hour expedition takes you to Parque Central (Central Park), where churches and government buildings surround the city's main square. You'll find benches shaded by leafy trees, in the center of which stands the Fountain of the Sirens – a 1936 copy of the 18th-century original. Here, watch the square come to life with shoeshine boys, musicians and vendors.
Visit the tall, whitewashed main cathedral that dominates one side of the square; your guide will show you the section that was rebuilt from the rubble. See the Palacio del Ayuntamiento, which houses the city's municipal offices and museums, such as the Museo de Armas de Santiago and the Museo del Libro Antiguo (Antique Book Museum).
The Palacio de los Capitanes Generales stands opposite, near the arcade of cafés, banks and shops known as the Portal del Comercio, where you can browse for brightly colored textiles.
Finally, visit the Baroque-style La Merced Church to see Antigua's largest fountain, Nuestra Señora de la Merced, as well as the imposing San Francisco el Grande church. Returning to your hotel in the afternoon, you're free to purchase lunch and do as you'd like for the rest of the day.
Overnight: Soleil Antigua in Antigua or similar

Day 3: Antigua – Panajachel (B)In the morning, after breakfast, depart with your group for Chichicastenango, also known as Santo Tomás Chichicastenango. This pre-Hispanic town of cobblestone streets and red-tiled rooftops, situated in the mountains of Quiche above 5,000 feet (1,500 meters), is renowned throughout the Americas for its picturesque outdoor market.
Visit on a Thursday or Sunday to see the K'iche' Maya and people of other dialects from the surrounding region gather. Your guide will help you navigate the market, where vendors sell everything from produce, grains and animals to colorful flowers, textiles and handicrafts.
Next, visit the adjacent Santo Tomás Church, where shamans have burned incense and candles in their rituals for 400 years. Walk up the 18 stairs that lead to the church, each signifying a month on the Mayan calendar, and learn about the combination of pre-Christian and Catholic beliefs and ceremonies of the Masheños (people of Chichicastenango).
After your guided tour, continue to the town of Panajachel on Lake Atitlán (Lago de Atitlán), one of most beautiful places in the world! Isolated in the Guatemalan highlands, you'll catch breathtaking views of three surrounding volcanoes. Get settled in at your accommodation and enjoy your free evening to do as you wish.
Overnight: Porta Lago in Panajachel or similar

Day 4: Panajachel – Guatemala City (B)Arise for breakfast with your group, and then take a scenic boat ride across Lake Atitlán to the indigenous village of Santiago Atitlán. On an inlet just south of Panajachel, Santiago lies between the Tolimán and San Pedro volcanoes.
Have lunch at a local hotel and then tour the village with your guide. Admire the huipiles (tunics) that women weave and embroider with colored birds and flowers. You'll pay an interesting visit to Maximón – a mixture of Mayan deity and Catholic saint. The wooden statue is paraded through town during Semana Santa and resides in a local family's house the rest of the year, receiving offerings.
After returning to Panajachel, you'll head back to Guatemala City for the evening.
Overnight: Tikal Futura in Guatemala City or similar

Day 5: Guatemala City (B)At your hotel, dine on breakfast and then get ready for drop-off at the airport for your return flight.

Please note that the itinerary may vary depending on your arrival time and date
June 2015
This tour was amazing!! I was impressed with every detail. Everyone was early, the tour guides were personable and knowledgable and went out of their way to provide a great experience, and the hotels were beautiful!! I would highly recommend this to everyone!! Guatemala was beautiful.
August 2014
This tour was excellent and exceeded our expectations. Guatemala was a wonderful place to visit and we reccomend it to all for a Latin American destination. The transportation, guides and hotels were all very good. We were met at the airport by a driver and he was easy to find with a clear sign. The hotels were all top class with excellent breakfasts. The tour schedule fit our needs precisely as we only had a short time to visit and we needed to be in Antigua for certain nights to attend a family function. Based on this experience, I would highly reccomend this tour and would use Viator for future bookings.

June 2014
This is one of the best tours we've been on. During the booking process, Victor from the tour company took his time to answer all our questions, concerns and help us customize our tour to include Pacaya Volcano and Hot springs which wasn't part of the original itinerary. He also help us maximize our day in Antigua by upgrading the walking tour into a full day tour so we can also visit all the towns around Antigua.
All the hotels are nice and comfortable. Porta Del Lago offers amazing view from the room and Tikal Futura in Guatemala City is also a nice hotel, it connects to a mall so we were able to go inside an elevator, go up 2 floors and enter the mall, hang out with locals and try out at the famous Pollo Campero.
The tour guides are friendly and informative, speak perfect English. Driver is great also. The level of service throughout the tour is all you can ask for.
We had a great time. The food in Guatemala is delicious, the people are friendly and the scenery is beautiful. Highly recommend.
April 2015
Advertisement
Advertisement