Discover the beauty of the ancient ruins of Copan and Quirigua on this overnight trip from Guatemala City! After a scenic drive in a comfortable vehicle, spend your first day at Copan in Honduras to explore its archaeological Mayan site. On your second day, venture to Quirigua, known for the tallest stela in the Mayan world. Learn from your expert guide about the significance and importance of these UNESCO World Heritage-listed archeological sites. Hotel accommodation, breakfast and hotel pickup and drop-off are all included!
Highlights
Copan and Quirigua overnight trip from Guatemala City
Explore the UNESCO World Heritage sites of Copan and Quirigua with your expert guide
Learn about the fascinating history of each archeological site
1 night of accommodation, breakfast and all entrance fees included
What You Can Expect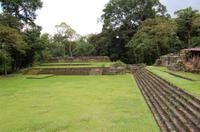 Day 1:
Leave Guatemala City behind and spend two days exploring Copan and Quirigua on this overnight tour! After pickup from your Guatemala City hotel, head to Copan in Honduras to begin your adventure.

Located only 37 miles (60 km) from the Guatemala border, the ancient UNESCO World Heritage-listed city of Copan is considered a remarkable example of Mayan pre-Colombian culture. Follow your guide as you explore the huge complex here, consisting of several plazas and ceremonial temples. Admire the impressive detailed carvings on the more than 4,000 structures on site.

Then, head to the north side of the complex to visit the Great Plaza before seeing Copan's most famous monument, Altar Q. This intricate structure depicts all of the city's 16 kings in succession. Enjoy lunch (own expense) in Copan before enjoying free time to explore at your leisure for the rest of the day.

Day 2:
After breakfast on your second day, head out to the UNESCO World Heritage-listed Mayan site, Quirigua, located approximately 31 miles (50 km) outside of Copan. Quirigua is known for the Mayan world's tallest stela. Visit Gran Plaza and admire the intricately carved stelae -- carved stone slabs or pillars used for commemoration -- and spot the tallest one, which rises as high as 32 feet (10 meters).
Enjoy lunch in Quirigua (own expense) before heading back to Guatemala City.
February 2014
This was a wonderful trip, there were just two of us and our guide Mirko who was very knowledgable. The Copan ruins are great we had a guide called Gladys who explained what the various buildings and carvings represented, and the history of the city and the kings. The temple is very large as it has been built over many times the ball court is interesting as you can imagine the games taking place.There is a staircase covered in a tarpaulin but it is possible to see the glyphs carved into the risers .The marina hotel in Copan was lovely with pretty gardens our room had a terrace at the rear which was full of plants and flowers there is a pool, the breakfast was a very nice buffet. We also had supper in the hotel.the hotel is in the middle of the town. The trip to Quiriga was interesting there are many stellae which are in their oroginal places the space is very big , not all the buildings have been un earthed due to the trees growing in themThe museum is small but quite interestingand jade shop were good.there is a lot of driving involved, but I would recommend this tour. Crossing the border was easy there is a tax at both borders, and you get your passport stamped in Honduras, when you return it is straight through.
June 2013
Very very nice trip, excellent guide, was everytime looking about us.
February 2013
Our van did not have air conditioning and it was many hours spent in the van on days where the temperature reached 90+ degrees. Needless to say this made us tired and cranky. Copan and Quirigua were great sights. The hotel was excellent.We didn't get lunch until 3pm on the second day.
Advertisement
Advertisement