Take a day trip from Guatemala City to see Guatemala's most active volcanoes! Get an up-close look at the impressive Pacaya Volcano as you hike through volcanic vegetation with your expert guide. Admire the incredible Guatemala landscape and take in gorgeous views of three other nearby volcanoes: Agua, Fuego and Acatenango. This full-day adventure is one you won't forget!
Highlights
Full-day adventure to the Pacaya Volcano from Guatemala City
Hike to the top of Pacaya with your expert guide and admire close-up views of the active volcano

Admire picturesque views of the Fuego, Agua and Acatenango volcanoes
Complimentary hotel pickup and drop-off

Recent Photos of This Tour
Pacaya Volcano Day Trip from Guatemala City
What You Can Expect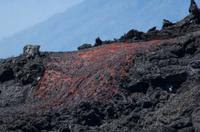 Enjoy a full-day trip to the Pacaya Volcano from Guatemala City and discover the beauty of this natural gem! Towering over 8,000 feet (2,438 meters) above sea level, Pacaya is considered Guatemala's most active volcano.

After pickup from your Guatemala City hotel, head southeast about 15 miles (25 km) to the base of Pacaya, where you'll embark on a 2.5-hour hike up the volcano with your expert guide. Enjoy a mild walk to a viewing spot at the lagoon of Calderas and take in panoramic views of the Agua, Fuego and Acatenango volcanoes. As you continue hiking toward the top, learn about the history of this active volcano and spot unique volcanic vegetation along the way.

Once you arrive at a plateau along the trail, marvel at spectacular views of the Guatemala landscape and see the main crater of the volcano. To ensure your safety, you won't be able to visit the crater, but you will get an amazing view of red-hot lava flowing and steam baths created by the heat of Pacaya.

Take a break and relax here as you take in more scenic views before hiking back to the base of the volcano.
June 2015
This was an incredible trip. The hike is challenging if you're not in shape, but it's doable. And the views are simply amazing. This one is well worth your time.
February 2015
Great hike. It is not easy but well worth the effort.
September 2014
Very professional and for Volcano enthusiasts it a must see! Hike is a little challenging in the beginning but if you power through no need for the horse(Even though you get asked a million times to take the horse!). I love that the tours are so professional in every country conducted by partners of Viator. Winston was a treat and he was on time to pick us up and get us back safely! Highly recommended!
April 2013
Short version: Incredible trip with breathtaking scenery and even better hospitality from driver and guide. Out of shape travelers NOT encouraged!
Long Version: Let me start this off by saying my wife is a native Spanish speaker and it went a LONG way in Guatemala as a whole since tourism is slowly coming back after decades of civil war. That aside, this was truly an experience unlike anything my wife and I have every done before. We were picked up right at our hotel at 7:30AM after breakfast. The driver, Henry, was INCREDIBLY nice and hospitable(we actually used him again the next day to set up a private cab to Antigua). Upon getting there, we were introduced to our guide who would take us up the mountain. The only slightly annoying part was right in the beginning as they try to convince you to rent a walking stick or take a horse up the mountain, but this is expected in tourist areas. After respectfully declining (about a dozen times!), we were off on our adventure. As we went up the mountain we would stop frequently to take in wild life and learn the different uses of the local plants by the natives to cure anything from headaches and stomachaches to wiping the sweat from your brow! As we reached the peak of our ascent, we stopped at a place called the oven. It was basically just two rocks jutting out and inside the rocks were temps of over 400 degrees! Our guide had gotten us sticks so we could roast marshmallows from the heat. It was a tasty treat and good half way point before the descent. The descent was a little hairy as the ground is not really set due to the activity of the volcano. Just go slow and you will be fine! When we got to the bottom of the mountain we got back in the van with Henry and were dropped off back at our hotel by early afternoon with plenty of time before dinner to shower off the adventure. Awesome trip and a MUST if you are visiting Guatemala!
March 2013
This was a great trip! Our driver and guide were both fantastic resources. The hike was amazing, walking through different ecosystems as we ascended and finally ending up in the baran wasteland where lava had flowed just two years before. A great way to spend a day!
Advertisement
Advertisement