Discover the Mayan ruins of Tikal and Yaxha on this overnight tour from Guatemala City! Head to the jungle of Guatemala on this 2-day adventure and admire the temples in the UNESCO World Heritage-listed Tikal National Park. Spend the night Tikal or Flores before visiting Yaxha, a large classic Mayan ceremonial site overlooking the Yaxha and Sacnab lakes. With breakfast, lunch and round-trip airfare to and from Guatemala City included, this is the perfect way to discover the great Mayan ruin sites of Guatemala!
Highlights
Tikal and Yaxha overnight trip from Guatemala City
Explore the beautiful Mayan ruin sites of Tikal and Yaxha with your expert guide
Discover the UNESCO World Heritage-listed Tikal National Park
Spot native wildlife as you venture into the Guatemalan jungle

1 night of accommodation, breakfast, lunch and round-trip airfare included

Complimentary hotel pickup and drop-off
Recent Photos of This Tour
What You Can Expect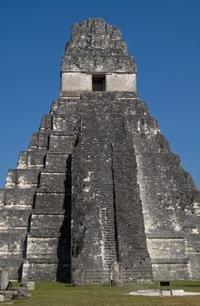 Day 1:
Visit the Mayan ancient ruins of Tikal and Yaxha on this 2-day trip from Guatemala City! After early-morning pickup from your hotel, head to the Guatemala City airport, hop on a small plane, and set off toward the northern Guatemalan town of Flores. When you arrive, head straight to the UNESCO World Heritage-listed Tikal National Park (Parque Nacional Tikal) to begin your adventure!

Covering more than 341 square miles (550 sq km), Tikal National Park is home to thousands of separate ruin structures. Visit the central area of the once great Mayan city with your expert guide and explore various parts of the park, including visit the Central Acropolis, consisting of a maze of courtyards, rooms and temples.

Visit Complex Q and R, featuring twin-pyramid complexes fronted by altars, and tour Temple I, the Temple of the Grand Jaguar. Built to honor and bury King Moon Double Comb, this 144-foot (44-meter) temple is a small enclosure of three rooms with exterior stairs leading to the top of the steep temple. Near here, visit the equally beautiful Temple II, also known as the Temple of the Masks.
After exploring Tikal, enjoy a delicious lunch before heading to your hotel, where you can explore the city at your leisure.

Overnight: Camino Real Tikal

Day 2:
Enjoy complimentary breakfast at your hotel before heading southeast to Yaxha, a Mayan archeological site. Take in the scenic jungle landscape of this unique area overlooking the Yaxha and Sacnab lakes as you follow your knowledgeable guide around Yaxha.
Learn about the history of this ceremonial Mayan site, which features more than 500 ancient structures, and spend time visiting different sections of the site, including pyramid temples, ball courts and elevated plazas. After this incredible historical tour, enjoy lunch before beginning your journey back to Guatemala City.
November 2015
Excellent trip, you get picked up at your hotel, move to the airport, at landing they are waiting for you to take you to Yaxha or Tikal, good lunches, the tour guys are kind and they know a lot about mayan civilization.
They take you to your hotel on Peten in the afternoon with enough time for a drink, pool, beach walk or whatever other activity you want to do yourself.
DINNER IS NOT INCLUDED, I thought it was, i was surprised it was not, i guess i read wrong.
The order of the places you visit can change and the will tell you al pick up time, we booked Tikal first but we went Yaxha first, not big deal.
You return to Guatemala City around 7:30pm.
Tour guys physical and by phone are very open and always willing to help and answer questions.
We had a lot of fun, highly recommended!
July 2015
All the pickups went without delay. The guide was knowledgeable and a terrific guy. Well worth the money.
Advertisement
Advertisement