30 Reviews
Location:

Guilin, China

Duration:

8-10 hrs
Take a day trip from Guilin along the impressionable Li River, twisting and turning through lush Chinese landscape that will have you 'snap happy' with the camera for the majority of the sightseeing tour! After some local, fresh catches for lunch on the way to Yangshuo, you will have the opportunity to indulge in a bit of shopping and maybe pick up some real bargains in pearl and jade, or fine Chinese paintings.
Highlights
Cruise along the impressionable lush green rock formations of the Li River
Enjoy Lunch onboard, local favorites and fresh catches from the Li River
Stroll through the colorful bustling markets and local street vendors from the ancient town of Yangshuo
Pickup some real bargains in pearl, jade or fine Chinese paintings
Bus journey back from Yangshuo to Guilin
Hotel pickup and drop off
Informative and friendly guide

Recent Photos of This Tour
Li River Cruise Full Day Tour of Guilin and Yangshuo
What You Can Expect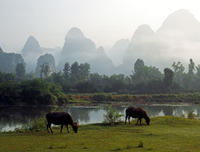 On this full day sightseeing tour from Guilin you'll be cruising upriver for four hours, sitting in cushioned comfort in the main cabin or enjoying the open-air viewing platform. Bring lots of film because this cruise along the Li River is a photographer's dream, and you'll want to capture the dramatic landscapes that Chinese artists have been painting for centuries.

Lunch will be served onboard, with local favorites and fresh catches from the Li River. Your destination is the village of Yangshuo, where you'll disembark and stroll amid the colorful, bustling marketplace of local street vendors. After you stretch your legs and see the sights, it's a bus trip back to Guilin to see the farms and countryside away from the river. The trip doesn't end here, because you also get a choice of shopping stops and some real bargains in pearl and jade, or fine Chinese paintings.
If you choose not to return back to Guilin right away, you will also have the opportunity to partake in some exciting afternoon activities in Yangshuo (at your own expense):
Biking tour: USD $25
Rafting tour of Yulong River: USD $35
Night tour of the Four Lakes: USD $35
Yaoshan highlights: USD $40
Rice terrace field tour: USD $70
Impression Sanjie Liu night show: USD $40
Please note that if you choose to do any of these activities, you will have to return to Yangshuo on your own. Your guide will be more than happy to help you arrange transportation back to Yangshuo.
November 2015
Great trip and the scenery is stunning
August 2014
The boat trip on the Li River is maybe the best activity in Guilin. If the weather is good, the view is amazing. The boat ride takes all the morning. In the afternoon you will visit Yangshuo. Remember that if you decide not to take part in any of the optional activities, you'll have to stay in Yangshuo for 4 hours. However, this is not a big problem. In Yangshuo you can do some shopping or relax in some pub.
April 2014
June 2013
Wow! Guilin is amazing. You must do this tour in Guilin. We were on the boat for about 3 hours. When we first boarded it was raining and we were seated at tables downstairs. We were not too keen on this and ventured upstairs to find it had stopped raining. We stood on the upper deck for the whole three hours and did not once get tired of the magnificent views. From small bamboo rafts latching on to our boat to try and sell fruit to the beautiful mountain scenery, this was like floating in a dream. Yangshuo was full of little market type stalls all selling the same things, so we decided to do the optional tour. We are so glad we did. We went to a village and sat on a water buffalo, got to watch the cormorants dive for fish, hold the bamboo stick the cormorants were on and visit the Shangri La village. We would strongly recommend doing the optional tour which was RMB200 each. Don't know what we would have done waiting in Yangshuo for four hours. On the way back to our hotel our guide told us the Shangri La Hotel we were staying at was a bit far out for the large coach to drive to, so she got off the bus with us in the town and put us in a taxi to our hotel and the company paid for it. We thought this was incredible customer care.
April 2013
the tour was really interesting and well organized.Pick up was on time and the guide really professional. The only things the tour was bilingual (Chinese and English) and not just English.
July 2012
A great day out. It was a bit of a surprise when they told us that we'd have to fork out more cash to partake in the afternoon's activities, but we did and had a great time.
No shopping stops either, outstanding!
June 2012
The tour was great. Everything was well organized. They gave us the opportunity to book an extra tour for 25 euros which was well worth it.
September 2011
The river cruise was very enjoyable and got to take great pictures of the beautiful landscape. The optional cruise on the bamboo raft was fun too!
May 2011
February 2010
The Li River Cruise is lovely and Yangshuo is so beautiful with breath-taking scenery. It is definately underrated and undeservedly placed in the shadow of the more famous Guilin. My big criticism was that this is a full day tour yet when we arrived in Yangshuo, we were only given 1 hour to browse round or we had to pay extra for activities to fill the afternoon. This is extremeley cheeky bearing in mind the amount of money we had already spent on the trip. Because we chose not to pay extra, our tour was cut short and we were taken home earlier. I thought that was terrible.
Advertisement
Advertisement