Escape from the hustle of Halifax to the 'Garden of the Gulf,' Prince Edward Island, on this guided, 5-day voyage. Enjoy one of eastern Canada's maritime provinces, off New Brunswick and Nova Scotia in the Gulf of St. Lawrence. Explore a picturesque island paradise — green pastoral landscapes, miles of sandy beaches and majestic red cliffs towering above the blue waters of the Atlantic. Visit the famous Green Gables Heritage Place, explore beautiful Prince Edward Island National Park, enjoy a lobster dinner and much more. Transportation, accommodations, some meals and admissions included.
Highlights
5-day Prince Edward Island trip from Halifax
Take a guided walking tour of Charlottetown, the island's capital city
Learn about indigenous culture at the Glooscap Heritage Centre and Mi'kmaq Museum
Explore scenic Prince Edward Island National Park
Visit famous Green Gables Heritage Site, which inspired the classic book, Anne of Green Gables
Watch a theater performance at the Confederation Centre of the Arts
Admire views on a ferry ride from Prince Edward Island to Nova Scotia
Overnight accommodation and all transport included
What You Can Expect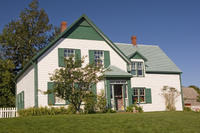 This 5-day experience begins in downtown Halifax. Check into the Cambridge Suites Hotel and explore the city, the capital of the province of Nova Scotia, at leisure.
Day 2: Halifax – Charlottetown (breakfast and dinner included)
After breakfast at the hotel, climb on board a comfortable, air-conditioned coach for a morning departure to Prince Edward Island. Travel over the Confederation Bridge, spanning the Abegweit Passage of Northumberland Strait. This famous bridge links Prince Edward Island with mainland New Brunswick and is the world's longest, continuous, multi-span bridge at 12.9 kilometers (eight miles).
Along the way, visit the Glooscap Heritage Centre and Mi'kmaq Museum, sometimes referred to more simply as the Millbrook Cultural and Heritage Centre. Discover the rich history of the Mi'kmaw people through multimedia presentations and exhibits that include ancient artifacts, stunning quillwork and beadwork and a giant statue of the legendary Glooscap.
Cap the day with a delicious lobster dinner at a local restaurant with the rest of the group. Then, check into the Rodd Charlottetown hotel in Queen's Square for a 2-night stay.
Day 3: Charlottetown – Prince Edward Island National Park – Charlottetown (breakfast and lunch included)
After breakfast at the hotel, enjoy morning free time to explore Charlottetown at leisure or take a complimentary walking tour of the city. In the afternoon, enjoy a scenic drive en route to Prince Edward Island National Park along the island's north shore, featuring seven white-sand beaches, hiking and biking trails, plus breathtaking, storybook views. Also, visit Green Gables Heritage Place, the quaint, historic region of Prince Edward Island that inspired L.M. Montgomery's classic 1908 novel Anne of Green Gables.
After returning to Charlottetown, enjoy an evening theater performance at the popular Confederation Centre of the Arts.
Day 4: Charlottetown – Halifax (breakfast included)
After breakfast at the hotel, hop aboard the Northumberland Ferry for a 75-minute trip to Caribou, Nova Scotia along the Northumberland Strait. Summertime crossings feature live, onboard entertainment during peak operating hours plus an outdoor seating area allows passengers to enjoy the fresh sea air. Then return to Halifax for an overnight stay, once again, at the Cambridge Suites Hotel Halifax.
Day 5: Halifax (breakfast included)
After breakfast, the tour concludes with a hotel check out.
September 2015
Had a fabulous time. Highly recommended!
Armin W India
June 2013
I am sorry to say, but a disappointing trip. The place itself was awesome, hotels chosen also very good, but, it was just not value for money, and almost all guests on the trip felt they were taken for a ride! First of all, it was NOT 5 days! the trip itself was just about two days, really! Also, because there were very few persons, instead of a large bus, we were taken around in a small van. Now this I would take as an advantage, as a small group, in a small van is always better. Problem was, the services of a Tour Director too were dispensed with, and we were `in the charge' of a driver. Now that again, would not really be a problem, but our problem was with the person driving, who was also designated `Tour Leader'. She was just not interested in anything, including her passengers, and more concerned about reaching everywhere in time for meals, rather than anything else ... She also seemed not to have much of a clue and was way off with timings, etc when it came to walks / excursions ... but, was rigid on timings herself, when it suited her. What could have been a fabulous tour was thus far less than that! And yes, as said, to call this a 5 day tour is totally misleading. In fact, the tour operator itself doesn't call this a 5 day tour! Merely organizing for hotel stays for 4 nights does NOT make this a 5 day tour of Prince Edward Trip - yes, the word (approximately) is very cleverly inserted in - but, you need to be more candid with your guests. I have used Viator often, in the past, first time I have returned with a feeling of disappointment, and worse, being let down.
Advertisement
Advertisement