Immerse yourself in the unique history and maritime culture of Halifax during this 2.5-hour city tour by coach. Check out the city's hilltop Halifax Citadel National Historic Site, discovering the key role it played for the British Empire. Then explore the city's Old Town Clock, Halifax Public Gardens, Province House, and St. Paul's Church. You'll also have a chance to learn about the 'Titanic' disaster as you visit the Fairview Lawn Cemetery where 121 victims are buried. Your Halifax tour also includes a kilt-wearing guide to provide commentary.
Highlights
2.5-hour Halifax sightseeing tour by coach

See top attractions such as the Halifax Citadel National Historic Site, the Halifax Public Gardens and Province House

Visit Fairview Lawn Cemetery, where 121 victims of the RMS Titanic are buried
Learn about Halifax's sights and maritime history from a knowledgeable guide
What You Can Expect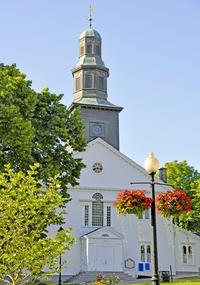 Learn the fascinating history of Halifax as you explore the most famous sights of this picturesque seaside town on a 2.5-hour coach bus excursion. Whether you're looking for a dose of history or simply hoping to learn more about this unique coastal Canadian city, this tour is a great option.

Start your visit at the city's Maritime Museum of the Atlantic, where you'll find your guide and begin your tour. Hop aboard your comfortable bus for the 2.5 ride through the history of this ocean city's unique culture of pirates, seafaring tales and more.

Your first stop is at Fairview Lawn Cemetery, the final resting place for 121 passengers from the Titanic shipwreck disaster. History lovers and film buffs are sure to enjoy this visit, which includes a stop at the gravestone of 'J. Dawson,' the character famously portrayed by Leonardo DiCaprio in the 1997 movie. You'll also learn about those who perished in the tragic 1917 Halifax Explosion, also buried at the cemetery.

Head next to the Halifax Citadel National Historic Site, a landmark which sits high above the city on a strategic hilltop. This military site was once a key naval station for the British Empire, and its defensive design is evident in the eight-pointed star that forms the exterior of the fort.

Continue to your next stop at the Halifax Public Gardens, an idyllic site dotted with elm and linden trees that was influenced by Victorian-era garden designs. Check out this serene spot's collection of semitropical and exotic flowers as well as its wrought-iron gates and fountains.

Your next stop is at Province House, the seat of Nova Scotia's parliament and national historic site designed in a Palladian, three-story structure that dates to 1819. See Halifax's Old Town Clock, and the story behind its construction, before heading to St. Paul's Church (the city's oldest building from 1749), the Spring Garden Road area, the Grand Parade and City Hall.

Finish your trip at the Historic Properties, a collection of warehouses which date back to the 1700s. Admire their unique Italianate façades before heading back to the Maritime Museum of the Atlantic to finish your excursion.

Please note: this tour is seasonal and only operates from June through October.
alanren Canada
September 2015
Rene was our guide and we were able to find our a lot of information while on the tour. We were able to plan the rest of our visit based on this tour. Thank you, it was time and money well spent.
September 2015
This tour was great! Our guide, David, knew his stuff. He was funny, entertaining, incredibly informative and insightful. A lovely tour--highly recommend it! Thanks again!
william L USA
September 2015
Great bus tour of City. Could spend more time at the Citadel and less at the Fairview Cemetery. The tour guide was great with lots of information.
August 2015
This tour was phenomenal! I have recommended it to everyone back at home! I learned so much and had so much fun on it! The guide was amazing!
August 2015
It was a great tour. The tour guide was very knowledgeable and helpful. It was very interesting to learn the history of Halifax.
September 2014
December 2013
The tour was great. It covered all the important parts of the city. We later walked to see some of the highlights that were pointed out by our tour director. The tour director did a great job. He really knew the history of Halifrax and all of it's points of interests. I would recommend this tour as a starting point for exploring Halifax on foot.
August 2008
Tour leader was a lifelong Nova Scotian. He was well informed and led an interesting, comprehensive tour of Halifax. We had a great time.
September 2015
Pleasant and nice tour. Guiding very good. Grave Yard Titanic Victums impressiv.
July 2015
Fantastic history dialogue and complete tour of the city. I highly recommend the tour.
Advertisement
Advertisement