Explore the historic seaside villages of Lunenburg and Mahone Bay on this 6-hour day trip through Nova Scotia departing from Halifax. Discover the UNESCO World Heritage-listed Lunenburg, a centuries-old fishing and shipbuilding village that's home of the province's largest fleet of fishing vessels. Then head to Mahone Bay, where you wander through the quaint churches, shops and art galleries that populate this coastal town. Your coastal excursion also includes round-trip transport from Halifax and a guide.
Highlights
Day trip to Lunenburg and Mahone Bay from Halifax
Take a guided walking tour of Lunenburg, a UNESCO World Heritage-listed fishing town
Admire Nova Scotia's beautiful coastal views
Enjoy free time to explore Mahone Bay's shoreline, churches, galleries and shops
Learn about these coastal towns from your knowledgeable guide
What You Can Expect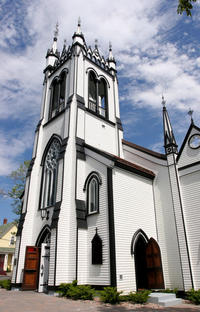 Discover the incredible scenery and rich history found in the coastal villages of Nova Scotia, stopping to visit Mahone Bay and the UNESCO World Heritage-listed Lunenburg during this this 6-hour day trip from Halifax. These two centuries-old fishing and shipbuilding villages offer visitors a wealth of fascinating landmarks, great shopping and fantastic ocean views.
Depart from Halifax's Maritime Museum of the Atlantic at 10am, continuing by coach on a 1.5-hour drive southwest toward the magnificent port city of Lunenburg. Follow your guide, decked out in kilt to celebrate the province's Scottish roots, on a walking tour of Lunenburg's many landmarks and intriguing history. This seaside town, known for its strong connection to the fishing and shipbuilding industries, is also home to Lunenburg Academy, the province's biggest fishing fleet. You'll also hear stories about the town's colorful connection to the bootlegging industry, which thrived among the secluded shoreline along the area's rocky coast.
Continue to Mahone Bay, driving north towards this coastal city of picturesque churches an quaint architecture. Follow your guide on an exploration of the town's many museums, historic inns, charming restaurants, unique retail shops and art galleries, many of which blend a modern aesthetic with historic colonial-era details. Stop for lunch, which you can enjoy at your own expense at one of the town's many eateries, or bring your own food if you wish. Finish your tour with a drive back to Halifax, returning to your original departure point.
Margaret D USA
October 2015
A very enjoyable trip with a very good tour guide and a local guide.
alanren Canada
September 2015
There seemed to be a mix up, so our tour started late. We were picked up by a gentlemen who was supposed to have the day off. His name was Mark and he could not have been friendlier or more helpful. We had a wonderful and informative day and we would recommend this tour to anyone.
September 2015
After a short delay due to an admin error, the tour set out to Lunenburg. The driver David was very informative about Halifax and the surrounding area. He also provided lots of data about Lunenburg, Mahone Bay and the adjoining countryside. The Walking tour of Lunenburg was excellent and the lady leading the tour provided a great deal of information about the town and its history.
August 2015
August 2015
Excellent tour guide, very knowledgeable. Only downside was that we took the walking tour of Lunenburg and could not find a place to have lunch before having to return. Other than this, everything was great!!!
August 2015
Loved the scenic towns. Tour guide in Lunenburg was very knowledgable. Bus driver was also an excellent tour guide. We enjoyed his commentary tremendously.
August 2014
Highly recommended. I was trying to spend more time in Lunenburg but in the end only had one day and I think it was very well spent.
August 2015
I wish we would have a little more time in Lunenburg, but otherwise it was a good tour with many interesting sights.
August 2015
The walking tour was very good. Mahone Bay not so much
August 2015
Excellent day trip. We had a walking tour of Lunenburg with guide and additional time to walk around and have a bite to eat. Then we headed on to Mahone Bay where we had time to wander the streets. Perhaps a little more time here would have been nice. In all a great day!
Advertisement
Advertisement