With city-state traditions reaching back for centuries, Hamburg has always played a special political and cultural role in Germany's history.
Highlights
Unlimited sightseeing with the Hamburg Card! Enjoy up to 50% discounted admission to over 130 top Hamburg attractions, museums, musicals and theaters, restaurant and shopping


Choose from a 1-day, 3-day or 5-day Hamburg Pass

Complimentary travel on public transport in the greater Hamburg area

Last minute theater ticket discounts, restaurant discounts and more!
Recent Photos of This Tour
What You Can Expect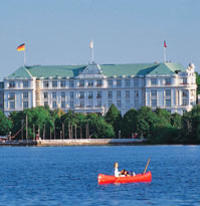 Today, as a key commercial hub, an international harbor and a media and cultural center, the metropolis on the Elbe River with its one million inhabitants is once again pursuing ancient traditions with typically Hanseatic aplomb. This comes as no surprise: Germany's second largest city offers a high quality of life and international flair. In Hamburg, the word "boredom" is unknown.
SAVE MONEY WITH THE HAMBURG CARD OFFERING:
Free travel on public transport (HVV) in the Greater Hamburg Area
Discounts on last minute tickets at 16 theaters
Up to 50% discounts at more than 130 places of interest such as sightseeing tours, harbour and Alster lake cruises
20% discounts in restaurant
20% discount from selected shopping partners, on parking tickets and souvenirs
Hamburg guide, free information brochure and city map
Itinerary
Once you have purchased your Hamburg Card, entry to the following museums is FREE:
Hems Museum / Hamburg Museum of Archaeology and the History of Hamburg
German Customs Museum
In addition you will receive discounts to the following museums:
Altonaer Museum / Cultural History of North Germany
Bucerius Kunst Forum
Deichtorhallen / International Museum of Photographic Art
Doll Museum Falkenstein
Hamburg Museum of Ethnology
Hamburger Kunsthalle
HSV-Museum
Jenisch Haus
Museum of Communication Hamburg
Museumsdorf Volksdorf Open-Air Museum
Rieck Haus / Open-Air Museum
Helms Museum
Museum of Bergedorf and Vierlande
Museum of Volkerkunde
Museum of Kunst and Gewerbe
Afghanisches Museum
Die Dachbodenbande
Hafenmuseum
International Maritime Museum
Museum Steinzeiten
You will receive 15 - 33% reduction on last minute tickets on the day of show (subject to availability, conditions apply) at the following theaters:
Kellertheater Hamburg - 33%
Quatsch Comedy Club - 23%
Allee Theater - 20%
Altonaer Theater - 20%
Pulverfass Cabaret - 20%
Hamburger Engelsaal - 20%
Alma Hoppes Lustspielhaus - 15%
Delphi Showpalast - 15%
Harburger Theater - 15%
Hamburger Kammerspiele - 15%
Deutsches Schauspielhaus -15%
Hamburgische Staatsoper - 15%
Thalia Theater - 15%
Komodie Winterhuder Fahrhaus - 15%
Ernst-Deutsch-Theater - 15%
Ohnsorg Theater - 15%
You will receive discounts on admission for the following attractions:
Rathaus (City Hall)
St Michaelis Kirche
Panoptikum
BallinStadt
Hamburg Dungeon
Nachtmichel - St Michaelis Kirche
Miniature Wonderland
Tierpark Hagenbeck
Harbour Cruises
Alster Cruises
Segway-Citytour
Maritime Circle Line
Highflyer Hamburg
Hamburg City Tour: Alstadt, Hafen and Rotlichttour
Planetarium
Museum Ship "Cap San Diego"
Nikolai Church (St. Nikolai Memorial)

The Windjammer "Rickmer Rickmer"
August 2015
Excellent experience,enjoyed every moment of it.
December 2014
Mit der Hamburg Card sind wir meistens von unserem Hotel aus mit der S-Bahn zum Bahnhof gefahren. Von dort aus gab es viele Möglichkeiten in alle Richtungen weiter zu fahren. Wir benutzten auch die U-Bahn als auch die Busse. Mit der Card fühlt man sich völlig Unabhängig. Auch eine Fahrt mit die Fähre nach Finkenwerder wurde mit eingebaut. Wir saßen auf Deck und kamen sehr erfroren auf Hamburg Landungsbrücken wieder an.
January 2014
Quality and value exceptional. Will continue to use your service wherever we travel.
November 2013
Hamburg is truly beautiful and perfect for a mini city break. The train service is excellent and not too hard too use. ALTHOUGH the Hamburg card isnt really that good value for money, firstly as the fares for the trains arnt that expensive and also i saw NO-ONE over the 4 days ever buy a ticket, and saw no ticket collectors working on the trains, and also unlike London there were no ticket gates etc. In hindside we could have probably travelled around the whole time, like the local Germans clearly do without playing a penny!
We stayed at Sofitel and it was truly beautiful!
Food and places to eat were nice., although the locals werent overly polite. Id def. recommend the boat trips and some time at the Harbour. The roofless bus, although good for getting around, theres not really many ''sights'' in Hamburg that needed pointing out
November 2011
HAMBURG CARD IS WONDERFULL ONCE YOU CAN JOIN HAMBURG CITY WITH SAFE AND EASY TRANSPORTATION. IT IS A VERY IMPORTANT TO TAKE THE HAMBURG CARD. I RECOMMEND.
AUREO MELLO JUNIOR
December 2013
great, useful, I saved money in museums, transportation, canal cruise, I loved it
June 2012
Good value, good price. The Hamburg Card gave me a discount on most of the attractions, I visited.
May 2014
Worth it if you use a lot of public transportation, but not much of a value for admission to museums and other attractions. Also a big pain to have to pick it up at Tourist Information office at Central RR station. Why couldn't the card be waiting for us at our Hotel?
May 2014
Actually pretty worthless. Not the card's fault. It is just that there apparently is no payment required for riding public transportation in Hamburg. There are machines to buy tickets but no one asks for tickets, you just get on and ride. Saw very few tickets being purchased.
August 2012
Nothing wrong with the Hamburg Card except the information provided on your website is out of date. We arrived in Hamburg at 4 pm at the cruise terminal and proceeded to the tourist office at 6pm to pick up our card.Website says card is valid for 1 day and from 6pm the day before.This is not correct.Now from 6am to 6am the following day!
Advertisement
Advertisement