Soak up the scenery around Hangzhou on this private 4-day tour, including accommodation and meals. Make the most of your private guide as you stroll down the lively Qinghefang Ancient Street and get a taste of local culture with a tour of the Longjing Tea Plantation. Admire landmarks like the Six Harmonies Pagoda, looking out over the Qiantang River, then enjoy a cruise around the glittering waters of the West Lake.
Highlights
4-day, 3-night private tour of Hangzhou including West Lake, Longjing Tea Plantation and Six Harmonies Pagoda
Enjoy the lakeside gardens and other sights on a walking tour of West Lake
Take a relaxing boat ride through West Lake
Experience the rich culture of Hangzhou on a visit to the bustling Qinghefang Ancient Street
Learn about one of China's most popular exports on a trip to the Longjing Tea Plantation
Visit the Six Harmonies Pagoda and marvel at its remarkable ancient Chinese architecture
Accommodation, most meals and all necessary transportation are included

Private guide will lead you on tours, provide you with interesting commentary and historical information, act as a translator and more
What You Can Expect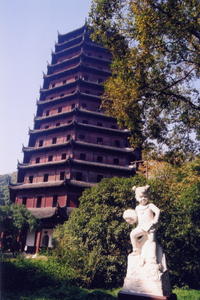 Hangzhou abounds with beautiful and interesting attractions, from the Six Harmonies Pagoda to gorgeous West Lake. Learn about the city's rich culture and history as you explore the city with your private guide on this multi-day tour that includes three nights of accommodation at a four-star hotel. Get a taste of Hangzhou life during a visit to Qinghefang Ancient Street and discover the essence of Longjing tea as you are shown how to cultivate it at the Longjing Tea Plantation.
Please see the Itinerary below for details on each day of the tour.
Itinerary
As this is a private tour, the time of day you eat your meals is flexible, depending on when you finish your sightseeing and guided tours. Breakfast is usually served in your hotels and other meals will be enjoyed at local restaurants where you can enjoy local delicacies.

Day 1: Arrival in Hangzhou (D)
After your arrival at Hangzhou Xiaoshan International Airport, a private vehicle will take you to the Zhongshan Hotel for check-in. After dinner at a local restaurant, your private guide will brief you on your activities for the upcoming days.
Please note: If requiring pickup from a location other than the airport, please inform customer service (contact information will be provided on your confirmation voucher). Pickup time is contingent on passenger arrival – please advise specific pickup time at the time of booking.
Day 2: Hangzhou (B,L,D)
Activities: West Lake, boat ride, Qinghefang Ancient Street
West Lake is one of the most beautiful lakes in China, and today you will experience this beauty both on foot and on board a small boat. First, enjoy the serene lake, its charming gardens and the surrounding hills as you follow your guide on a walk. Discover China's national treasures in the ancient buildings, stone caves and engraved tablets littered around the lake.
Then head out on a boat ride to see more sights. The cruise will take approximately one hour and end at the Flower Harbor, where you can watch and feed the goldfish swimming in the pond! Flower Harbor is renowned for its large variety of flowers, especially peonies. Take in the colorful sights and wonderful scents of the many gardens.
After lunch, your guide will lead you on a walking tour of Hangzhou's Qinghefang Ancient Street. With buildings built in the architectural style of the Song Dynasty, it is one of the most well-preserved ancient streets in Hangzhou. The street is lined with shops, restaurants, alleyways and courtyards that represent the rich cultural heritage of Hangzhou.
Day 3: Hangzhou (B,L,D)
Activities: Longjing Tea Plantation, Six Harmonies Pagoda
Hangzhou is considered the tea capital of China, so a visit to the city just isn't complete without a trip to the Longjing Tea Plantation. First visit a local farmer's home, where you will see how the famed Longjing tea (a high-quality green tea) is cultivated. You can also try a sample of newly harvested tea to see for yourself why it is so renowned.
Next, follow your guide on a walk through the plantation and see firsthand the process of farming tea trees and picking tea leaves. Hike up the mountain for about an hour to reach a bamboo forest, where you'll enjoy the dense bamboo groves, remarkable pavilions and beautiful garden scenery. Relax here for a bit and enjoy the serene natural environment around you.
Afterward, visit one of China's incredible architectural masterpieces – the Six Harmonies Pagoda (Liuhe Pagoda). This seven-story wood-and-brick building was built during the Southern Song Dynasty. As you walk up the pagoda, look up at the ceilings of each story to see the intricate carvings and paintings of various figures, including animals, flowers and birds. When you reach the top, you will be afforded with spectacular views of the Qiantang River.
Day 4: Departure (B)
After breakfast, you will be transported back to Hangzhou Xiaoshan International Airport for your departing flight.
Please note: If requiring drop-off to any location other than the Hangzhou airport, please inform customer service (contact information will be provided in your confirmation voucher).
Advertisement
Advertisement