Immerse yourself in the majestic beauty of Halong Bay, a UNESCO World Heritage-listed natural wonder, on a small-group adventure tour from Hanoi. Discover the rural and rustic villages of northern Vietnam then set sail on the iridescent waters of the sea to observe more than 2,000 idyllic limestone islands. Pleasure your palate with a sumptuous seafood buffet onboard and capture fantastic photographs of the bay's sublime scenery. Enjoy an intimate atmosphere on this small-group tour, which operates with a maximum of 16 passengers.
Highlights
Transport by air-conditioned mini-van between Hanoi and Halong Bay including hotel pickup and drop off
Cruise aboard a traditional Chinese Junk on Halong Bay, a UNESCO listed World Heritage site
Visit a fishing village and learn about the culture and customs of the Halong Bay locals
A delicious seafood lunch
Traveling in a small group, maximum 16 passengers allowing a unique and intimate adventure experience
Recent Photos of This Tour
Halong Bay Small Group Adventure Tour including Cruise from Hanoi
What You Can Expect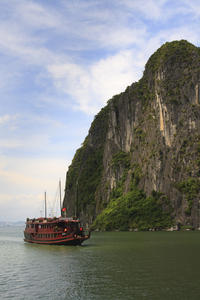 Depart from your Hanoi hotel in a comfortable, air-conditioned minivan and relax during the scenic 3.5-hour drive to the beguiling Halong Bay. Watch the scenery transform from metropolitan sprawls to scenic natural beauty as you approach your destination. Stop at Hong Ngoc Humanity Centre en route to purchase handicrafts made by undeveloped communities in the region.
On arrival in Halong City, climb aboard a Chinese junk to cruise around the idyllic limestone islands of Halong Bay, a UNESCO World Heritage-listed site famed for its spectacular vistas and majestic multitude of islands. Gaze at more than 2,000 islets as your guide regales you with legends of dragons and secreted treasure. Discover secret grottoes and mystical caves then disembark at a rustic fishing village to delve into the culture and customs of local inhabitants.
Return to your boat and feast upon a sumptuous seafood buffet of freshly caught fish. Relax during your return journey to Hanoi City and travel back to your hotel in a comfortable, air-conditioned coach.
June 2016
Would highly recommend this trip to anybody staying in Hanoi and wanting to squeeze in Halong Bay for the day. Don't let the 3 hour coach trip put you off - the time goes by very quickly in the air conditioned van and the beautiful Vietnam scenery passing by the window.
The boat trip itself was perfect with a great lunch and plenty of photo opportunities of the bay as well as the visit to the spectacular cave!
Many thanks to our fantastic tour guide Ching who was friendly, enthusiastic, provided us with a lot of interesting information along the way and all in all looked after us well. The small tour group size ours was a group of 6 also made it even more special.

June 2016
Excellent tour, really could have done the 2 day as it is a long day to see Halong in one day. Despite this the tour guide was excellent and knowledgeable. Would recommend highly.
May 2016
Another great day out with Viator - very informative guide - thank you

April 2016
Tour started by picking us up at our hotel in the Old Quarter. Air Conditioned Van was comfortable and sat 12 people, but there were only 7 of us on this tour. The drive to Halong wasn't too long, I suggest bringing some headphones for the drive. You make one stop along the way to use the facilities or purchase food/souvenirs. Once arriving our Guide, San, took us to our boat for the day. It was a very large boat, and was extra roomy with our small group. Lower deck inside was set up as a dining area with bench seating facing the dining tables. There is also a restroom on the boat which is great. The top deck is quite bare, but perfect for picture taking. There are a few places to sit upstairs. We boated to our first stop where we went inside a cave. The 'hike' up, wasn't more than just a few flights of stairs. Inside the cave was beautiful, although a few other groups made the space loud at times. We then went back to boat, to cruise along the bay while having lunch. The seafood lunch was incredible! Shrimp, rice, vegetables, whole grilled fish, squid, etc. My wife and I chose to quickly eat lunch so that we could be on the top deck of the boat while cruising, since seeing the Bay was higher priority than lunch. Beverages on the boat are excluded, but we still chose to buy a few beers to drink on the top deck. We cruised the bay for probably 2-3 hours, and our driver took us to several areas where there were no other boats around which was wonderful. The photos just don't do this area justice, it's quite spectacular. After we finished cruising, we made our way back to the dock, and loaded back into the van. Again, one stop on the way back to use the facilities. We arrived back at our hotel in Hanoi before 7pm, giving us plenty of time that night back in the city. I would recommend this trip to anyone looking to do a day trip to Halong Bay.
February 2016
Absolutely stunning scenery and a great guide. I was the only omen on the tour so I received VIP treatment! Boat ride is amazing with plenty of good photo opportunities. Be prepared for a long drive from Hanoi, more than 3 hours each way but it is worth it!
February 2016
Great trip with Lee. Only had 5 in our group and we thoroughly enjoyed the excursion. Lunch was excellent, boat ride was great. Beautiful bay and shouldn't be missed.
February 2016
Dien, our tour guide, picked us up from our hotel at 630am. We were the first of the 10 people in our tour group to be picked up and Dien kept us engaged with some interesting information about Vietnam for about the first half of the 3 hour ride. There isnt a whole lot during the ride in terms of sight-seeing but we got go see some smaller towns, factories, and rice planting along the way. About halfway through the trip we stopped for about 15 minutes for a restroom break. Of course we got the opportunity to purchase some items at the location. There are some pricey art items there from the hundreds to thousands of USD, but if you look around towards the back there are some more reasonably priced items.
On arrival at Halong Bay we had a wonderful lunch and got to try out a variety of Vietnamese dishes. It was late January, a bit chilly with no sunshine, and I needed a light jacket. We were still able to experience the beauty of Halong bay and everyone was awed. The overcast conditions gave it a very majestic feel. We also stopped off at the limestone cave, which I thoroughly enjoyed. After about 3.5 to 4 hours it was time for the return trip.
I feel like the 1 day trip was sufficient and that I had not necessarily missed out on anything. The downside is it is a lot of time spent traveling in a bus. However, I would do this tour again. Thanks to Dien for helping to make this a wonderful trip!
February 2016
An excellent tour. My guide was informative and the lunch onboard the boat was superb! I highly recommend this tour.
December 2015
Great guide very knowledgeable. The trip itself was terrific. Great sites and cruise lots to see.

December 2015
Really enjoyed our time on this tour, and the drive there wasn't nearly as bad as I expected.
Advertisement
Advertisement