Skip the lines and avoid the hassle of arrival in Hanoi with this Private Hanoi Arrival Transfer: Airport to Hotel. Enjoy the luxury of your own vehicle and professional driver as you make your way with comfort and ease from the airport to your hotel of choice. Book in advance to ensure an easy arrival!
Recent Photos of This Tour
What You Can Expect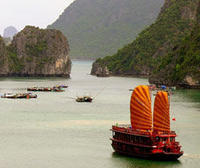 This private Hanoi Arrival Transfer: Airport to Hotel insures easy arrival and a smooth transition between touch down and take off. Your professional driver will meet you once your plane arrives and help you transport you luggage to your Hanoi hotel of choice with the comfort and convenience of your own private vehicle. This popular service is available 24-hours a day, seven days a week, making it the perfect way to land.
Book in advance for ultimate convenience and have your flight and accommodation details ready. Receive confirmation within 24 hours and present your voucher to the driver as you make your way to your Hanoi hotel.
January 2016
Perfect. Driver was there on arrival and got us to hotel safe and quickly.
December 2015
August 2015

January 2015
Well, the transfer itself was perfect. The driver showed up right on time, with a sign holding my name at the arrivals hall, etc. A little weird, though, when the second thing out of his mouth after hello was "What are you doing tomorrow?" This later made sense when, not 15 minutes after I walked into my hotel room, the driver's boss called my room requesting to meet me in the lobby to discuss his company's other offerings (a food walking tour). As I'd been traveling for 20 hours it was a bit irritating; needless to say I did not book any other tour.
June 2014
As a solo traveller, first time in Vietnam, it was great to have someone to welcome me and navigate the infamous Hanoi traffic for me!! My driver had enough English for small conversation, a beautiful car, and he was a safe driver so glad I spent the $ to do this. Would absolutely do it again.
December 2013
Very efficient, pleasant demeanour, excellent timing!
October 2013
Waiting for us at the airport and took us safely to our hotel.
September 2013
Driver met us on time. Vehicle was in excellent condition and the driver spoke reasonable English. This service was provided by Buffalo Tours. They seem to be a very professional company and wouldn't hesitate to use them again.
July 2013
Fantastic staff very helpful. Thanks Mia
July 2013
Very good service. Safe and comfortable.
Advertisement
Advertisement