Hanoi is, without a doubt, one of the most charming cities in all of Asia. Fondly This full-
day tour takes travelers on a journey through the highlights of this bustling metropolis
that's fondly referred to as the "Paris of the East". Explore the Ho Chi Minh Complex,
Museum of Ethnology, Ngoc Son Temple and the stunning Hoan Kiem Lake. Then take
an exciting cyclo tour through the Old Quarter where travelers can comb through the
stalls of local markets selling handmade goods to end the day.
Highlights
Full-day English-speaking, private guided tour
Visit the fascinating Ho Chi Minh Complex

See Ho Chi Minh's mausoleum

Tour The Temple of Literature and Museum of Ethnology

Enjoy and delicious Vietnamese lunch
Visit the Ngoc Son Temple on the picturesque Hoan Kiem Lake
Sit back and relax as your cyclo driver pedals you through the Hanoi's historic Old Quarter
Recent Photos of This Tour
What You Can Expect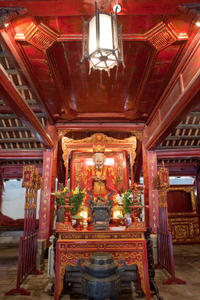 This full-day private tour of Hanoi showcases the best of a city known as the "Paris of the East". Travelers will kick off their morning with a stop at the Ho Chi Minh Complex, where they will get an up-close look at the former leader's stilt-house residence, mausoleum and Presidential Palace before exploring the Ho Chi Minh Museum. Afterwards, visitors with journey to the Temple of Literature, which was constructed as an homage to the great thinker Confucius. Travelers can wander the grounds of the first university in the nation, which dates all the way back to 1070! The historic halls are lined with decorative turtle backs inscribed with the names of university graduates. Five impressive courtyards with paths once reserved for the Emperor are now open to the public. Check out the statue of Confucius in one of the courtyards and marvel at the bronze storks standing atop resting turtles meant to guard the academic.
Because Ho Chi Minh Moausoleum is closed on Mondays and Fridays, travelers will tour the Hoa Lo Prison instead.
Enjoy a traditional Vietnamese lunch in comfort and style before touring the Museum of Ethnology. Championed as the top museum in the country, this impressive hub of culture and history offers up plenty of information about the 54 ethnic minorities that make up this nation. From there, travelers will head to Ngoc Son Temple, located on a small island in the picturesque Hoan Kiem Lake. This striking architectural masterpiece dates back to the 13th century.
Visitors will end the day on an hour-long cyclo tour through Hanoi's Old Quarter, where an expert driver will navigate the narrow streets and back alley passes. Travelers can comb through the wares at tiny shops and quiet storefronts before returning to the hotel.

June 2016
Absolutely fantastic tour! Picked up promptly, our tour guide Tien was full of knowledge, very nice and patient while we took photos. Lunch was lovely in a nice restaurant. Highly recommend! Great way to see Hanoi and learn about its history at your own pace and comfort of being chauffeured
June 2016
My tour was excellent because of my guide, Diem. I saw everything as promised, lunch was at a great restaurant and I can really recommend this private tour.
May 2016
A lovely tour but be prepared for a lot of walking , nice lunch in a typical Vietnamese restaurant , finished off with a 30 minute cyclo ride through the very busy streets of Hanoi , just sit back and enjoy the ride.

January 2016
Our tour guide Huy was awesome. He was very punctual in picking us up and making sure we were comfortable. His English was awesome and was a well seasoned experienced guide. We had an awesome day seeing so much wonderful history we may have missed trying to do this ourselves. He took us to a lovely restaurant for lunch. Only negative was that it was supposed to be included with the tour and they had us pay the bill, but it was excellent dining and for less than 20 dollars for 3 people I am not going to complain. Our guide also wanted to know if there was anything special we wanted to see which was away from the tourist areas. He was happy to take us thru the neighborhoods and local market areas where the local people live each day. That was such a highlight for us. I would highly recommended this company and especially our tour guide to anyone visiting Hanoi. If I could give him 10 stars I would....
August 2015
The guide and driver could not do more to assist us. The day was an excellent introduction to Hanoi. They even changed the schedule to enable us to see some sights of our own choosing, once confirmed with their head office.
July 2015
That was my style of exploring a new city - with a great guide, able to ask all the questions that you normally don't ask in a group - it was relaxed and at my own pace. Will do it again.
May 2015
This tour is a must do in Hanoi, love, love, loved this tour with our tour guide Honest Felt like we were real locals with the experience. Thank you so much.
Raylee Australia
March 2015
The Cyclo ride was a highlight. Luan was an amazing, knowledgeable guide. A great way to see the city, cover a lot of ground and history - a perfect day for my family.

Patrick USA
February 2015
My tour guide was amazing in explaining all the sights and was very good about taking photos all over Hanoi. Very enthusiastic guide. I highly do recommend this tour for anybody wanting to get the best out of Hanoi in a day!
March 2014
Very good tour, even if it was a rather gray and rainy day. - our guide was very knowledgeable and engaging -
Advertisement
Advertisement