Spend an afternoon sampling traditional Vietnamese cuisine and learning to prepare classic dishes form the masters during this Vietnamese cooking class at Hanoi's Cooking Centre. This half-day experience includes a walking tour of Chau Long market, where your helpful guide will identify various items that are essential ingredients in the nation's most iconic dishes. The tour is followed by a hands' on lesson in the Cooking Centre kitchen, followed by the chance to sample and savor your creations.
Highlights
Learn the secrets of Vietnamese cuisine
Cooking class at Hanoi's Cooking Centre

Tour the Chau Long Market and learn about Vietnamese ingredients before you start your cooking class
Enjoy a scrumptious Vietnamese lunch
Hotel pickup and drop off
Recent Photos of This Tour
Vietnamese Cooking Class at Hanoi's Cooking Centre
What You Can Expect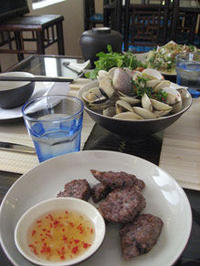 This half-day Hanoi cooking class showcases the best of Vietnamese cuisine. Travelers will learn to prepare healthy, simple and delicious fare under the guidance of their expert local chef. Learn how to shop for, cook and serve traditional cuisine during this
entertaining (and delicious!) afternoon.
Venture to the edge of Hanoi's Old Quarter, which is located near Truc Bach and West Lake, where you'll enter the famed Hanoi Cooking Centre for this memorable culinary experience. Your half-day tour begins with a walk around Chau Long market, where you'll mingle with locals and learn about the fresh ingredients typical in Vietnamese cuisine.
After exploring the market, take a short walk to the Hanoi Cooking Centre where your lesson will begin. Small groups of 2 to 16 people insure personalized attention as you learn techniques from the head chef. Two people share each cooking station during the interactive lesson.
Once meals are complete sit down with your new friends and fellow classmates to enjoy your own Vietnamese meal. Sip cold local beers or have a glass of wine. Detailed recipe cards perfect for travel insure you can recreate these delicious dishes even after you return home.
March 2016
This tour was amazing!! I highly recommend taking it. Our guide/chef was terrific. We had a great little tour of the morning market. Then off to the very clean,well set up kitchen to prepare our Vietnamese dishes. After we completed our dishes we were then sat at a table to enjoy our creations.
If given the chance I definitely would do this again.
November 2015
excellent. We enjoyed it so much that we went for a second day. The market tour was very informative. The cooking was very tasty, hands on. Good recipes. Very good english. Very friendly. My wife and I both loved it

SallyB Australia
December 2013
A fabulous tour. Our driver arrived at the specified time and delivered us to the Hanoi cooking centre where we were met by Tracey who took us to the fresh market for our experience of grocery shopping Vietnamese style. Fantastic experience, very interesting and informative and a bit of an eye opener. Back at the school we were shown our cooking stations and after watching a demonstration it was our turn to prepare and cook delicious, fresh, tasty vietnamese food . The food we had cooked was served to us in the restaurant upstairs with a glass or two of delicious local "Dalat" wine.. The staff were both friendly and knowledgable. This is a very well run and organised tour and comes very highly recommended.
March 2012
HAd a fascinating day with our guide. It was great to see Ha Noi early in the morning. Also, the cooking class was super!! We were promised recipes to be emailed to us but that hasn't happened yet.
November 2011
How well did this go recommend to everyone class was great learnt heaps the cooking school was fab
August 2011
This was a most interesting morning spending time in the local market shopping for and learning about the ingedients, which we cooked in the Cooking Centre and then had for lunch.
The staff were very friendly and we had a jolly time making our recipes!
We even took our Spring Rolls home with us to eat later - crooked and not very perfect in shape as they came out!
Yet we were very proud of our efforts !!
Thank you to the staff at the Cooking Centre for a most enjoyable and fun-filled morning !!
Wishing you all every success at the Hanoi Cooking Centre!

April 2010
This isn't one of those tours where you sit in an air-conditioned bus with a tour guide pointing out things on a loudspeaker. Get prepared to actually experience this one: walking, eating, drinking, talking, listening, smelling, preparing, cooking, chopping. The great thing about this tour is you get to eat what you produce. So all in all it's a very satisfying way to get a taste of life in Hanoi. As I walked back to my hotel it was as if the flavors of Vietnam were still with me.
Anonymous
April 2010
I was a little surprised, I expected this tour to be more of a straightforward city tour. But it was much more than that, highly enjoyable. The guide is very good, and the cooking class is fun. Worth doing.
Ryan B USA
April 2010
The cooking class was excellent. We were the only members of the class so it was private. We started with a personalized tour of the market where we made several dishes. The instructor was Australian, so there was no language barrier and it was just as described.
January 2013
The cooking class was great fun and the food turn out deliciously. We particularly love the information on the various ingredients and preparation methods imparted; it inspired a subsequent shopping spree on local cooking ingredients that we took home!
Advertisement
Advertisement