Experience an intimate wine-tasting at Williamson Wines in Healdsburg. Choose from two different tasting experiences to suit your preferences, during which you'll learn about wine pairings and meet the winemakers. Taste 6 wines, including cabernet sauvignon, sauvignon blanc, chardonnay and pinot noir. While you try some of California's best varietals, learn about how to best pair them with food at home. Munch on snacks like stuffed mushrooms, blue cheese, dark chocolate brownies and honey-drizzled local pears. Tour scheduling and duration varies and is flexible according to your needs.
Highlights
Wine-tasting and food-pairing experience at Williamson Wines tasting room in downtown Healdsburg
Taste six fine wines such as chardonnay, sauvignon blanc and pinot noir that aren't available anywhere else

Enjoy artisanal bites such as local blue cheese, stuffed mushrooms and dark chocolate brownies
Learn about wine and food pairing from your expert host

Have a chance to meet the winery owner and chef themselves
Choose from two tasting experiences
Why Our Insiders Chose This Tour
This unique tasting experience gives you the chance to taste boutique wines alongside creative dishes crafted to complement them. Throughout the tasting, you'll learn about each wine and the art of pairing from your expert host so come prepared with questions - and something to take notes on!
Recent Photos of This Tour
Wine and Food Pairing Experience at Williamson Wines in Healdsburg
What You Can Expect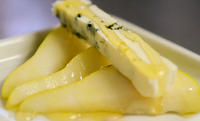 Make your way to the Williamson Wines tasting room in downtown Healdsburg for your wine pairing experience. Meet your expert host. Choose from the following tasting options:

Icon Wine Tasting
Perfect for more seasoned wine tasters, the Icon tasting session lets you taste the winery's most exclusive, exquisite wines.
As you sip, learn from your host about how these smaller-production wines are made; with only the best fruit available using painstaking winemaking methods to ensure top-notch, unparalleled quality. Produced in smaller quantities and at higher production costs, Icon wines include the more exclusive versions of
rosé,
chardonnay, sauvignon blanc, pinot noir, cabernet sauvignon and grenache.
Enhance the flavors and aromas of these wines by pairing them with the delicious bites listed above, all specially prepared by the in-house chef.
The winemaker often joins in on this tasting session, providing a more in-depth and informative experience.
Legacy Wine Tasting
During this seated tasting session, you and your friends will enjoy a large range of the winery's Legacy wines such as rosé
, chardonnay, sauvignon blanc, pinot noir, cabernet sauvignon and grenache. Learn about the creation of these small-batch, handcrafted wines, which are produced in quantities of less than 500 cases and are almost all bought exclusively by the wine club members.
Enhance the flavors and aromas of these wines by pairing them with bites prepared by the in-house chef. Food pairings may include locally made blue cheese, stuffed mushrooms, pears drizzled with honey and dark chocolate brownies.
The winery owner and chef often stop by, so you'll have a chance to meet and chat with them during your tasting.
The schedule and duration for these tastings is flexible according to your needs.
August 2014
My wife and I had a great time! The wine was the best that we tasted during our 4 days in Sonoma and food pairings were right on target. Highly recommend this tasting.

milband USA
August 2014
Healdsburg is a great little town, and BONUS!! Also home to one of my favorite breweries, Bear Republic, which is walking distance from this tasting. Williamson Wines is a great little tasting facility, and the food pairings were phenomenal. Would recommend this to anyone who has not yet had the pairing experience, it is well worth it. Quality of food and wines is outstanding. Thanks for a great tasting experience!!
January 2014
This was a great experience. We were expecting maybe some cheese and fruit to pair with our wine and instead got actual cooked food like chili and duck! Our host was super knowledgable and clearly passionate about what he does. I wish I lived closer so I could visit more often!

Trina Tron USA
January 2014
The Legacy Tasting was way above and beyond the average wine tasting experience! Not only was every taste expertly paired with delicious bites, but our host, Reese, was on hand to walk us through every varietal and why the components of each dish made it so complementary to the wine. He didn't rush us, spending a good amount of time talking about the tastes and answering our questions, all without the slightest air of pretentiousness. The winemakers, Bill and Dawn, also greeted us before the tasting and stopped in occasionally to add more insight on the wines and their favorite recipes to pair them with. The pours were generous and numerous and the food plentiful! After getting our fill of great wine, food and pairing knowledge, we walked out with our favorite bottle (the rose will surprise you!) and headed straight to the market for dinner ingredients to go with it. My boyfriend and I (and likely a few friends) will surely be back to try the Icon Tasting next with the reserve wines.
Anonymous
January 2014
This was easily one of the best private tastings I've been too in the Sonoma area. The Williamson Wines tasting room is right in downtown Healdsburg, which is beautiful. Bill and Dawn, the owners of the winery, personally greeted us and talked to us during the guided tasting, which included pairings of small bites of gourmet food prepared in their kitchen by a professional chef. The pairings were specifically calculated to change the taste of both the food and the wine and bring out unique flavor combinations, the whole experience was really a treat! The wines themselves were fantastically crafted, with whimsical names that downplay the serious pedigree of their many local vineyards, and even some unique blends that you won't get in other wineries. All told, my girlfriend and I had a great time and will definitely be back.
December 2013
We enjoyed the wine tasting and food pairing. One had the opportunity to learn about the wines and taste the food that can be served with the wine. The attendant was knowledgeable, friendly, and generous in his servings. We had a great experience. THANKS
March 2015
Had a big traffic from San Francisco Friday night. Didn't make it, and couldn't reschedule cos they were fully booked. They were nice via the phone though.
Advertisement
Advertisement