Follow in the footsteps of long-ago Minoan kings on this 5-hour Knossos Crete tour. Travel by air-conditioned coach to the archaeological site of the Minoan Palace of Knossos, and tour the remains dating to the 2nd century BC. Explore what were the royal quarters, storerooms and central court of the palace, the power base of Europe's first civilization; and hear about the mythical Minotaur that roamed a labyrinth here as your guide explains the site's history. Finish with free time for lunch and a coach tour of Crete's capital, Heraklion.
Highlights
5-hour Palace of Knossos trip and Heraklion city tour
Explore the Minoan Palace of Knossos with an expert local guide
Learn about Greek mythology and Minoan culture while walking through the Central Court
Discover sites like the Throne Room and Grand Staircase on the palace tour
See Koules Venetian Fortress and the Church of Agios Titos on a tour of Heraklion
What You Can Expect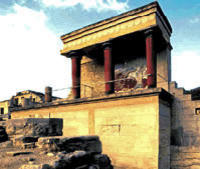 Begin your experience with a pickup from your Crete hotel. Hop inside your air-conditioned coach and enjoy the scenic ride to Knossos, the world-famous site of a Minoan Palace believed to have been built in the 2nd century BC and later abandoned.

On arrival, hop out of your coach and pay the entrance fee to the archaeological site. Then, head inside to explore the buildings and ruins, many of them partially reconstructed by British archaeologist Sir Arthur Evans in the early 1900s.

Follow your guide around the excavations and learn how the palace served as the ceremonial and administrative hub of Crete's Minoan culture, considered to be Europe's oldest civilization.

Inspect the once-lavish royal quarters, treasuries and storerooms; and admire the restored frescoes that depict long-ago scenes of Minoan life.

See the Central Court, Grand Staircase and Throne Room, and as you stroll, hear about the mysterious Greek legends associated with the palace, including the strange myth of the Minotaur — the half-man, half-bull said to have been imprisoned by King Minos within a labyrinth at the palace.

After your tour, return to your coach and continue into Heraklion for a panoramic sightseeing tour and free time for lunch (own expense).

Pass top Heraklion attractions such as Koules Venetian Fortress, Lions Square and the Church of St Titos as your guide recounts historical anecdotes about the city and its time under Venetian rule between the 13th and 17th centuries.

With your sightseeing over, your tour ends with a hotel drop-off.
August 2015
Book the morning tour and avoid some of the crowds and heat. A great start to our vacation. Tour included wine and olive oil tasting at a nearby town. Delicious and informative.

November 2014
had a great time on this tour, the guide was very knowledgeable, friendly and informative. I highly recommend this tour.
September 2014
Super, a well organised day. The guide was extremely knowledgeable, the day well organised
September 2014
Perfect amount of time and very great your guides! Highly recommend and I'm not a big tour/history person;)
September 2013
Very beautiful and interesting Tour!! Our Guide Mrs. Maria was very expert. We thank the organization also because the tour was in italian Language. Tour was organized very very well. After Ancient Palace of Knossos Tour, we have had also time to see Heraklion City.
October 2010
Wonderful tour with excellent guide. Fascinating place. All the most famous pieces are in archaeological museum though. It's still amazing to walk thru
July 2015
The guided tour to Knossos was very good. We could have spent more time there and there were a few too many people on the tour.
June 2015
Was picked up on time and the trip was well worth it. I would have given five stars but from our hotel in Elounds to Knossos took over two hours due to picks ups along the way and back. Seeing history in the making when you discover the palace was built over 400 years ago only to be discovered by an Englishmen in the 1900's
Andoni S USA
July 2014
Our guide was knowledgeable and thorough, and she led us around the site expertly. I found some of what she said repetitious, but as a teacher, I realize it may have been intentional; some people just don't listen very well! Our travel schedule posed some difficulties for us (our flight was to leave only an hour after the proposed end of the afternoon segment at the Archaeological Museum), but our guide helpfully explained what highlights to see and let us skip lunch to visit the museum on our own ahead of the group. Despite this personal glitch, the tour was informative, enjoyable, and well conducted.
September 2013
Interesting tour with a very knowledgeable guide, but the group was quite large so we couldn't hear her all the time. This tour also included a trip to Heraklion with 1.5hrs of free time to explore, plus a 45-minute visit to Peza, where we had a complimentary glass of local wine and sampled olive oil. This wasn't included on the itinerary so would've been nice to know beforehand, but was still enjoyable.
Advertisement
Advertisement