Pull on your walking shoes for a full-day Samaria Gorge hike in Crete. Traveling by air-conditioned coach, head into Crete's White Mountains to the entrance to the spectacular gorge, one of Europe's longest. Ogle the awe-inspiring views as you hike down into, and along, the gorge floor past streams, wild goats, deserted settlements and steep cliffs. Walk at your own pace and finish your Samaria Gorge hike at the beachside village of Aghios Roumeli. Ride a boat from here back to your coach for your return journey.
Highlights
Samaria Gorge day tour from Heraklion

Explore Europe's longest and most famous gorge
11 mile (18km) hike from Omalos to Aghia Roumeli
Spot goats, wildflowers and birds
Sail to the village of Chora
Professional local guide
Hotel pick-up and drop-off included
What You Can Expect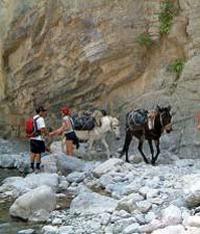 Start your experience with a pickup from your Crete hotel. Then, travel by air-conditioned coach to the entrance of the Samaria Gorge in the White Mountains of west Crete.

Arrive at the plateau of Omalos, the natural gateway to the gorge, and set off on your approximately 11-mile (18 kilometer) hike.

Walk at a pace that suits you and admire the breathtaking views as you follow trails down the mountain slopes. Walk through the gorge's narrowest section between steep cliffs, and look for wild flowers, deserted settlements, birds of prey and kri-kri, wild goats, along the way.

Toward the end of the hike, walk the gently sloping tracks downhill to the sandy beach and village of Aghia Roumeli on the Libyan Sea.

Rest up from your 5- to 6-hour walk, and then take a boat trip to nearby Chora Sfakion. Step ashore here and rejoin your waiting coach for your return drive. Your trip concludes with a hotel drop-off.
June 2016
Absolutely stunning. It was run very efficiently, I booked online the day before, was told where and when to go to be picked up. The guide was helpful and informative. Really enjoyed my day
November 2015
Trip was well organized and the tour operator worked closely with us to make sure and pick us up and dropped off at a convenient location and on schedule.
September 2015
The hike was extremely well organized, and the sites were beautiful!
September 2015
Amazing natural environment! Really appreciated the opportunity to sit back and enjoy the ride without driving the steep, narrow switchbacks. Coffee and biological stops along the way were great especially on the return, the soulvaki cooked on the outdoor grill was delicious.
Barbara, our guide was nice and provided enjoyable information about the history of the area as we drove up the mountain. Altough she verbally told us a couple times about the hike and the important timing benchmarks it would have been helpful to have them written out or at least a recommendation for us to make note of them. She said she did the hike 58 times already for the season but for those whose first time it was there was alot to remember, one certainly does not want to miss the boat back.
Bit confusing as to where to go at the end but we figured it out. There was a shuttle bus to town at the second place that offered refreshments but this was not included in our tour. The walk into town is short and flat after this but we just weren't sure where to go. A sign or remindern of this would have been comforting. Again, didn't want to miss boat. Take into consideration the phenomonon of the vacation brain
Wearing hiking shoes with stiff soles makes the walk more enjoyable-6 hrs for us as you ate constantly walking over rocks of various shapes and sizes. My knees tend to hurt going down so my walking sticks were a savior. In order to make the ferry we needed to keep walking, stopping often for photos of the spectacular scenery.

July 2015
Pros: We were very impressed with this tour. Tour company was very organized, had on-time arrival to morning pick-up, a well-informed tour guide, and comfortable transportation. Tour had a great pace through the gorge, finishing with 2 hours at the end to enjoy swimming in the Libyan Sea and lunch in the beautiful and remote Agios Roumeli.
Cons: If youre looking to stroll through the gorge at your own/slower pace, this tour moves a little more briskly than that. Some reviews noted pace was quicker than desired, however, we did not feel that way and, at 6 hours, we were tired from our journey so glad to for its pace, and did not feel rushed.
June 2015
Excellent day! Highly recommend this tour
June 2015
Small bus picked us up, took us where we needed to go, and got us home quickly. Tour guy was funny and informative and had a great Austrian accent. This was more like a concierge service than anything else - would highly recommend over a large tour.
June 2015
Great experience but one must be in really good condition and hiking shoes would be best. Our tour guide Thomas was terrific and informative. Everything went smoothly and we had plenty of time.
June 2015
It was great! The tour guide was nice and informative and the tour pick-up and drop-off ran smoothly.
October 2014
This was the highlight of my visit to Crete. The gorge itself was amazing due to its sheer height and beauty. The herbal smells particularly over the first few Km were amazing. The guide was helpful providing some background to the gorge and the small number of buildings in the valley. The history of those who lived in the gorge is fascinating. This is a trip that I would highly recommend.The only negative that I would say about the day was the very poor quality of the coffee / food rest stop, which the bus stopped at the half-way stage on travelling too and from the gorge. Better to be well planned and bring your own food!
Advertisement
Advertisement