Visit the spectacular volcanic island of Santorini on a full-day independent trip from Crete. After a hotel pickup, cruise to the beautiful Greek island, and explore as you wish. Admire the stunning scenery and clifftop towns, laze on black-sand beaches, browse the shops of the cliffside capital of Fira, visit picturesque Oia, and relax in the tavernas and bars, many with epic views over the caldera. Finally, catch the return boat from Santorini to Crete for a hotel drop-off. All meals and activities on Santorini are at your own expense.
Highlights
Independent day trip to the island of Santorini from Crete
Explore the glamorous Greek island at your own pace
Visit sandy beaches such as Perissa or Kamari to sunbathe and swim
Take a cable car ride from Santorini's caldera to Ormos, the island's old port
Explore Fira and discover museums, windmill ruins and pretty whitewashed houses
Enjoy round-trip transport by boat from Crete plus hotel pickup and drop-off
What You Can Expect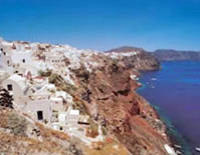 Begin your independent day trip with a pickup from your Crete hotel. Relax in your air-conditioned minivan and drive to the portside to catch your high-speed boat.

Once aboard, sit back and enjoy the sea views on your approximately 2-hour cruise. As you approach Santorini, admire the island's spectacular cliffs topped by sparkling white houses.

Dock near the capital of Fira, get details of the boat departure times for your return journey, and step ashore to explore independently. You're free to do as you please during your visit, but all activities, transport, meals and entrance fees on the island are at your own expense.

Lounge on the beautiful beaches at Kamari, Perissa or Red Beach, or head into Fira. Delve into the pretty, cobbled lanes to browse the boutiques and arty shops, and relax at the bars and eateries, many with terraces overlooking the spectacular caldera.

If you wish, descend the 600 steps or ride the cable car down to the old port of Ormos and dip into the restaurants ranged along the waterside.

Alternatively, make your own way to other parts of Santorini. Visit the picture-perfect village of Oia to see its blue-domed churches and epic caldera views, or head for Firostefani, a small village near Fira filled with traditional architecture and quaint streets.

Wherever you explore, don't miss some of Santorini's classic Greek flavors. Visit a traditional taverna to savor moussaka and dolmades (stuffed vine leaves), or enjoy modern Greek cuisine at Fira's trendy eateries.

When the time comes, take your return boat ride and end your day trip with a drop-off at your Crete hotel.
June 2015
It was very well organized and fun and easy to purchase and negotiate. I have no complaints other than more time in a day! The tour company worked with our resort to arrange for pick-up.
June 2014
I really loved Santorini but I would prefer to go there and stay for a few days as we spent too many hours traveling (bus+boat+bus). The guide was really kind and funny, we could see that she knows a lot about her island (she lives there), unfortunately I don't remember her name but she said that we could call her "mama" :) also she recommended a good restaurant by the beach!
Anonymous
January 2010
Santorini is stunning.
Anonymous
January 2010
The sea was very rough on our visit, which caused not only the entire boat full of tourist to vomit for 3 hours straight but it also caused us to land late on the island. This caused a strain on time as we only had 1 hour in Oia and about 20 minutes in Fira before we had to get back on the bus and go back to the boat. I can only hope that on a more smoothly run trip that the time on the island lasts longer than that If not, then I would suggest allowing tourist much more time on the island. Leaving earlier from Heraklion would be a good start. I also wish there was a more convenient way for the tour guides to communicate with people on the bus. Listening to the same description 5 different times, first in English, then Dutch, then German, then Italian, then French, etc. etc. gets extremely tiring. You start to ignore all of it after a while. Maybe a recording with headsets would be more reasonable.
September 2013
I liked the tour, and visiting Santorini. However, there was almost no guidance, we had short free time of 1 hour or 1.5 hours in the major cities which was too crowded and left us with the wish to see more. The ferry was 2.75 hours to each direction, which left us less time than we expected.
June 2013
I wish there were multiple ways to see this island, but, alas, you've got few options. This is one of them. The ferry ride was lovely, but then we got herded off the boat into, like, 30 waiting, idling buses. It reeked of exhaust and was chaotic. We got shuffled into one bus that advertised both German and English (we're English-only speakers), but we quickly left that bus after the guide on it was rude to some nearby passengers. So we switched to a French/English bus, where we were the only English speakers -- our tour guide, though, was very sweet about it and called us "her girls" because we were the only ones she had to address in English.
On this tour, you get to see Oia, Fira, and the beach. You won't get much time at each, and you'll follow all the other tour buses around to each of the stops, which means hundreds of people flood the tiny streets at every stop. And you're basically only dropped there to do shopping. The tour guide was knowledgable and interesting -- she definitely does the best she can -- but it's possible that if you want the real Santorini, you'll have to give it more than just one afternoon.
September 2015
They say on the websit you can use an E-Ticket, it was a real problem for us at the port! Do not go for lunch at the first stop, which was the beautiful town of Oia! You WILL NOT have enough time to shop or see anything! I was VERY upset being hearded to The Blue Sky restaurant, the food was just okay and slow. We were not left with enough time, only 25 mins to see what we came for which was Oia not a Greek salad!!!. There is time to eat at Fira! I would recommend this trip but heed my warnings and you'll have a great time!
September 2013
Santorini itself is the most beautiful
Of islands. However the tour tries too hard to fit too much in. The result is that you hardly have time to look round before being moved on to the next location. My advice get the ferry yourself and take your time maybe just concentrate on Thira or one location
Advertisement
Advertisement