Discover two of Japan's most spectacular sights on a captivating tour of Hiroshima and Miyajima's UNESCO World Heritage-listed sites. Accompanied by a knowledgeable guide, explore the impressive monuments of Miyajima Island, famed for its sacred Itsukushima Jinja Shrine, whose red tori gate appears to be protruding from the sea during high tide. Continue onto the Hiroshima Peace memorial Park, a moving expanse dedicated to promoting peace around the globe. Enjoy a tranquil ferry ride and absorb the natural splendor of the region's scenery on this enriching excursion.
Highlights
Explore World Heritage sites in Hiroshima and Miyajima in one day
Walk through the Hiroshima Peace Memorial Park
View the only remaining bomb damaged building, the Atomic Bomb Dome
Travel by ferry to Miyajima Island
Informative and friendly guide

Recent Photos of This Tour
Hiroshima Peace Memorial Park and Miyajima Island Tour from Hiroshima
What You Can Expect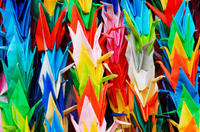 Depart from a centrally located Hiroshima hotel in a comfortable, air-conditioned vehicle and relax during the scenic journey to Miyajima, which literally translates as 'shrine island'. Board a ferry and sail towards the natural haven of the island, stopping to see playful monkeys and wild deer surround the renowned Itsukushima Shrine. Spend a moment admiring the dynamic architecture of the temple and hear of its rich historical heritage from your guide.
Next, head to the Hiroshima Peace Memorial Park to explore a verdant expanse dedicated to promoting peace. Built to commemorate the destructive atomic bomb dropped over Hiroshima in 1945, the park houses the Peace Memorial Museum and a selection of monuments that commemorate those lost in the explosion. Browse intriguing exhibitions and visit the Atomic Bomb Dome, a skeletal structure that partially survived the blast.
Spend a moment reflecting quietly at the Memorial Cenotaph for Atomic Bomb Victims and read the seemingly interminable list of those lost in the brutal explosion. Visit more monuments, including the Cenotaph fro Korean Victims, and then return to a central Hiroshima location at the end of your moving tour.
March 2016
This was a well organised and enlightening tour. The Guide was very well informed and an excellent communicator. It was a very full day but well paced. The spiritual magic of Miyajima in the morning provided a strong contrast to the moving memorials and horrific images witnessed in the afternoon.
November 2015
Fantastic place to visit, tour guide was amazing, very knowledgeable and friendly, always willing to help. Miyajima Island was lovely, I could have spent more time there, but the tour had to go on. Anne

September 2015
Enjoyable tour and interesting to hear the history from the Japanese perspective.
June 2015
This was a very worthwhile and interesting tour. There was a lot to be learned as well as felt. It's a very sobering place, for sure.
June 2015
This was a nice tour. Our tour guide was very knowledgeable and we ate some delicious oysters in Miyajima.
June 2015
April 2015
Very knowledgeable, nice and helpful tour guide sorry forgot the name Mr....
February 2015
We had a fabulous tour leader, Akiko, who did not waste a moment of time, gave us great information and stories, yet gave us sufficient free exploring time. The day is well planned, and very full, since you see the Island of Miyajima and the Peace Park. Yes, you could do both on your own, but the price, convenience, and tour guide made it worth doing it with a group. Dont miss the grilled oysters on the island, and the ritzy ryokan where we saw a bride and groom being taken by rickshaw
January 2015
I really loved Miyajima. The red tori gate in the blue sea in front of green hills is just beautiful. Special thanks to our tour guide who showed us another Buddhist temple a bit away from the tourist spots and provided lots of information.
Hiroshima was very impressive. I was moved by the storys of atomic bomb victims presented at the Peace Memorial Museum.
November 2014
A thorough tour that is fairly packed for the whole day. Miyajima Island is well worth a visit. The tour guide is a local and fabulous.
Advertisement
Advertisement