This Ho Chi Minh Food Experience with Vietnamese Cooking Class and Market Tour showcases the best of this classic cuisine. Travelers will visit Ben Than Market where they'll wander the stalls with their local chef and learn about the fresh ingredients essential to creating the most popular Vietnamese dishes. Then, under the guidance of an expert chef, travelers will prepare a 4-course meal alongside new friends. With a cap at 20 people, the class and dining experience is sure to be fun, personalized and memorable!
Highlights
Half-day market tour and cooking class in Ho Chi Minh City
Select vegetables and spices at Ben Thanh Market
Create delicious Siagonese dishes, including appetizer, salad or soup, main course and dessert with an expert local chef!
Learn about Vietnamese culture and its culinary heritage
Dine on a scrumptious meal with like-minded cuisine lovers
Small-group tour limited to 20 people ensures a personalized experience with your guide
What You Can Expect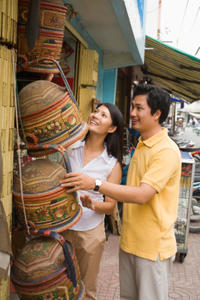 Your Ho Chi Minh food experience kicks off with pickup from your city hotel. Follow an expert guide through the famous Ben Thanh Market, where you'll wander past eclectic stalls filled with clothing and souvenirs like a local. Learn about the fresh ingredients and
aromatic herbs essential in this popular cuisine as you talk with local produce sellers. Your guide will share stories about this historic destination, which is the oldest surviving market of its kind in Vietnam's most populated city.
Leave the market and head to the Vietnam Cookery Center for a real-life lesson in Vietnamese cuisine. You'll have access to traditional equipment, expert chefs and fresh ingredients that are essential to producing the nation's most popular dishes. The small-group cooking class offers up plenty of time and space for interacting with new friends and the professional chef will show you how to prepare papaya salad, chicken curry and coconut-centric dishes.
Once you've stepped away from the stove, sit alongside your fellow classmates and enjoy the final product. With a new 4-course meal prepared every day of the week, no two classes are ever alike. Once your belly is full head back to your hotel with a new understanding of Vietnamese culture, cooking and this flavorful cuisine.
Itinerary
Sample Menu:
Monday:
Lotus stem salad with pork and prawns
Soup with pineapple and shrimp
Braised chicken with ginger
Fried rice with egg
Dessert: Yoghurt fruit
Tuesday:
Fresh salad rolls
Sour soup with prawn
Caramel fish in clay pot
Steamed rice with pandan leaf
Dessert: Juicy agar
Wednesday:
Fish spring rolls
Papaya salad with pork and prawns
Vietnamese chicken curry
Dessert: Juicy agar
Thursday:
Spring rolls
Sour clam soup with dill
Caramel pork in clay pot
Steamed rice in coconut juice
Dessert: Sauteed banana soup in coconut milk
Friday:
Banana blossom salad with pork and shrimp
Tomato soup with egg
Braised chicken with curry powder and lemongrass
Steamed rice with ginger
Dessert: Sweet white bean in coconut milk
Saturday and Sunday:
Chicken noodles
Vegetable salad with pork and shrimp
Vietnamese grilled pork rib
Steamed broken rice
Dessert: Juicy agar
March 2015
Our chef was delightful with very easy to understand English. She was great at ensuring that everyone participated in the demonstrations before going on to make each dish ourselves.
August 2014
This was great, we had a wonderful morning. Don't have breakfast as there is lots of food as you are cooking. The lady that did the cooking class was beautiful and at here was only us 3 in the class. We did the market tour first. Be prepared for a little test at the end and you get a takeaway if you can't eat it all. With 3 different people all with different likes, we all loved this class
July 2013
We really enjoyed this tour. We enjoyed the trip to the market prior to the lesson at the Culinary Arts Centre. The hands-on lesson was good, the Chef was great and the menu was delicious.
January 2016
Very interesting and fun.
March 2015
I enjoed the cooking class from start to finish
August 2014
handy intro into vietnam cooking
June 2015
The tour went ok but it was listed as 5 hours but was finished in more like 3. Learnt a few valuable things though.
Advertisement
Advertisement