Coast around the Mekong Delta for a day – on a converted rice barge, a local boat and a motor cart – and catch a glimpse of traditional Vietnamese life along the waterway. On this trip from Ho Chi Minh City, you'll enjoy cultural highlights with your friendly guide, including visits to a rural village, a communal temple and a local farmer's house. Your trip along broad canals and small creeks in the delta comes with a deluxe three-course lunch of Mekong specialties while you cruise!
Highlights
Day trip on the Mekong Delta from Ho Chi Minh City
Explore the canals of the Mekong Delta with an informative local guide
Travel by small boat, converted rice barge and local motor cart
Relax on a river cruise as you admire the local sights
Visit a village, a pagoda and several small businesses along the waterway
Watch a cook prepare your sumptuous three-course lunch with Mekong-inspired cuisine
Round-trip transport by air-conditioned vehicle included
What You Can Expect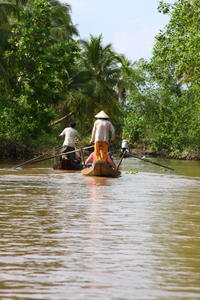 Upon hotel pickup around 8am, travel by air-conditioned vehicle to Ben Tre, an approximate two-hour drive from Ho Chi Minh City. When you arrive with your guide, embark on a fascinating tour of Mekong Delta canals by local boat, stopping to visit some of the residents and their enterprises along the way.
Visit a home factory where bricks are made before you continue by boat to a coconut processing plant. Here, learn from your guide how this important fruit is treated by separating oil, flesh and husk – then used to make coconut oil, matting and delicious coconut candy.
Back aboard the small boat, head further along the winding channels for a brief journey to a creek-side village. Disembark and go on a short walking tour with your guide, heading to a farmer's house to witness a traditional mat-weaving process first-hand. From here, hop on a xe loi (tuk tuk-style motor cart) and ride through the picturesque rice paddies of the Mekong countryside. Stop at a local pagoda to learn from your guide about the role of traditional communal temples in Vietnamese village culture.
Next, climb aboard Le Jarai, a converted rice barge, and cruise under the shadows of water-coconut palms growing along the banks. Relax as you coast along the pleasant waters of the delta and take in the sights. If you'd like, you can watch a Vietnamese cooking demonstration as the onboard chef prepares your lavish three-course lunch, including traditional Mekong specialties.
Enjoy your delicious lunch as you cruise back to Ben Tre, returning by vehicle around 4:30pm to Ho Chi Minh City, where your guide will drop you off at your hotel.
September 2015
Awesome tour! Everything was top notch and to top it all off the lunch boat ride was so peaceful. Felt like a king - by the way the snake wine they have it pretty cool too
December 2014
What a great tour. The different modes of transport , having local herb wine with the workers . Going down the Mekong - just exceptional. Our tour guide was friendly and knowledgeable and made the group feel important. Don't miss this tour as it is Vietnam !!!!
August 2014
Absolutle fantastic! Not one dull monment. Would ceratinly recommend tghis tour. many highlights including the sampling of snake wine. Hymmm!. Seen it for sale with an actual cobra inside the bottle. Would of purchased but i think we would of had a struggle getting it into New Zealand. Even had a go at mat weaving at the viiage we stoped at. Our tour guide was very professional and knowledgable. Rice barge cruise awsum. Great meal served by beautiful Vietnamses girls who weven gave us a cooking lesson. Cant wait to experiment at home. Brick factory and coconut plant amazing and really enjoyable as we do not have that sort of thing in NZ
February 2014
This tour was amazing! Visiting several villages along the Mekong Delta we were able to experience making reed mats, rice paper and coconut candy making. Once we boarded the larger boat it was time for a lesson in vegetable sculpting and making spring rolls. We were then treated with a 5 course meal of Asian delights. Following our meal we were left to relax while cruising along the Delta. We also were given a ride in a Tuk Tuk through the countryside. A bit bumpy but lots of fun. Our tour guide, Minh I think his name was, offered a lot of information which was useful during the tour.
January 2015
I spent a day on the "Mekong Delta Cruise including Village Tour and Tuk Tuk Ride" and it was excellent. Best of all, the tour description actually matched the day, which was appreciated. There were no exaggerations in the activity descriptions and everything was delivered as expected, even the timing! Our guide, Ban, gave lots of background information about Vietnam and the places we were visiting. The Mekong is fascinating and beautiful. The boats we cruised on were safe and our guide always made sure we were within his eyesight. The lunch on "Le Jarai" was wonderful - sometimes the descriptions are a long way from the truth, but not this time. We were served by lovely, gracious staff and enjoyed very high quality, delicious food. I would not hesitate to use the tour company again, they were marvellous.
November 2013
The tour was good, the tour leader was very knowledgeable and entertaining. The boat cruise was very relaxing and the good was devine. The service from viator in confirming the booking was not so great, but in the end after a nervous wait we were picked up by the bus.
Advertisement
Advertisement