Journey from Ho Chi Minh City into the heart of the Mekong Delta on a small-group tour led by an experienced local guide, cruising along the mighty Mekong in a private longtail boat. Experience this important river delta firsthand as you explore both jungle-shaded canals and wide waterways to see fishing villages, exotic fruit farms and the rhythms of daily life. You'll also enjoy a lunch of traditional Mekong Delta dishes and sample local specialties along the way.
Highlights
Full-day small-group cruise on the Mekong Delta, from Ho Chi Minh City
Cruise the waterways of the Mekong River in a private longtail boat
Explore villages and islands in the Mekong Delta
Try Mekong specialty dishes during lunch at an excellent restaurant
Ride in a sampan along canals shaded by coconut trees
Sample exotic fruit and tour a coconut candy farm
Travel in a small group with a maximum 16 passengers for a more intimate experience
Recent Photos of This Tour
Mekong Delta Discovery Small Group Adventure Tour from Ho Chi Minh City
What You Can Expect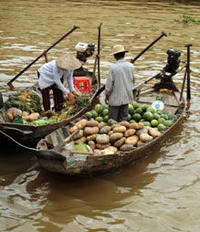 Travel to the city of My Tho, a 2.5 hour journey, by air-conditioned mini-coach. A former naval base, My Tho is now a bustling port city in the Mekong Delta. The area is the final destination of the Mekong River which winds its way from Tibet, China, Burma, Laos, Cambodia and finally Vietnam. An incredibly fertile region its prime industry is food production, producing approximately half of Vietnam's total agricultural output. Life for villagers in the area revolves around the rivers and canals that make up the delta, people are more likely to transport by river than by road.
Upon arrival into My Tho you'll board a private boat for a cruise on the Mekong River. On the boat ride your local guide will take you to visit an island with lush tropical gardens where you'll have a chance to sample tropical fruit. You'll continue to another island in the Mekong Delta, you'll learn more about another cottage industry, coconut candy. Your local guide will take you to a coconut candy factory and explain the process of making this sweet. You'll have a chance to visit local villages in the area and learn more about the traditional lifestyles, culture and customs of people who call the Delta their home. Continue by Xe Loi (motorized cart) to a bee farm where you'll transfer to a smaller rowing boat allowing you to get deeper into the smaller canals of the Delta.
Sample the local Mekong cuisine at the Diem Phuong Restaurant where lunch is served. After lunch you'll return to My Tho for the journey back to Ho Chi Minh City.
April 2016
It is rare that whilst on holiday my wife and I have had a day trip that was so enjoyable. From the moment that we met our guide, until we stood with her at the end of the day for photographs it was wonderful. Sometimes it is not just what you see or experience that makes the day, it is the way in which it is delivered. The sights seen and the experiences created memories that will stay with us.
April 2016
This was the best tours of our trip. It is a full day out experiencing Vietnamesse traditions, Culture, food and Music. Would definitely recommend.
April 2016
This was a wonderful tour that shouldn't be missed. It may have taken a while to get there but it was totally worth it. One of the best times we had on our entire trip.

April 2016
Great tour! Our guide was a hoot. A good way to learn about Vietnamese culture and the importance of the Mekong delta to the region and its peoples and #39; way of life.
April 2016
Linda made the tour interesting. It was well planned.
April 2016
We loved this tour! Linda was just wonderful - full of knowledge, patient and great fun. The tour itself was full of activity and delicious food! There were many things to see, do and taste We were well cared for and Linda constantly updated us on where we were, what we were doing and what was about to happen. All the food included was really high quality and the portions were generous. We had plenty of time at each stop to ask questions and make purchases very reasonable prices. A pair of good walking shoes is highly recommended and a big bottle of water is a good idea! It was very relaxing and we praise Linda highly. Our group was aged between 18-70years old and there were no issues despite the age range. Definite highlight!!! A very big thank you to Linda
March 2016
March 2016
it was a great day we saw so many different things and everyone so friendly
March 2016
a fantastic day out, we were taken by air conditioned mini bus , to the Mekong delta
where we were then taken by boat to one of the islands on the Mekong delta,
you are shown around the island by tuk tuk , seeing how the local people live , first stop we were given a number of local fruits to try and listen to the local Cambodians sing a few traditional songs
second stop was a coconut farm , where you see how the locals make candy from coconuts tastes really nice you also have the chance to buy some coconut candy !!!!
third stop you are taken to a beautiful restaurant where the food was fantastic !!!
after all three stops we were taken by three small rowing boats 7 in are group up one off the small rivers to meet up with are boat, a twenty minute journey to take us back to the mainland
this is a brilliant day out and i would recommend it .

March 2016
This tour was a lot of fun and well worth the seemingly high price. The highlights for me were the wild tuk-tuk ride through one of the islands and the oar powered boat ride on an offshoot of the Mekong which goes through some dense jungle. The guide Linda Huong Le was great, explaining everything clearly and answering all questions. A small quibble is that the bee farm is not a farm at all but rather a place that sells bee products with onky a few token bees on hand.
Advertisement
Advertisement