Discover the west side of Tasmania on a 3-day one-way tour from Hobart to Launceston. During scenic drives and walks, marvel at the untouched landscape of sights like Cradle Mountain-Lake St Clair National Park, and spend two nights at a rustic lodge in Strahan with hostel-style accommodation. During a whole day of free time, customize your adventure with optional outdoor activities like quad biking, jet boating, sea kayaking and more (own expense). This tour is limited to 20 people with a guide.
Highlights
3-day western Tasmania tour from Hobart to Launceston

Enjoy guided walks through Mount Field National Park and Cradle Mountain-Lake St Clair National Park

Hike to the bottom of Russell Falls

See picturesque Lake St Clair

Try quad biking on the Henty sand dunes (optional activity)

Go jet boating on the King River (optional activity)

Tour limited to 20 people for a more personalized experience
What You Can Expect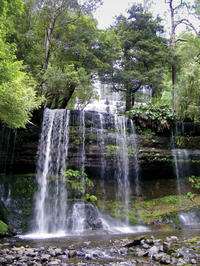 Your 3-day tour of western Tasmania starts as you depart Hobart for the drive through Mt Field National Park, followed by another scenic drive to reach Lake St Clair in Cradle Mountain-Lake St Clair National Park before ending the day in Strahan, where overnight accommodation is included for two nights at a private lodge used exclusively by participants on this tour.

Once a bed and breakfast, the lodge now provides either shared dormitory rooms (four beds per room) or hotel-style rooms (one single and one double bed per room); make your selection when booking. Some meals are included.

Over the next two days, continue your exploration of this wilderness region with bushwalks, hikes and wildlife-spotting. To enhance your experience with some outdoor adventure, you have the flexibility to choose your own optional activities, from jet boating to a Gordon River cruise to quad biking on the Henty sand dunes. Your tour concludes when you reach Launceston. See the Itinerary for details on each day.


Itinerary
Day 1: Hobart – Strahan (L)
After an early morning departure from Hobart, take a scenic drive through the farming country northwest of the city to reach Mount Field National Park. Here, take a guided nature walk through the park's famous tall trees, known as swamp gums, and visit beautiful Russell Falls. The next drive is one of Australia's most scenic, taking you to Australia's deepest lake, Lake St Clair, in Cradle Mountain-Lake St Clair National Park. After time to explore this wilderness region, another scenic drive brings you to your private lodge accommodation in the west coast village of Strahan.

Accommodation: Private lodge in Strahan—Braeside Bed and Breakfast

Day 2: Strahan (B,L)
Spend this free day in Strahan how you choose, and book any optional activities you want to do on the day. Perhaps book a quad-biking adventure on the Henty sand dunes, with views over the wild west coast, or go jet boating in the rainforest-covered mountains on the King River. Take a relaxed cruise on the Gordon River, go sea kayaking or relax in the tiny village of Strahan.

You also have the option to explore off the beaten track into the Tarkine wilds, where ancient forests meet ancient mountains. Your guide will show you the thousand-year-old Huon pines growing alongside the Pieman River and take you on a series of easy to moderate walks exploring the area before returning to Strahan.

Accommodation: Private lodge in Strahan—Braeside Bed and Breakfast

Day 3: Strahan – Launceston (B, L)
After breakfast, take a drive to Cradle Mountain, one of Australia's most popular bushwalking destinations. Go on a guided hike through this rugged landscape, or follow an easier trail to Dove Lake. You'll see birds and wildlife on your walk, and perhaps even spot an elusive wombat. In the afternoon, drive to the mid-north coast town of Launceston, stopping along the way in Sheffield, the 'Town of Murals,' where you will enjoy a cheese tasting at the Ashgrove Cheese Factory.
December 2014
Steve, the tour leader, couldn't do enough to help and showed an amazing depth of knowledge of the areas visited. Although the hostel at Strahan is rather basic it was comfortable enough for 2 nights. Our fellow travellers were a great bunch and the mix of age groups was a bonus. Some concern that the elderly mini bus would actually make the distance and would have felt more comfortable with seat belts, which I thought would have been mandatory by now.
December 2013
Wonderful guide -- Steve was knowledgeable, helpful, hard working.
The accomodations and meals were a bit sparse. Would have much preferred a genuine hotel.
December 2013
An enjoyable experience. Want to go back and spend more time in the area
March 2015
A lot of time is spent travelling on a bus, how ours made it for 3 days is a miracle. It didn't sound very healthy and rattled it's way round Tasmania! It struggled up hills and It wasn't fitted with seat belts.
We loaded out suitcases in the trailer at the back and on our arrival in Strahan we lifted them out to find them covered in oil. A thing of oil had leaked inside the trailer and not only had it now covered our cases but also covered my top and jeans when i lifted my case out! Over a week later this oil won't come out of my clothes and 2 suitcases are having to be retired after this trip. Sorry but this isn't good enough.
Our tour guide was an interesting character. Whilst he provided lots of useful info, it was clear he wasn't really interested in Tasmania apparently the company don't have staff based on the island they send them down from Darwin to operate the tours!
What made our tour was our friendly group, we were just 5 people. We had all booked the hotel style accommodation in Strahan. Don't be fooled by this, we had a double bed and two bunk beds which creaked every time you moved. There was also a possum in the roof of the B and B and at 5am every day it would start moving. The accommodation just felt unloved, it was clear at one stage it was a grand property, but it now felt tired and neglected.
The tour did include some meals. The one evening meal we were served was pasta bake! We had also advised the office that one of us was gluten free and whilst our tour guide got gluten free pasta and cereal in, he said the company had said gluten free diets were expensive to cater for and the boss in Darwin had said to stop catering for them. So lunch was ham and lettuce as nothin else was provided!
This company is obviously set up for budget minded travellers. You see a lot of places in a short period of time but it's not in comfort or style! Based on our experience of this company we certainly wouldn't use them again.
Advertisement
Advertisement