13 Reviews
Location:

Hobart, Australia

Duration:

4 hours

(approx.)
Get warm and friendly with a Tasmanian Devil at Bonorong Wildlife Park and get a taste of the convict days on this afternoon half-day tour from Hobart.
Highlights
Experience native Australian wildlife and the historic town of Richmond on this half-day tour from Hobart
Get up close and personal to a Tasmanian Devil and other Australian native animals at Bonorong Wildlife Park
See Wallabies, Sugar Gliders, Kangaroos, Quolls, Tasmanian Devils and many more
Visit the historic town of Richmond, learn about it's convict history
English-speaking guide
Hotel pickup from centrally located Hobart hotels
What You Can Expect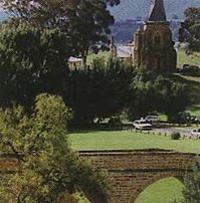 You'll be picked up from you Hobart hotel and travel to the Bonorong Wildlife Park to meet some of Australia's native animals - Kangaroos, Koalas, Cockatoos and Echidnas. Tour continues to one of Australia's most unique and historic towns, Richmond. A Georgian style village resplendent with mellow stone cottages will take you back in time to the convict days. Discover its convict history and visit the Richmond Gaol.
Highlights:
Constitution Dock
ABC Building - Hobart's original sandstone Railway Station
Head out the Brooker Highway passing North Hobart and Newtown
Derwent Entertainment Centre
Bonorong Wildlife Park overlooking the Brighton Valley, offering close up experiences of Australia native animals
Take a guided tour of Bonorong and learn of the habits of our native animals
Visit Richmond - one of Australia's most unique and historic towns
Time to explore Richmond - the bridge, the Gaol, convict built homes, small cottages, unique shops and restaurants
Click on
"View Additional Info"
for the hotel pickup list
May 2015
Sharon B United Kingdom
April 2015
If I could I would give this tour 10 stars. Just one gripe. ....not enough time for each stop. I could have spent the whole afternoon in either place and gone back again. A tip from the wise..... don't hang around the game warden at the wild life park for too long. He loves his job and is very enthusiastic about it, but does tend to talk for too long, which cuts down on the very limited time you have in the park. There is so much to see and only an hour in which to do it. The warden will spend about 45 minutes showing you the wombat, devil and koala and the rest you are left to your own devices. There is just not enough time. As for for Richmond. .. A lovely quaint town, but also not enough time to fully explore. Maybe the tour should be broken into two?
March 2013
March 2015
Enjoyed meeting the wombats, kangaroos, koala and Tasmanian Devil. The tour guide was passionate about the animals in his care. Only negative point was that there just wasnt enough time to see everything!
August 2014
A bit pricey, but still a very cool tour that I highly recommend! Bonorong was awesome!! We got to feed and pet kangaroos, pet a koala and wombat, and see Tasmanian devils get fed. Plus we saw lizards and tons of birds (including emus and some birds that actually spoke to us!). The tour guide there was awesome and our driver was also great. The stop in Richmond was nice, but perhaps a bit too long. The old town is quaint and pretty, but there's not too much to do there.
December 2013
Bonorong Wildlife Park was awesome but I wish that we could have spent at least 2 hours there instead of 1. Time at Richmond could be shorter would be good.

June 2013
We enjoyed feeding the kangaroos and the other wild life.
April 2012
The wildlife Park was quite natural and allowed excellent time with interaction with the animals. The only complaint I had was that there was not enough time in Richmond to really check our the town and it's history. The tour should be extended to allow more time in the town. We got lucky and had Kevin drive us on this tour aswell, and it felt like a family trip. Even with the limited time in Richmond, it's a must do trip! Desmond
Augustine W Australia
February 2010
I wish we could have had more time. It was too rushed.
December 2015
all in all a great tour, with a great driver and other helpful staff. My only negative - would be when we arrived at park the guided tour was already underway and it was not explained to join the group. however when we got it sorted a very knowledgible guide and found the information giving very informative.good amount of time for both visiting park and richmond,
Advertisement
Advertisement