Enjoy a three-hour sailing adventure in a luxury ocean racer on Hobart's Derwent River. See nature at its best, with stunning coastal scenery and an abundance of marine life and wildlife. Grind the winches and trim the sails or relax and take in your surrounds. Gourmet Tasmanian treats will be served for morning or afternoon tea, along with stories of the high seas.
Highlights
Three-hour sailing on the Derwent River from Hobart


See the stunning coastal scenery


Enjoy delicious morning or afternoon tea


Feel the power of an ocean racing yacht under full sail

Recent Photos of This Tour
Half-Day Sailing on the Derwent River from Hobart
What You Can Expect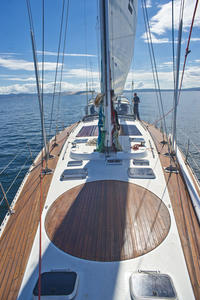 Become a seasoned 'salty' as you enjoy a three-hour sail on one of the world's largest and most beautiful natural harbors, with spectacular views of Hobart and Mt Wellington. Grind the winches, trim the sails or just relax and watch the scenery pass by. Sail toward the Iron Pot lighthouse that stands guard at the entrance of the Derwent River, and keep a lookout for dolphins, seals and other marine life as you tack across the water.

Enjoy the best of Tasmania's gourmet produce with a delicious morning or afternoon tea, while the skipper regales you with stories of the high sea.

Any time is a great time to go sailing. A morning sail is available from October to March, departing at 9am. From April to September an afternoon sail is available, departing from 2pm.
March 2015
Great afternoon. Harbour was overcast when we left but we had a great afternoon chasing the sun. So relaxing,Great crew and afternoon tea Thanks mum for scones and cream.
Enjoyed by all aboard local and visitors
March 2015
I had an amazing time out on the Derwent River with the crew on this yacht. As the holder of the world's weakest stomach I was petrified that I would suffer from motion sickness, but it was smooth sailing all the way through to the end. Fabulous food, amazing views, and an exceptional crew make this an experience you won't want to miss. This at the top of my 'to-do' list the next time that I am in Hobart.
December 2014
How lucky were we as we had the 3 crew members all to ourselves. Being under sail was just so magical. Scones and coffee to start with then smoked salmon and crackers. To finish we were served various cheeses and fruit. 3 hours went by so quickly. So, everyone book today and have a lifetime experience.
July 2014
It wasn't the best weather on the Derwent River, but the whole thing was highly enjoyable and the Derwent River is still beautiful even when its gray and raining.
Our hosts were very gracious and went so far as to offer to go out at another time when it was sunnier, unfortunately this was the only time we had available.
Our hosts and skipper were all very knowlegable about the art of sailing and encouraged us to get involved which was alot of fun.
Highly recommended.
December 2013
Mark and his crew were fantastic. We had a fabulous time on the Derwent. We have been telling all our friends and would highly recommend it.
February 2013
excellent sailing weather. Hospitable hosts. Skipper good knowledge of sailing. Veiws brilliant from the Derwent river
April 2013
A great experience. The skipper and owners were informative and a pleasure to be with. Great company, good hospitality and would recommend it to anyone with an interest on the water.
Advertisement
Advertisement