Discover the highlights of Guangzhou and Macau over five memorable days on this action-packed tour from Hong Kong, including a ride on the historic Kowloon-Canton Railway. Enjoy a guided coach tour of Guangzhou, then visit Shamian Island and admire the illuminated skyline with an evening cruise along the Pearl River. Next, explore the UNESCO-listed historic center of Macau, including the A-Ma Temple and the Ruins of St Paul, then take in the views from the Macau Tower. This independent tour includes accommodation, transport and some meals.
Highlights
5-day independent tour from Hong Kong to Guangzhou and Macau
Enjoy scenic countryside views as you travel on China's historic Kowloon-Canton Railway
Explore Guangzhou and Macau on two guided sightseeing tours that will show you sites of national and historical importance
Take a dinner cruise on the Pearl River Delta in Guangzhou
Experience the high-speed ferry across the Pearl River from Macau to Hong Kong
Discover more of Guangzhou and Macau on your free time using the expertly designed itinerary and list of recommendations provided
What You Can Expect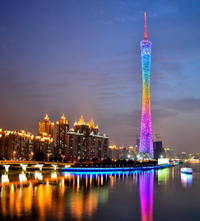 Your independent trip gives you the flexibility to explore Guangzhou and Macau on your own, with two scheduled coach tours included. Journey by train on the historic Kowloon/Canton Railway from Hong Kong to Guangzhou. Spend a full day exploring Guangzhou on a guided coach tour to colonial locales like Shamian Island and culturally significant sites like Yuexiu Park. Enjoy the city at night as you dine on a buffet dinner on board a Pearl River Delta cruise.
Spend a day in Macau and discover its deep Portuguese influences on a guided coach tour to museums and monuments like the Ruins of St Paul and A-Ma Temple. You'll also have some free time in Macau to explore on your own.
Prior to your trip, an itinerary will be sent to you that notes the departure times and locations of your scheduled sightseeing tours. For days when no activities are scheduled for you, refer to your provided list of excellent recommendations.
Please see the Itinerary below for more details on each day of the tour.
Itinerary
Day 1: Hong Kong – Guangzhou (D)
After you are picked up from your hotel in Hong Kong in a private vehicle, you'll be transferred to the Hung Hom Station in Kowloon for your 3-hour (approx.) train ride to Guangzhou on the Kowloon/Canton Railway. Upon arrival, be met at the Guangzhou East Station and transferred to your hotel.
Spend the rest of the day relaxing at your hotel or exploring Guangzhou on your own. Just make sure you are back at the hotel at a predetermined time to meet your driver for tonight's exciting activity – a Pearl River Delta cruise!
Soak in the cool night air as you glide along the Pearl River, under famous bridges like Renmin Bridge, Haizhu Bridge and Guangzhou Bridge. Step out onto the viewing platform of the boat, and be entranced by the city skyline reflected on the water. Back inside the cabin, make your way to the banquet hall for your buffet dinner offering a luxurious spread of both Chinese and Western dishes.
After your cruise, you'll be transferred back to the hotel for the night.
Overnight: China Hotel by Marriot in Guangzhou (rated 4 stars on TripAdvisor) or similar
Day 2: Guangzhou (B, L)
After breakfast, board a coach for your sightseeing tour of Guangzhou's top attractions.
First, visit the National Sun Yat-sen Memorial Hall, a memorial to the Republic of China's National Father, Dr Sun Yat-sen. Admire the stately statue of Sun Yat-sen in the entrance and witness the formal changing of the guards. Then, make your way to Yuexiu Park, the largest park in downtown Guangzhou, to see the Five Rams Stone Sculpture, which commemorates five celestial rams that purportedly provide favorable weather and good harvest to the region. You'll also see Zhenhai Tower, a five-story red tower reputed to be the best-preserved architecture in Guangzhou.
Tour inside the Gz Yi Yao Qi Ceramics Arts Crafts, a large exporter of ceramic products like tableware and mah-jong sets! From there, head over to the Chen Clan Academy to see its large collection of Chinese artwork like wood carvings and pottery. Afterward, drive to Hualin Temple and discover the long history of Buddhism, which dates back almost 1,400 years.
Finally, go to Shamian Island, a historical area that serves as a reminder of the European colonial period in Guangzhou. See many colonial structures like the French Catholic Church, and many bronze statues that honor Western figures from the past and present.
During your sightseeing, enjoy lunch at one of Guangzhou's popular restaurants.
Overnight: China Hotel by Marriot in Guangzhou (rated 4 stars on TripAdvisor) or similar
Day 3: Guangzhou - Macau (B)
After breakfast, board your private vehicle for the 2-hour ride to Macau. As you sit comfortably in the air-conditioning, enjoy countryside views of winding rivers and the waterways of the Pearl River Delta. Then, pass by the city of Zhuhai and cross into Macau, where you'll be transported to your hotel. (Please note that a visa may be required to pass from Guangzhou to Macau; see Additional Info below.)
After you check in, spend the rest of the day exploring the city of Macau at your leisure.
Overnight: Royal Macau Hotel in Macau (rated 4 stars on TripAdvisor) or similar
Day 4: Macau (B, L)
Enjoy breakfast in your hotel and prepare for a full day of Macau sightseeing on another guided coach tour.
You'll see the different landmarks that make up what is called the Historic Centre of Macau, a collection of more than 20 UNESCO World Heritage Sites that displays the successful co-existence of Chinese and Portuguese cultures in this region.
First, see one of the oldest and most famous Taoist temples in Macau – the A-Ma Temple – built in honor of Matsu, the goddess of seafarers and fishermen. Then, visit the Ruins of St Paul, a 16th-century complex featuring remains of the Cathedral of St Paul. Walk up the 66 steps to admire the elaborate stonework of the church's façade. Make your way to the Fortaleza de Monte (Mount Fortress), a historical military center built in the 15th century to protect properties of Jesuits in the region.
During your sightseeing, stop at a local restaurant to enjoy a lunch of local delicacies that blend Southeast Asian and Portuguese cuisines.
Next, enter the Macau Museum and see different exhibitions showing a large variety of historical objects that are culturally important to region's old inhabitants. Your last stop is the Macau Tower, where you'll ascend 731 feet (223 meters) to the observation deck. Here, enjoy unobstructed views of the Macau skyline, the Pearl River Delta and the outlying islands, and try any of the fancy yet affordable bistros found inside (dinner at own expense).
Transfer back to the hotel for the night.
Overnight: Royal Macau Hotel in Macau (rated 4 stars on TripAdvisor) or similar
Day 5: Macau – Hong Kong (B)
Following breakfast at your hotel, transfer to the Macau Ferry Terminal to take the high-speed ferry back to Hong Kong (approx. 1 hour). Upon arrival, enjoy a complimentary transfer to your location of choice in Hong Kong.
Anonymous
July 2013
Top notch hotels and guide service! It saved all the hassle of arranging transportation, lodging and finding things to do in HK, Macau and Ghuangzhou. Overall enjoyed it very much! Thank you Viator!
April 2014
From a practical point of view, the tour was extremely well organized and managed. All services were provided as planned and on time. Our main reservation relates to the guides, particularly the one that gave us the guided tour of Macau. She spent the majority of the time cracking unrelated jokes and trying to sell us various tourist trinkets instead of providing information about the sites. The dinner cruise in Guangzhou was also disappointing in that the food was very basic Chinese fare and all the commentaries were in Chinese.
June 2013
The guides were all excellent. So much more can be achieved in one day with a driver and guide. The accommodation was extremely good perhaps a bit too classy. We have two concerns. The font on the ferry voucher is so small that we were given tickets to HK not Kowloon. Fortunately, we had contact details for Stephen Hou and were able to phone him and be collected at the ferry terminal. The itinerary for our full day in Macau was misleading. We were to visit the Macau Museum and the Macau TV tower with the admission price included. We did not go the Museum and when we went to the tower we had to pay the guide HK$130 each for admission.

Valkhrie United States of ...
January 2015
The Guangzhou part of the tour was amazing but the local Macau tour operator was horrible.
Advertisement
Advertisement