Combine a tour of one of the world's richest metropolises with a thrilling sojourn in the 'Vegas of the East' on this 5-day tour of Macau and Hong Kong. See sights like Victoria Harbour, Kowloon, Stanley Market and Aberdeen Floating Village in Hong Kong, then hop on the ferry to Macau. After visiting the UNESCO-listed highlights, soak up the views from the Macau Tower or try your luck at one of the many casinos. This independent tour has a customizable itinerary and includes private transport, 4-star accommodation and some meals.
Highlights
Spend five days in Hong Kong and Macau with this independent tour
Experience the beauty of Hong Kong's natural wonders as you make your way to Victoria Peak on board the Peak Tram
Explore Hong Kong's popular attractions on a sightseeing coach tour to the Aberdeen Floating Village and Stanley Market
Discover the Portuguese influences of Macau and see heritage sites like A-Ma Temple and the Ruins of St Paul on a second guided coach tour
Travel between Hong Kong and Macau by high-speed ferry and enjoy scenic views from the water
An expert guide will accompany you on both scheduled sightseeing tours, providing informative commentary and fun stories about all the sites you see
Enjoy the flexibility of deciding what to do and see during your free time from an expertly designed list of recommendations
4 nights of accommodation in 4-star hotels with daily breakfasts are included
What You Can Expect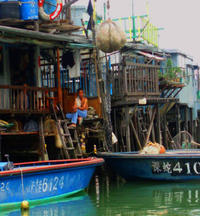 Your 5-day independent tour begins in Hong Kong, where you will enjoy amazing views of the city on the way to Victoria Peak, encounter the traditional fishing lifestyle in the Aberdeen Floating Village and witness Chinese market culture at Stanley Market.
You will then cross the Pearl River by high-speed ferry to Macau, a prime destination rife with landmarks displaying its deep Portuguese influences. Learn about Macau's history as a Portuguese territory while you sightsee around UNESCO World Heritage Sites like A-Ma Temple, Fortaleza de Monte (Mount Fortress) and the Ruins of St Paul. Get a more modern view of this area as you soar to the top of Macau Tower and enjoy a spectacular aerial view of the whole region.
Prior to your trip, an itinerary will be sent to you that details all your scheduled tours and activities. For days when no activities are scheduled for you, refer to your provided list of excellent recommendations of things to do and see in Hong Kong and Macau.
Please see the Itinerary below for more details on each day of the tour.
Itinerary
As this is an independent tour, the time of day you eat your meals is flexible, depending on when you finish your sightseeing and guided tours. Breakfast is served in your hotels and other meals will be enjoyed at local restaurants, where you can enjoy local delicacies of your choice.
Day 1: Hong Kong
Upon arrival in Hong Kong, you'll be picked up by private vehicle at the Hong Kong International Airport and transferred to your hotel. Depending on when you arrive, spend the rest of the day either relaxing at the hotel or exploring the city at your leisure, using recommendations of things to do and see that you can find in your hotel lobby.
Overnight: Royal Plaza Hotel in Hong Kong (rated 4 stars on TripAdvisor) or similar
Day 2: Hong Kong (B, L)
After breakfast at your hotel, board the sightseeing coach and begin your Hong Kong tour, which includes interesting commentary from your guide. Make your way to the heart of the city to experience one of its most popular activities – riding the 120-year-old Peak Tram! As you take the 8-minute ride, enjoy spectacular views of the city, Victoria Harbour and beyond. Once you reach the top, continue to be amazed by views of the surrounding city skyline, Victoria Harbour, Kowloon, towering skyscrapers and peaceful green hillsides.
Then, board the coach once again to head to the Aberdeen Floating Village, an old fishing village at Aberdeen Harbour that celebrates the age-old marine and fishing traditions of Hong Kong. Walk around the area with your guide and discover the lifestyles of its residents, a lot of whom rely on the boats for living and working every day. For lunch, get an authentic taste of Aberdeen with Chinese dim sum at Jumbo Floating Restaurant, moored in Aberdeen Harbour.
Spend your afternoon perusing the stalls of Stanley Market to see a wide variety of souvenirs such as silk, garments, sportswear, Chinese artwork and accessories.
After your tour, the rest of the day is yours to do as you wish.
Overnight: Royal Plaza Hotel in Hong Kong (rated 4 stars on TripAdvisor) or similar
Day 3 Hong Kong – Macau (B, L)
After breakfast, enjoy a private transfer to the Hong Kong/Macau Ferry Terminal for your high-speed ferry from Hong Kong to Macau. During the hour-long ride, enjoy the modern vessel's facilities like video entertainment and a catering counter (own expense).
Upon arrival, board your comfortable coach for your second fully guided sightseeing tour. As you ride around this diverse region, you'll stop at various handpicked landmarks, including what is called the Historic Centre of Macau, a collection of more than 20 UNESCO World Heritage Sites that displays the successful co-existence of Chinese and Portuguese cultures in this region.
Stop at A-Ma Temple, one of the oldest and most famous Taoist temples in Macau, built almost 400 years ago. Then follow your guide up the 66 steps of the Ruins of St Paul, a 16th-century complex featuring remains of the Cathedral of St Paul. Admire the intricate stonework of the church's façade and the incredible handiwork of its original pillars and shrines. You will also visit the Fortaleza de Monte (Mount Fortress), a historical military center built in the 1600s to protect Jesuit properties in the region. In between sightseeing, stop at a local restaurant to enjoy a lunch of local dishes that blend Southeast Asian and Portuguese cuisines.
Continue your tour at the Macau Museum, where you'll view exhibitions displaying a vast number of historical objects that demonstrate the culture of the region's original inhabitants. End your day at Macau Tower, where you'll ascend 731 feet (223 meters) from the ground to the observation deck to enjoy unobstructed views of the Macau skyline, the Pearl River Delta and the outlying islands!
Macau Tower is host to a large number of both fancy and affordable bistros that offer a delectable end to your day (dinner at own expense). Then transfer back to your hotel for the night.
Overnight: Royal Macau Hotel in Macau (rated 4 stars on TripAdvisor) or similar
Day 4: Macau (B)
Today is a free day to explore Macau on your own and visit places you didn't have the chance to the day before. After breakfast in your hotel, forge your own path, or choose any of the activities or attractions on your list of recommendations that you received prior to your trip (all activities on this day is at your own expense).
Perhaps you'd like to revisit the Historic Centre of Macau. Or if you're feeling a bit adventurous, go bungee jumping from the top of Macau Tower. Enjoy a lunch and dinner of Macanese cuisine like galinha a Portuguesa (Portuguese-style chicken), Macanese chili shrimp, bacalhau (dried and salted codfish) or stir-fry curry crab.
If you'd like a little entertainment this evening, enjoy the House of Dancing Waters, a breathtaking water show of high-flying stunts and aerial acrobatics set to the backdrop of a massive cobalt pool. End your night, if you wish, by trying your luck at one of the casinos sprinkled across Macau.
Overnight: Royal Macau Hotel in Macau (rated 4 stars on TripAdvisor) or similar
Day 5: Macau – Hong Kong (B)
After breakfast and checkout, you'll be driven by private transfer back to the Macau Ferry Terminal to take the high-speed ferry back to Hong Kong. Then, relax in another private transfer to your own Hong Kong hotel or the Hong Kong International Airport.

Dmitry Evteev Germany
May 2014
The tour is worth doing, anyway. The organization was very good, it worked always with every guide / hotel / activity. Also there was enough leisure time to enjoy the cities by ourselves. Many thanks for smooth process of the journey!
The only thing I would maybe optimize for all travellers who arrive in Far East from Europe is the sequence/duration of the activities. Since all the flights arrive in the morning, it would be better to organize a early check-in on the first day in Hongkong, notwithstanding a potential higher price. It would give the traveller an opportunity to systemize himself/herself after a long flight and to plan the first leisure day better.
The second day - great thanks to our best ever guide Ross - is very rich on experiences, we learned much and it was optimally organisied.
The third day we experienced the same as on our first: due to the impossibility to check-in earlier in Macau we were constrained to walk around in the city with all the "cabin luggage" till 15:00. As Macau is very small and all points of interest one can see within 5 Hrs (as prooved on our 4th day there), it might be better to involve the travellers in the sightseeing tour immediately upon the arrival with the ferry: so the early-checkin in the hotel can be avoided (economized) and the day can be put actively at the disposal. In this case the day 4 can be used for leisure and the ferry back to Hongkong can be taken already in the evening of the day 4.
I strongly believe, that the described 4-day-version would be completely sufficient. An option to prolong might be offered separately.
All in all I am glad to have gained this experience with you and with Hongkong and would anytime reccomend your services to my friends. Thank you very much!
Anonymous
October 2013
Enjoyable trip with nice hotels!

October 2013
Hotel in Macau was excellent I can definitely recommend this trip.
May 2015
Advertisement
Advertisement