Escape from Hong Kong and enjoy a relaxing tour of Cheung Chau Island on this incredible adventure that includes a savory dim sum lunch. See 3,000-year-old Bronze Age rock carvings and pay a visit to Pak Tai and Tin Tau Temples. This all-day excursion is the perfect way to get away from the urban hustle and enjoy a bit of nature.
Highlights
Escape Hong Kong on this relaxing tour of Cheung Chau Island
Enjoy a sumptuous Dim Sum lunch at a local restaurant
See 3,000 year old Bronze-Age rock carvings
Visit Pak Tai Temple and Tin Tau Temple
Free time to explore Cheung Chau Island, relax on the beach or hire a bike
Photo opportunities
English-speaking guide
Hotel pickup
Recent Photos of This Tour
Cheung Chau (Long Island) Tour with Dim Sum lunch
What You Can Expect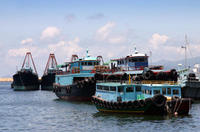 Your tour kicks off at Pak Tai Temple and a a leisurely walk to Tung Wan Beach. You'll head out on the waters for a closer look at 3,000-year-old Bronze Age rock carvings and traditional fishing villages like Cheung Po Tsai Cave and West Bay. Round out the aqutic journey with a stop at Tin Hau Temple, built to honor the goddess of the sea.
A friendly guide will collet you from your area hotel and transport you to the Outlying Islands Pier, where you'll board a ferry for a relaxing ride to Cheung Chau—known as Long Island. Located 12 kilometers from Hong Kong Island, your first stop will highlight traditional Chinese architecture, stunning landscapes and historic artifacts. You'll also get to experience the beauty of Tung Wan Beach—a popular canoeing and windsurfing stop for locals and travelers.
Savor some time strolling through old city streets before boarding a sampan to cruise through area fishing villages. Learn more about the traditional ways of life these men, women and families live as you tour West Bay and Cheung Po Tsai Cave.
Finally, pay a visit to Tin Hau Temple, where you'll see residents shaking the predictor box to learn about their futures. Wander through West Lane and Sai Wan, past local restaurants and shops. Spend free time exploring by foot or by bike before returning to your hotel after this memorable excursion.

March 2016
Very laid back - great for away from the hustle and bustle.
April 2015
Beddi was a great guide. The group was small and very different ages but Beddi managed to keep everyone involved and interested. Thank you Beddi. Laura Li and Brad Tyler.
April 2015
November 2011
Very good tour, the tour guide Ming, was excellent.
August 2011
This tour was really good, we were a family of three who had the guide to ourselves. Ming told us more than we could find in a book about the history and culture of the people on the island and other relevant facts about the Chinese in general. I would recomend this to anyone who wants to see the real deal in a small village not the tourist hot spots that dont let you experience anothers way of life.
May 2011
Excellent tour we were the only ones on the trip so received excellent service throughout
Miwa K United Kingdom
May 2010
I highly recommend this tour. The local guide was friendly, efficient and good hearted. I enjoyed the sampan ride very much. The only downside was that the lunch was not very appetizing but you can buy buns at bakeries on the back streets.
December 2014
Excellent trip around Cheung Chau Island. Lunch was delicious and the guide was very informative.
May 2014

Christopher B Australia
May 2012
Had a local tour guide from Cheung Chau who was very proud of his small part of the world. Easy to understand with a lovely demeanour. Our guide took us to a small cramped 2 storey restaurant, where he asked us what we wanted to try and then had it ordered. The food was served quickly. It was tasty, but we were all very conscious of the fact we didn't want to get ill, so we all used the hot green tea (supplied free) to wash our small bowls before putting the food into it. It was an experience one must try, and we can happily report, no-one out of the 4 in our group were ill. The place was also full of locals, which is a good sign.
Advertisement
Advertisement