Save time and headaches with this hassle-free, one-way private Hong Kong cruise port transfer. Your friendly, professional driver will collect you upon arrival at Ocean Terminal and transport you to Hong Kong or Kowloon hotel in the air-conditioned comfort of your own private vehicle. Pre-book this service, which is available 24 hours a day, seven days a week, to insure the ultimate arrival with ease.
Highlights
One-way private transfer from Ocean Terminal to your Hong Kong or Kowloon hotel

Avoid the hassle and confusion of taxis or public transportation
Enjoy comfortable transport by private vehicle

Friendly and professional driver provides luggage handling

What You Can Expect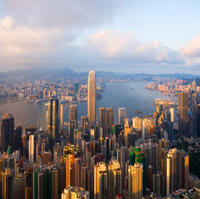 Your friendly and professional driver will meet you upon arrival at Hong Kong's Ocean Terminal and transport you in the comfort of your own private vehicle to Hong Kong' or Kowloon hotel. This hassle-free one-way transfer is the easiest way to navigate upon arrival. Have your ship details on hand when booking and be sure to indicate the location of your hotel. You'll receive confirmation within 24 hours of booking and can present your driver with the travel voucher upon arrival.
Prices are based on per-person rates, with three adults per car.
February 2016
Excellent service with wonderful English speaking guide.
May 2015
March 2015
Driver was prompt and professional. We are especially grateful to him because our camera was left in the vehicle and he turned around and brought it back to us at the hotel.
December 2014
Excellent for the transfer from the port to the Best Western hotel, however, it was not without some concern. A few days before we docked in HK, we were VERY disappointed to receive an email stating that we DO NOT have a transfer and have to go to the website to place an order, which we were unable to do. We had a paid and written confirmation. We had the concierge on the ship call Viator's representative and they confirmed that we did have a transfer. So, the question is - why did we receive this email saying we do not have a transfer?
We also had a paid and written confirmation of a transfer from the Best Western hotel to the airport. HOWEVER, Susan told us that THEY CANNOT HONOR OUR RESERVATION. This was very disappointing!!!! When I inquired as to how we should get to the airport, she suggested that we take a taxi. As it turned out we found out that if we get to IFC building there is an airport train - which we took. If Susan would have shared this information with us, we would have not have been so anxious. Our account was credited for this transfer.
September 2012
May 2012
Staff were courteous and professional, which made a very smooth arrival process
December 2013
I appreciate Tour East accommodating me--I had given the agency the incorrect date of my arrival in Hong Kong, but was able to communicate and make the necessary change.
February 2014
When we left our cruise unfortunately all the computers in the Customs department had failed. Two laptops had been brought in to process two shiploads of passengers. This took over 45 minutes. Then, when we went to the transfer area they were only admitting 3 taxis at a time, giving preference to the shuttle buses from the cruises. This forced us to wait another 45 minutes or so. Once our driver arrived we went directly to the hotel without further delay.
February 2016
Not a good experience, due to the chaos at the terminal, which is attached to a shopping mall. Unable to locate our driver, so managed to get a helpful courier, from another company, to phone for us. There is nowhere for taxi's to park, so they just drive round and round the terminal, stopping for a few minutes each time. Very stressful.
Advertisement
Advertisement