10 Reviews
Location:

Hong Kong, Hong Kong

Duration:

Varies
Enjoy a fun-filled day of Hong Kong sightseeing with this one-day travel pass and tour combo that allows you to explore the city with ease. You'll get one day of unlimited use on the MTR (Mass Transit Railway) and a round-trip ride on the Ngong Ping Cable Car standard cabin over Lantau Island. Plus, enjoy a walking tour a Big Buddha walking tour on Lantau Island, where you'll see the island's top sights like Tai O fishing village and, of course, the Big Buddha (also known as the Giant Buddha or Tian Tan Buddha).
You also have a choice of upgrading to include the glass-bottomed crystal cabin of the Ngong Ping Cable Car or a 3-day MTR pass with round-trip Airport Express tickets. By booking now, you can collect all your passes and tickets at the airport as soon as you arrive in Hong Kong, saving you precious time in individual ticket lines.



Highlights
Hong Kong MTR pass and tour combo
Travel around Hong Kong with a 1-day MTR pass
Use the vast MTR network to visit popular locations like Disneyland and Central
Take a Big Buddha walking tour on Lantau Island to see its major cultural attractions
Admire fantastic views of Lantau Island with a round-trip ride on the Ngong Ping Cable Car in either a standard cabin or the Crystal Cabin, based on option selected
Upgrade to enjoy three days of unlimited rides on the MTR plus round-trip rides on the Airport Express
What You Can Expect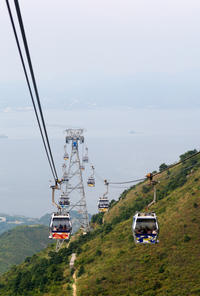 After picking up your MTR pass and additional tickets at the Tsim Sha Tsui Star Ferry Pier, you're ready to begin your Hong Kong sightseeing!
MTR Pass:
Hong Kong is at your fingertips with your pass for one day of unlimited use on the MTR (Mass Transit Railway). With three different transportation options – trains, a light rail system and feeder buses – you can easily reach the Hong Kong attractions that most interest you.
The fast and easy-to-use MTR covers Hong Kong's major districts, including stops at the boundary with mainland China. Across 10 different rail lines, you can see it all – perhaps head to Disneyland on the Disneyland Resort Line, or check out Central, Sheung Wan and Causeway Bay on the Island Line. Or use the light rail to travel between Yuen Long and Tuen Mun in the New Territories.
Airport Express Pass
First up, use the first half of your Airport Express pass to get from the Hong Kong airport into the city. When you're ready to go back to the airport, use your second trip on the Airport Express.

To view Airport Express Pass redemption point, please click 'View Additional Info' for details:

Itinerary
Option 1: One-day MTR Pass, Lantau Island Big Buddha Walking Tour and Ngong Ping Cable Car Ride (Standard Cabin):
Hop aboard the Ngong Ping Cable Car and make your own way to the assembly point in Ngong Ping Village, where you'll meet your guide. During the cable car ride, peer down from your standard cabin, enjoying the fabulous views as you travel across Lantau Island!
The 25-minute ride begins in Tung Chung, crosses Tung Chung Bay and gives you unforgettable vistas of the hills, the South China Sea, the Ngong Ping plateau and the Tian Tan Buddha.
Once you've met your guide, set off on your Big Buddha walking tour, heading first to Tai O fishing village to check out an example of a traditional fishing village home to the Tanka people. Hop aboard a boat for a brief ride around the village, where you can marvel at the homes built on stilts above the water and hear about the Tanka history as 'fisherfolk' (keep your eyes open for pink dolphins, too!).
Next, follow your guide to Ngong Pong Piazza, a plaza made up of four features – New Pai Lau, Bodhi Path, Di Tan and a Chinese landscaped garden – which enhance the traditional Buddhist design of Ngong Ping. As you walk, check out the statues of the 'Twelve Divine Generals,' who are said to be protectors of Buddhism.
Continue to Po Lin Monastery, the largest Buddhist temple in Hong Kong, and then finally reach the Big Buddha himself, siting serenely on the Ngong Ping plateau! After climbing the 200+ steps to get up to the statue, take a walk around the site. Admire the detail of the Buddha's eyes, lips and raised right hand, and hear about its construction in the early 1990s (made of approximately 200 pieces of bronze!). As one of the tallest outdoor seated Buddha statues in the world, it's one of Hong Kong's most iconic sights and offers great photo opportunities.
Finally, end your walking tour in Ngong Ping Village, where you can browse the shops and restaurants and catch the cable car for your return ride.
Option 2: One-day MTR Pass, Lantau Island Big Buddha Walking Tour and Ngong Ping Cable Car Ticket (Crystal Cabin):
With this option, enjoy a round-trip ride on the Ngong Ping Cable Car from the comfort of a Crystal Cabin. With its glass bottom, the Ngong Ping Crystal Cabin provides you with unparalleled bird's-eye views of Lantau Island and the surrounding scenery.
Option 3: Three-day MTR Pass, Round-trip Airport Express, Lantau Island Big Buddha Walking Tour and Ngong Ping Cable Car (Standard Cabin)
Upgrade to this ultimate Hong Kong travel pass combo to also include three days of unlimited travel on the MTR plus a round-trip ticket for the Airport Express. It's the perfect and most convenient way to travel and sightsee around Hong Kong!
September 2015
Well planned and good guide
June 2015
The tour was terrific. Becky was a great tour guide and such a trooper! We had monsoon rains but she still carried out the tour in every detail. I'd say don't let rainy weather scare you from this one. The fishing village had a very misty cool ambience because of it and my photos were wonderful.
February 2015
This was great. We chose the 3 day MTR pass and were glad we did. The MTR was easy to use and the Big Buddha Tour was great.
December 2014
We enjoyed our tour guide to the fishing village, monastery and the Giant Buddha. It's a great package for all 3 and purchasing your ticket through this tour allows you to skip the LONG QUEUE lines, well worth it! The crystal cabin floor wasn't anything special that you can't see outside your window.
Make sure that once you book your tour, to call the touring company to reserve your spot in your desired tour time. It did not state that on the voucher and we were lucky enough that the lady inside the MTR office where we picked up our tour tickets allowed us to use their phone to contact the company to set our tour time for the same day. I wished someone told us that.
July 2014
All worked out as smooth as it could possibly be! I like the flexibility it provides and it covers the most important attractions Big Buddha and Ngong Ping cable car all in one. Love it and highly recommended!
September 2015
Great tour would recommend it to anyone going to Hong Kong
June 2015
The tour was good, but the way to it was chaotic and bad. I flew to HK in the morning and went downtown to pick up tickets. The service there was not good at all, they handed me the tickets and told me to call a number which was not reachable. I had to use a payphone to do this and wasted several dollars getting this number. Finally we directly went to tour starting point and then were able to get the next available tour. The tour itself was very good but the initial experience was very bad.
May 2015
This tour was Amazing! Cable Car had spectacular views going up the mountain. Big Buddha is a definite must see. Loved seeing the traditional fishing village of Tai O. Our guide May was fantastic.
March 2015
Great!! Very insightful. By far the best way to cut the massive lines is to book this tour as you go straight to the group/tour counter and hop onto the next available cable car. The little village of Tai O is really nice, you have time to walk the narrow path ways of this little fishing village. You can really get a sense of history.
The Buddha was insightful, and the tour guides friendly.
February 2014
Big bus tour was really perfect for me. I did the 2 day tour. Yes there were traffic jams in parts of Hong Kong, but slowing the bus down while you had a chance to take in the sites was a positive to me.....and not a negative. There was one glitch on the harbor tour - it was a Sunday and there were 3 of us waiting. Well the right hand didn't know what the left hand was doing and we were left behind. The ticketing people send you to a waiting area, away from the boarding area and since you are nowhere in sight from the boarding area, it's just so easy to be forgotten. So we had to wait a full hour for another cruise. Finally I did consider all the options for a tour. The indivuals who did private tours were 10 times more expensive and it didn't include any of the entrance fees into all the things that the big bus tour included. I just couldn't justify the additional expense. I really think this is the way to go for touring Hong Kong
Advertisement
Advertisement