Get a first-hand look at the thrilling atmosphere of Hong Kong's popular horse racing scene on this evening or daytime tour. Enjoy lunch or dinner at the Hong Kong Jockey Club, tour the parade ring and learn about the sport from your dynamic guide in this tour that's designed for overseas visitors only.
Highlights
Racecourse tour and horse racing at Hong Kong's Happy Valley Racecourse
Entry to the Members' Enclosure
Tour of the parade ring and winning post
Welcome drink and meal at the Hong Kong Jockey Club
Five hours day or night racing
Welcome pack with HK$30 betting voucher
Recent Photos of This Tour
What You Can Expect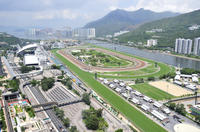 Travelers who venture to Hong Kong between September and June can experience the excitement of the famous Happy Valley Racecourse in Hong Kong during a daytime or evening tour. Enjoy a drink upon arrival and savor a meal at the exclusive Hong Kong Jockey Club. This tour even includes a HK$30 voucher for placing bets!
The nature of this experience means the tour is limited to travelers 18 and older, have been in Hong Kong less than 21 days and have a valid overseas passport. Since the racetrack is a classy affair, smart casual attire is a must.
Please note: Evening races typically take place on Wednesdays and daytime events are usually Saturday and Sunday. Occasionally visitors will see events at Sha Tin Racecourse, so check for details when booking.
Itinerary
June 2016
Brilliant night out, you should definitely try to experience this. Never been to the horse racing before, great fun, good food and drink, company from around the globe and very friendly and helpful staff.
May 2016
What a fabulous night and great food. I can highly recommend this one its a must for everyone to do. Tour director was great.
Anita and Alan Wright
April 2016
Exactly as described, plus all-you-can-drink house alcohol! Food was great quality, fantastic setting surrounded by Hong Kong and #39;s skyscrapers, private members area overlooking the track with balcony, had good fun with the betting and even made a few quid! Definitely recommended.
April 2016
Excellent night, tour guide was very informative, plenty of food and drink. worth doing.
NicholeDyan Australia
December 2015
I loved this tour fantastic night out at the races. Beverages included all night ... Food was delicious... Great view of the track .... Easy to put bets on and lovely walk down to the winners ring ... Great night all up and I found it value for money
Dianne T Australia
May 2015
This was a great night out! Great food, great company and even had a few wins. This is a great experience, one not to be missed.
April 2015
This tour was the highlight of my trip we had a great guide who was very organized and explained all we needed to know before the night started and looked after us through-out the night..The food was great and the drinks just kept coming!! I would recommend this to any one who love meeting people and enjoyed a little punt . Jacky, Queensland
March 2015
Excellent night out, good value for money. We would recommend it if you get the opportunity on a racing night to attend. Food and good company and not forgetting the racing was fantastic and the guide was great fun and full if useful tips
March 2015
Great view of the races in very pleasant surroundings. Very helpful guide even showed us how to place our bets, and the food and drink at the buffet were first rate. In all a very enjoyable evening. Would recommend to all Hong Kong visitors.
April 2014
We walked to the designated hotel for a pickup to find the lobby full of eager racegoers all looking forward to a unique night and perhaps a small profit to brag about when they return home from their holiday.
Our guide gathered us and ushered us onto a bus bound for the Happy Valley racecourse. At the track we were guided through a door and into a lift which took us to the sixth floor of the members stand. Not quite dark but the illuminated course below and the brightly lit city buildings surrounding it took our breath away. A central screen dominated the centre of the course providing excellent viewing of the track and horses positions when racing.
Behind glass our table was positioned at the front of the dining room offering an excellent visual of all proceedings. Screens were also overhead showing many views of the track and made it possible to sit comfortably at the table to view races, but of course the excitement was outside on the decking when the horses were released from the starting stalls.
Cleverly planned, we were seated with six other Aussies, travellers and our country our common ground. All agreed the buffet meal provided was excellent and many visited the table several times. Wine and beer was included in the overall price and considering the number of patrons in this one of many dining rooms was chosen well and suited every palate. This trip also included a visit downstairs to the mounting yards and betting rings. We think this guided tour of the excellent Happy Valley racecourse is the best way to see this spectacle and allows entrance into the members stand and its facilities. The $30HK betting voucher is an added bonus and our successful bet from it provided ongoing betting for the rest of the night.
Hong Kong have used this prime piece of real estate very well, giving a nighttime sporting event twice a week and using the central area for tennis and soccer under lights. A good trip, highly recommended.
Advertisement
Advertisement