Taste a diverse array of fine Chinese tea in a private 1.5-hour session with a tea master! Sample five exquisite teas as you learn about the traditional rituals of tea making, and sipping, from a Hong Kong expert. You'll pair various brews with two delicious Chinese specialties – rose honey toast and osmanthus flower tea jelly – and leave with a deeper understanding and appreciation for Chinese tea.
Highlights
Private 1.5-hour Chinese tea tasting in Hong Kong
Learn about the art and culture of tea making from a tea master
Taste five exceptional teas and enjoy specialty toast and jelly as you sip
Discover how a delicious cup of Chinese tea is produced and brewed to perfection
Choose an 11am or 3pm option for your private session
What You Can Expect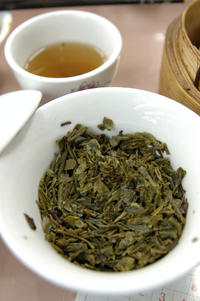 Meet your private guide, a professional tea master, at a central location in Taikoo Shing at 11am or 3pm, depending on which option you select. During your private 1.5-hour tea-tasting session in Hong Kong, you'll sample five excellent Chinese teas, including green, white, red or black, and two Oolong teas.
After your tea master demonstrates the intricate rituals of preparing Chinese tea with traditional utensils, you'll learn how to assess the appearance, aroma and after-taste of the beverage. Smell the dry tea leaves as you sample each cup, then take a sip and swirl the brew on your tongue, opening your palate to the distinct qualities and subtle flavors of Chinese tea.
You'll have the opportunity to pair various teas with two Chinese delicacies, including rose honey toast and osmanthus jelly. After your tea master explains the process behind tea production, the health benefits of tea and how to choose the right type, you'll almost be an expert yourself.
Take an informative booklet about tea tasting home with you to keep as a souvenir!
April 2015
Fantastic! Our teamaster taught us the ins and outs of brewing different types of Chinese teas and added to our overall enjoyment/knowledge of teas.
December 2014
Highly recommended, if you love Chinese tea you will enjoy this tour very much as there are many different teas to taste and learn how to brew the perfect cup of tea! The tea master was very helpful and informative which made the experience interesting and enjoyable.
April 2014
A little confusing when we arrived at the address provided for the Ming Cha Tea Shop in Taikoo, this is an industrial area and the building seems to be a warehouse with delivery trucks coming and going. A very helpful security guard could see our dilemma and escorts us to a tiny lift and said "12th floor, 12th floor".
Exiting the wobbly little lift we found ourselves in a small corridor with doors either side and a door at the end, a tiny sign revealed this is place we are to enjoy our private Chinese tea tasting with a Tea Master. The door opened and we met "Tomoko Ota" a diminutive Japanese woman who we discovered had been brought up in the Japanese tea district, Tomoko is our Tea Master and with a few well chosen questions discovered how scant our knowledge is in selecting, preparing and enjoying tea. The workshop to improve our skills begins.
Tomoko explained and showed us various tea areas, species and picking methods of the delicate tips to produce the varieties we see before us.
Tasting and smelling we quickly develop some preferences and it was time to learn the brewing techniques used to produce the perfect cup. At the end of the workshop and armed with our new found knowledge we ask if it is possible to make a purchase. With Tomoko's guidance we purchase the necessary teas and equipment to make sure our efforts back home in Australia are as close to perfect as tasted today. We really enjoyed this experience and Tomoko's company, and highly recommend it to other travellers.
September 2015
For those who enjoy green tea this tour is a great way to pass a few hours in the afternoon, I don't like green tea as much as my wife but the information provided by our very knowledgeable Tea Master was facinating and no one could fail to be impressed at the sight of the small ball of Jasmine Blossom tea opening out into a colourful flower about four inches across when placed in hot water.
The Tea factory is easy to find by MTR from Central to Kai Koo MTR station, the factory is oposite the exit.
Were I a green tea lover I would give this 5 stars
Advertisement
Advertisement