This small-group walking tour showcases the best of Old and New Hong Kong and allows travelers to truly immerse themselves in the culture, history and traditions of this diverse land. Your expert English-speaking guide will lead you through old-school markets and rare antique shops, then take you to the hub of commerce in this bustling city, where skyscrapers and modern buildings line the streets. Your guide will lend insight into how traditional ways meet contemporary culture as you explore Hong Kong.
Highlights
Learn about Hong Kong's transition from a traditional fishing village to an international financial powerhouse
Explore the cornerstone of Hong Kong on a walk through markets and antiques trading centers
Discover the city's modern identity while strolling through the commercial and business district of Central Hong Kong
Experience a ride on the world's longest escalator, the Central Escalator!
Small-group tour limited to 12 people ensures a more personalized experience
See Hong Kong's unique juxtaposition of traditional and modern lifestyles and architecture, and explore its multicultural neighbourhoods

Explore Hollywood Road, home to many of Hong Kong's antique shops, and Cat Street, a former black market turned open-air curio market
Visit PMQ, a former police dormitory turned designer hub, and learn about the city's creative industry(start from January 1st, 2016)

Recent Photos of This Tour
Small-Group Walking Tour: Old vs New Hong Kong
What You Can Expect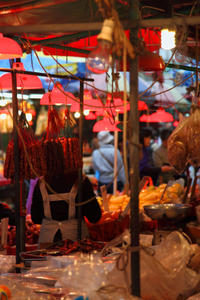 Meet your guide in central Hong Kong and kick off a day of exploring the best of this city's old and new landmarks. Visit eclectic markets and fishing communities, as well as commercial centers and modern urban neighborhoods.
Follow your guide into the Western Market and get an up close look at Hong Kong's oldest market. Comb through stalls filled with colorful fabric, pastry shops and talk to locals selling a wide array of souvenirs. Wander down Wing Lok Street and Bonham Strand West and learn more about the ginseng residents love for its medicinal value.
From there, make your way to Ko Shing Street—also known as Herbal Medicine Street—where you'll gain an even deeper understanding of the traditional medicine used by thousands of locals. Once you've gained some insight from your expert guide, head to Hollywood Road (Antique Street) for a chance to explore shops filled with all kinds of rare collectibles. Items range from jade to silk, furniture to religious relics.
After you've traveled back in time in the stalls of this unique market, head to Tai Ping Shan Street, where old and new meet. Check out the modern boutiques and cafes that line the streets of one of the area's oldest neighborhoods. Check out the Central Escalators—the world's longest outdoor escalator, measuring some 2,600 feet (800 meters). Travel to the top of the Central Business District and see towering skyscrapers and giant buildings like the Bank of China Tower. Learn from your guide how ancient traditions like feng shui influenced modern architecture and development.
Note: Travel start from January 1st, 2016, you will visit another highlight of your Hong Kong tour, this will no doubt be a visit to the newly opened PMQ; the former Police Married Quarters has been transformed into the designer hub of the city. Young brands and independent designers showcase and sell their products in the old dormitory units in the heart of the city, while paying a subsidised rate. PMQ is the last word on cool in Hong Kong town. We dare you to see if something doesn't catch your eye here!

January 2016
Danny was an amazing guide! He was knowledgeable and showed us things we wouldn't see on our own. Highly recommended!
July 2014
A great way to orient oneself to the various markets and how they have evolved. Our tour guide was laid back, yet knew a lot.
June 2014
Very knowledgeable tour guide and an interesting journey to places we would never have seen by ourselves!
January 2014
This tour is one of the best ways to see Hong Kong and find its hidden gems, which is hard to do by yourself. Hong Kong has many layers that change requently. I highly recommend Danny as your tour guide. He is extremely knowledgable of both the old and current Hong Kong and he is a genuine nice guy.
December 2013
Having visited Hong Kong before, we decided to do something different and booked 3 walking tours. Our tour guide on each day was Danny. He was knowledgable and very personable. We were the only people on this tour and given we had done another walk the previous day with Danny, he made sure that we didn't overlap routes whenever possible. He set a good pace, which was fine with us and we saw lots. On this tour, we had the chance to stop and spend time talking about various sights and take photos. Danny was interesting to talk to and we covered a whole range of subjects from history to culture. Definitely recommend this.
Peter C Australia
October 2013
Dan - the tour operator, was full of local knowledge. He showed us a side of Hong Kong that as visitors we would never have seen. The walk took three hours so be prepared for that. The half time drink stop was pure joy. Thank you Dan, next time I am in Hong Kong I will have a much better idea how to find street food, antiques and local markets.

August 2013
Danny our tour guide made this tour informative and interesting. Weaving our way through the old world chinese food markets, the Chinese medicine street, living herb gardens,antique stores and showing us the artist colonies. He set a good pace as we were led up Hollywood street and on into soho, ending up in the new financial world of central. Thoroughly enjoyed seeing this side of Hong Kong with an excellent guide.
February 2013
We had a great experience with Danny. My wife, daughter and I were the only ones on the tour so we received his complete attention. He walked at the pace we wanted -- swift but not hurried -- and showed us portions of Sheung Wan in particular that we would not have known to explore. Highly recommend
February 2013
A very interesting and informative tour. A delightful guide. I would recommend this one.

October 2015
Despite the rainy weather, the tour was very interesting and the nuggets of info about the old and new Hong Kong were precious!
Advertisement
Advertisement