Maximize your time in the spectacular city of Houston with an indispensable Houston CityPASS. Your city pass includes free admission to five of the city's premier attractions, including the Downtown Aquarium, the Space Center Houston and the Houston Museum of Natural Science. Enjoy free entry to two additional attractions of your choice and choose from a variety including the Museum of Fine Arts, home to more than 60,000 artworks, or the Houston Zoo.
Highlights
Admission to five Houston attractions

See the Aquarium Adventure Exhibit at the Downtown Aquarium

The Museum of Fine Arts, Houston features more than 60,000 works of art

Explore Houston's most interactive science learning center
Skip the line for quicker access

Up to nine days to visit all the attractions

Ticket booklet packed with useful information
What You Can Expect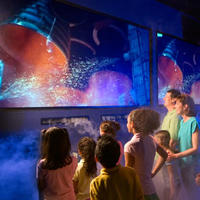 When you're ready to begin exploring the city of Houston, simply collect your Houston CityPASS from one of the included attractions and set out to discover premier attractions. Use the useful information inside the booklet to plan your excursion and enjoy the freedom of the pass's nine day validity period.
Delight in free admission to the Downtown Aquarium, the Space Center Houston and the Houston Museum of Natural Science, and select two of the following four attractions to enjoy more complimentary entrance tickets; Museum of Fine Arts, Houston or Houston Zoo; The Children's Museum of Houston or Kemah Boardwalk All-Day Rides Pass.
Please see the Itinerary section below for further details of each attraction.
Itinerary
HOUSTON ATTRACTIONS:

Space Center Houston
Space Center Houston offers unparalleled exhibits, attractions, special presentations and hands-on activities tell the story of NASA's manned space flight program. SCH is the only place in the world where visitors can see astronauts train for missions, touch a real moon rock, land a shuttle, and take a behind-the-scenes tour of NASA.

Downtown Aquarium
This six-acre entertainment and dining complex is a 500,000-gallon aquatic wonderland, home to over 200 species of aquatic life from around the globe.It features a full-service restaurant, an upscale bar, a ballroom, aquatic and geographic exhibits and shopping.

Houston Museum of Natural Science
Experience the wonders of science and nature firsthand at the Houston Museum of Natural Science. Enjoy spectacular exhibit halls and state-of-the-art venues offer remarkable insight into the world around us, from the age of dinosaurs to the era of space exploration.

Option Ticket - Choice between:
Houston Zoo
The Houston Zoo provides a fun, unique and inspirational experience fostering appreciation, knowledge, and care for the natural world. The 55-acre zoo features more than 4,500 animals which belong to more than 900 species. The zoo receives 1.6 million visitors each year and is the seventh most visited zoo in the nation.

OR

Museum of Fine Arts, Houston
The dynamic cultural complex features two museum buildings, two art schools, two decorative arts centers and a sculpture garden. There's also a variety of gallery talks and tours to enhance your experience in the museum. With its encyclopedic collection, an international loan exhibitions and award-winning programs, the Museum of Fine Arts, Houston is one of the premier destinations in the United States for art lovers.

Option Ticket - Choice between:

Kemah Boardwalk All-Day Rides Pass
Kemah Boardwalk appeals to all kids--young and old! - the perfect getaway! Enjoy amusement rides, nine waterfront restaurants, shopping, midway games, live entertainment and weekend festivals. Brave the Bullet rollercoaster, ride our train and Ferris wheel and plunge 140 feet on the Drop Zone. Valid on all amusement rides (does not include Stingray and Boardwalk Beast).


OR

The Children's Museum of Houston
The Children's Museum of Houston offers more than 14 exhibits and fun and educational activities for children. It's the place where minds come out to play! The museum also features a Parent Resources Library and a gift shop.
May 2016
April 2016
This was an awesome value. I managed to visit the Johnson Space Center, Houston Zoo, Aquarium, and Museum of Natural History and at a fraction of the cost if I would have paid for these venues separately. I highly recommend purchasing this package if you are going to be in Houston. Money well-spent. Bravo!!!
March 2016
The number I was given did not match the City Pass numbers. With the help of a staff member of the Houston Zoo the number issue was resolved. Took about 40 - 45 minutes to correct but Lopez stayed with me the entire time. After that everything went great. Grandchildren loved the attractions.
January 2016
The city pass was everything advertised. It is recognized immediately at gates and it seemed that we received the same assistance as all other patrons. We weren't able to use all of the passes during our trip, so it would have been nice to index them into our next visit in about six months.
December 2015
excellent value for money and time! saves the problems of long waiting lines, is very flexible in order to plan and covers most essential attractions

August 2015
The underprivileged children we took on vacation with us had a really good time. The 7 and 5 year old had the best time. We could not have took them to all five places without the city pass. Thank you so much. Sheila
June 2015
This tour was amazing the two city passes I purchased were well worth it!!!!
June 2015
March 2015
Very useful for anybody wishing to visit USA
July 2014
Awesome! Well worth the price
Childrens Museum gets top billing!
NASA was second place!
Aquarium was nice!
Loved the Egyptian and Americas at Museum of Natrural Science ( somewhat dissappointed that many venues were additional charges (planetarium and others Magna Carta?)
Zoo was fair ( seems overrated for 6,000 animals (where were the kangaroos and wallabees?)
I am 64 yrs old and my grandgirls are 8 and 9 my 26 yr old daughter accompanied us also and had as much or more fun than the children!
Advertisement
Advertisement