Special Offer
Book by June 8, 2016 to save 10% off our previously offered price!
See the best of Egypt's intoxicating capital on this private day trip to Cairo from Hurghada, including lunch. Travel to and from the city by private vehicle, and enjoy a tour of Cairo's top attractions with your private Egyptologist guide. Witness the Giza Pyramids, and visit the Egyptian Museum to see Tutankhamun's spectacular treasures, including the boy king's gold death mask and other riches. Finish with time at the bustling Khan el-Khalili bazaar to browse the colorful stalls. Enjoy a flexible itinerary tailored to your interests on this private tour.
Highlights
Full-day private tour to Cairo from Hurghada with round-trip private transfers
Witness the best of Egypt's capital in one unforgettable day
Marvel at the pyramids and Sphinx at Giza, once ranked as an Ancient Wonder of the World
See the spectacular Tutankhamun collection at the Egyptian Museum, including the boy king's death mask
Scout out souvenirs at the Khan el-Khalili bazaar, Cairo's mesmerizing main souk
Stop for an included lunch and visit a papyrus institute
Enjoy a flexible itinerary and personalized commentary from an Egyptologist guide in Cairo
Recent Photos of This Tour
Private Tour: Cairo Day Trip from Hurghada
What You Can Expect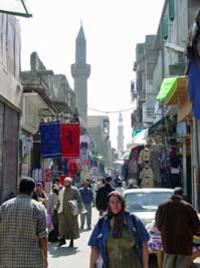 Leave your Hurghada hotel very early by private, air-conditioned vehicle, and make the journey to the capital, Cairo.
On arrival, meet your private Egyptologist guide and start your tour of this world-famous city's highlights.
Head first to the Giza Plateau to see the Giza Pyramids. Marvel at the three mighty burial tombs, built around 2,500 BC, and one of the last remaining Ancient Wonders of the World.
Feast your eyes on the largest of the tombs: the Great Pyramid. Constructed from 2.3 million stone blocks, this incredible edifice is a masterpiece of engineering and is believed to have taken up to 20 years to build.
See the enigmatic Sphinx, the mysterious statue of a human-headed lion that guards the pyramids, and
if you wish, go inside (additional cost) one of the pyramids to witness the inner chambers — your guide is not permitted to accompany you during a visit.
Also, perhaps
visit the Solar Boat Museum (additional cost), home to the stunning funerary boat of Khufu, the pharaoh for whom the Great Pyramid was built.
Gaze in awe at the cedar-wood boat, used to transport Khufu's body to the site, and learn how its remnants were discovered and reassembled.
Afterward, stop for lunch and continue to Cairo's Egyptian Museum, home to an astounding collection of some 120,000 ancient artifacts.
Explore some of the museum's highlights, including the must-see Tutankhamun collection.
Be wowed by the boy king's golden death mask, coffins and funerary riches, and learn about this short reign and the mysteries of his death.
Next, visit Khan el-Khalili bazaar, Cairo's main souk. Delve into the bustling lanes and perhaps haggle for souvenirs at the shops selling trinkets, gold, spices and other goodies.
Pay a visit to a papyrus institute to see how these time-honored artworks are created and if you wish, purchase some papyrus paintings as mementos.
Finally, return to Hurghada, where your day ends with a hotel drop-off.
Pamela C United Kingdom
May 2010
Excellent trip. Learnt many things from the tour guide. Worth every penny.
James H United Kingdom
May 2010
The trip was amazing, although a little disappointed with the guide as he spoke very broken English and normally took French groups.
Shane A United Kingdom
December 2009
An absolutely amazing trip, the stops on the tour alone are worth the price! We travelled as a group of 5 and were personally cared for by our tour guide, driver and assistant, all of whom were faultless throughout, very helpful and friendly. The sites are incredible, unmissable if you plan on going to Egypt, and I would always book my excursions with Viator in future, simply fantastic!
Lee S United Kingdom
January 2009
Well worth going to see, words cannot say what a brilliant experience it was.
Stephen S USA
January 2009
Excellent trip guides and drivers were great.
October 2015
We started our day at 2.30am and there was a long journey ahead of us- over 6 hours in a minibus waking up at rush hour in Cairo where traffic and pedestrians are mental- bikes, taxis, lorries coaches and cars swerving through roads built for 2 lanes where 4 sometimes 6 try and squeeze with people navigating the danger. We arrived at the Cairo museum exhausted and met our guide - Henry. He was excellent, friendly, welcoming, extremely knowledgeable and the best part of our trip. He showed us the highlights of the sights in the museum stopping for coffee to wake us up and then we headed to lunch overlooking the pyramids. We then headed to a papyrus factory and silver/gold cartouche design place with very good quality products- much better than tourist rubbish. Then the highlight of the tour- the Great Pyramid which is staggering in size and well worth the entrance price. We went inside the Pyramid but it would be very difficult for people with mobility problems as we encountered a group of elderly Asian ladies struggling at one particularly point. The panoramic view of the three great pyramids with the Sahara as the backdrop was majestic. We then visited the Sphynx and Henry took us to a private viewing point superb for photos of the Sphynx and the pyramids. After this we visited a cotton factory lovely bedsheets for a decent price.
The journey back was crazy as the junior driver of the two overtook lorries on blind bends and went so fast that I hit my head a few times on the seats and the roof!
All in all it was a very good trip with the journey there and back being the one drawback- we should have booked the internal flight to Cairo from Hurghada which would have massively improved this trip.
Keith T United Arab Emirates
May 2010
Extremely long drive but our driver, Iman, was helpful with information along with our guide. Wish we had done the outside tours in the morning and done the museum in the afternoon. It was very hot in the mid-afternoon. Our guide was knowledgeable and kept asking us if we had any questions he could answer.
Krassimira I Germany
May 2009
The trip is worth doing.
Special Offer
$135.00 Save $13.50
Advertisement
Advertisement