Enhance your trip to Innsbruck with a three-part sightseeing package: the Innsbruck Card, cake and coffee at Café Sacher and dinner at the Goldener Adler restaurant. The Innsbruck Card is your ticket to free or discounted entry at attractions like Swarovski Crystal World and Tratzberg Castle, and includes public transport around the city. The card is valid for 48 hours, and during that time you can also enjoy coffee with a slice of Sachertorte plus a 3-course meal at one of Innsbruck's traditional restaurants.
Highlights
Receive discounts to top Innsbruck attractions and activities, plus free public transport
Explore culinary Innsbruck on your own -- perfect for first-time visitors!
Enjoy a typical Austrian snack (traditional Sacher cake and coffee) at a popular café
Indulge in a 3-course Austrian dinner
What You Can Expect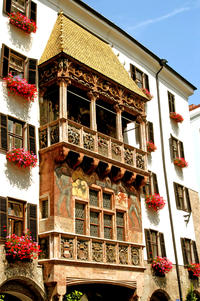 Your Innsbruck sightseeing combo includes the following features. Your vouchers will be delivered to your Innsbruck hotel so you can begin your independent exploration of the city as soon as you want!
48-hour Innsbruck CardYour 48-hour Innsbruck Card is the easiest way to explore the Austrian city on your own. Valid for 48 hours, the card includes entrance to museums and other attractions, a round-trip ride on any cable car or funicular railway, public bus and tram transport, entrance to Swarovski Crystal World, discounted entrance to Tratzberg Castle, a 3-hour bike rental, discounts at Casino Innsbruck, discounts at retail stores and much more.

Cake and Coffee at Café Sacher InnsbruckEnjoy a piece of famous Sacher cake (Sachertorte) accompanied with hot coffee at this traditional coffee house in the heart of the Tyrol. Relax and linger a while in the winebar, restaurant and café, or head to the quiet interior courtyard to enjoy your delectable treat.
Dinner at Goldener Adler RestaurantEnjoy a typical 3-course Austrian dinner at Goldener Adler. Located in the heart of Old Town, this cozy restaurant serves up traditional Austrian specialties.
Itinerary
Entry to the following attractions is FREE with the Innsbruck Card:
Museum Goldenes Dachl (Golden Roof Museum)
Stadtturm (City Tower)
Stadtarchiv/Stadtmuseum Innsbruck (Innsbruck City Archives/City Museum)
Kaiserliche Hofburg (Imperial Palace)
Tiroler Volkskunstmuseum (Museum of Tyrolean Folk Art)
Hofkirche (Court Church)
Tiroler Landesmuseum Ferdinandeum (Tyrolean State Museum Ferdinandeum)
Museum im Zeughaus (Zeughaus Arsenal Museum)
Das Tirol Panorama mit Kaiserjaegermuseum (The Tirol Panorama with Kaiserjaegermuseu)
Alpenzoo (Alpine Zoo)
Anatomisches Museum (Anatomical Museum)
Glockenmuseum & Glockengiesserei Grassmayr (Bells Museum & Bell Foundry Grassmayr)
Localbahnmuseum Tiroler Museumsbahnen (Tyrolean Railway Museum)
Bergisel-Sprungstadion (Bergisel Ski Jump Stadium)
Schloss Ambras Innsbruck (Ambras Castle Innsbruck)
Swarovski Kristallwelten (Swarovski Crystal Worlds)
Swarovski Innsbruck
Audioversum
Galerie im Taxispalais (Gallery in the Taxispalais)
Burg Hasegg/Muenze Hall (Hasegg Castle/Hall Mint Museum)
Per Pedes Stadtspaziergaenge (City Walks at Per Pedes)
3-hour bike rental at Fahrradverleih Die Boerse
The Sightseer hop-on hop-off tour
Ice skating at Olympiaworld Innsbruck
Cable cars and litfs: Innsbrucker Nordkettenbahnen, Patscherkofelbahnen, Muttereralm Bergbahn, Bergbahn Axamer Lizum, Glungerzerbahn, Bergbahn Oberperfuss Rangger Koepfl, Drei-Seen-Bahn Kuehtai
February 2016
I bought this for my brother and his wife to start their visit in Innsbruck. They have raved about it. The pictures are incredible. A great introduction to such a beautiful place. The dinner was wonderful and they can't say enough about the delicious tort.
August 2015
Worth every cent. Made everything so easy to see and do. The food was lovely and Innsbruck was amazing. The best way to see and do things when you only have a couple of days. We had such a great time we have put it back on our bucket list as we want to go back.
July 2015
This was a very low-stress way to experience Innsbruck. We didn't have to purchase tickets for the things we wanted to do, we simply swiped the cards at the entry points to the train and cable cars.
April 2016
Wish we had more time to enjoy all of the benefits. One disappointment was that the trams and gondolas were down for maintenance while we were there so we couldn't do the number one thing on our list. We did enjoy the three course meal and dessert and the service was excellent in both places.
Christopher Y USA
August 2014
This was a worth while card to get. It gave us things to do that was included with the card which we would have not done.
Advertisement
Advertisement