Explore historic Inverness along the banks of the lovely River Ness on this hop-on hop-off sightseeing tour. With your 24-hour pass, create your own adventure with 13 possible stops including Abertarff House, Caledonian Canal, Merkinch Nature Reserve and Inverness Castle. As you travel via double-decker coach – with an optional boat ride on Loch Ness – learn about the city's history and culture from your expert guide.
Highlights
City Sightseeing hop-on hop-off tour of Inverness

See the city by both open-top double-decker bus and boat!

Explore Inverness at your own pace and create a personalized sightseeing itinerary

See top attractions like Inverness Castle, Eden Court Theater, Gaelic Church, Tomnahurich Hill and Whin Park

Cross the Caledonian Canal and cruise on Loch Ness, the most famous lake in the Scottish Highlands

Ticket valid for 24 hours
What You Can Expect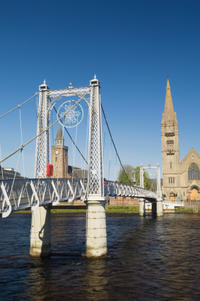 Encompassed by verdant hills and majestic waterways, the cultural city of Inverness naturally blends into nature. With your 24-hour pass, see the best of this ancient city aboard an open-top, double-decker bus. Hop on the bus at any of the 13 stops (see itinerary below for full stop list) and enjoy the flexibility of choosing your own schedule and tour duration, as well as a narrated audio tour. Grab a seat inside or on the open-top deck for panoramic views as you zip through town, hop on and off at every stop, or relax as the bus makes its 50-minute city loop.
Get a feel for Inverness as you pass historic buildings like Inverness castle, Gaelic Church and Eden Court Theater on the River Ness. Explore the waters that surround the city as you check out the boating pond of Whin Park, cross the Caledonian Canal and take a short cruise on the infamous Loch Ness. With stops near castles, churches, green spaces and fun shopping districts, this tour offers something for everyone!
Itinerary
City Sightseeing Inverness Hop-On Hop-Off Tour Stops:
Visitor Center - Tollbooth, Town House, Inverness Castle, Flora MacDonald Statue, Eastgate Shopping Centre
St Andrew's Cathedral - Eden Court, Northern Meeting Park, River Ness
Whine Park - Boating Pond, Childrens Play Area, Ness Islands, Highland Archive Centre
Inverness Leisure - Swimming Pool, Sports Centre, Caravan Park, Ice Rink, Floral Hall
Jacobite Cruises - Jacobite Loch Ness Cruises, Tomnahurich Hill, Torvean Golf Club
Telford Street - Opposite Currys Caledonian Canal, Merkinch Nature Reserve
Post Office - Gaelic Church, Old High Church, Dunbar Hospital, Abertarff House, Victorian Market
Inverness Bus Station - Bus Station, Railway Station, City Library
Bank Street - Restaurants, City Centre Shops
Bridge Street - Visitor Information Centre, Town House, Inverness Castle, Eastgate Shopping Centre
Bellfield Park - Childrens Play Area, Putting Green, Tennis Courts, Ness Islands
Pringles Woolen Mill - James Pringle Weavers, Factory Outlets
Bellfield Park - Childrens Play Area, Putting Green, Tennis Courts, Ness Islands

nikhil b India
May 2016

August 2015
Short and sweet. Excellent way to see the city and get your bearings!
enaidmz USA
August 2014
August 2014
This is a small tour, but well worth doing to get your bearings and views you might have otherwise missed

July 2014
was most informative and value for money.
LaleiG USA
December 2013
Great overview of a surprisingly interesting city. I got the impression that this was a place where most use as a base for touring the Scottish Highlands, but Inverness was very interesting and attractive in its own right. The Hop-on-Hop tour allows you to experience this for yourself. Our tour driver was a spunky friendly lady and the recorded commentary was great. The bus also gave a very interesting and comprehensive overview of what there is to see in the city. Great value for the money to boot and highly recommend doing it as it allows us to get to discover a lot of great things about this city in a short time.
July 2013
My wife and I and her brother went on a British Isle cruise on Princess Cruise line.
We pre-ordered the hop-on hop-off tour bus for all the ports that were available;
Dublin, Liverpool, Belfast, Glasgow, Inverness, Edinburgh and London after the end of the cruise.
We also purchased "Skip the Line" at Guinness storehouse,
which was good because of the long line to purchase tickets.
We walked right up to the pre-buy line person and walked in.
All the hop-off hop-on buses were very good, clean and all workers were courteous and helpful.
I don't think they see the Viator online print off tickets very often,
but there was no problem using the computer print off tickets.
I would definitely recommend the hop-on hop-off tour buses every where you go.
Pre buying did not save a lot, but you did not have to worry about having local cash to buy them.
I normally do not conduct a rating but everything worked out well, so I will in this case.
Gary, Renton, Washington

Fyffee United Kingdom
August 2015
If you have never been to a city before then I would recommend one of these tours for sitting on the whole way round, just to get an idea of where things are. It is also good for if you have a bit of time to kill, or want to see stuff but are too tired or lazy to actually move - I would be the latter.
I generally think these are good for first day of a trip for finding your bearings, this one in particular because a fair bit of the route is easily walkable. Once I shook my laziness off my son and I enjoyed a pleasant walk along the river Ness and back, stopping at Whin Park at the half way mark, via Ness Islands. I wouldn't have had the confidence to walk it if I hadn't already seen the route via the bus.
The driver was also very friendly.
June 2015
Good way to explore the city
July 2014
We were only there for a short time, so enabled us to see the city hassle free.
Advertisement
Advertisement