Travel to the far northern reaches of mainland Britain on this 10-hour trip to John o'Groats and Duncansby Head from Inverness. Journey by luxury mini-coach across the Black Isle Peninsula, bursting with postcard-perfect natural vistas and wildlife like seals, dolphins, killer whales and native birds. With a local guide, visit the charming villages of Caithness, John o'Groats and Duncansby Head, and hear histories steeped in Viking lore.
Highlights
10-hour guided tour of John o'Groats and Duncansby Head from Inverness
Wind through the coastal landscape of the Black Isle Peninsula
Stop for lunch in the far-flung coastal village of Caithness
Stand at Duncansby Head, the northern-most tip of the British Mainland
View the dramatic Stacks of Duncansby and flocks of local birds
Roundtrip travel by luxury minivan included
What You Can Expect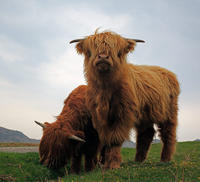 Leave Inverness by luxury minivan and head north, across the dramatic Black Isle Peninsula and Cromarty Firth. As you travel through northern Scotland's beautifully barren plains, your expert guide will talk you through some of the area's fascinating history. Learn about the notorious First Duke of Sutherland, who evicted several Highland villages in the 19th century, making enemies of many Scots in the process.

After an hour of driving, you'll reach the coastal village of Caithness – home to some of Scotland's most fascinating wildlife like red deer and grey seals. After exploring the wee village at leisure, your guide will meet you for lunch (own expense) at a café in the pretty harbor and, as you eat, you'll learn all about the region's traditional herring fishing industry.

In the early afternoon, you'll arrive in John o'Groats – the most anticipated stop of the day! Famed as the northernmost dwelling on the British mainland, the tiny hamlet is set in a sensational landscape of rugged open moorland, and is blessed with some of the finest wildlife in the country.

After stopping for an obligatory 'I've been there' photo in John o'Groats, you'll head on to the nearby sandstone cliffs at Duncansby Head – the mainland's true northeastern point. Known as 'Seabird City,' the spectacular cliffs are alive with a rich variety of seabirds, and you'll see guillemots, kittiwakes and maybe even puffins during a bracing cliff-top walk with your guide. Watch out for the rocky inlets known as the Stacks of Duncansby before heading back to your minivan.

Back on board, you can continue spotting the area's fascinating wildlife with binoculars provided by your guide. The journey south passes through the historic estuary town of Wick, and you'll arrive back in Inverness in the early evening.
June 2016
Excellent guide, great selection of sights to visit. Excellent knowledge of the area. Well worth the price.
May 2016
Lovely day trip with an excellent guide Gary. Well worth the experience of going there.
July 2015
This was a fantastic tour. Malcolm was an excellent tour guide, with a wonderful mix of humour, history, and information about the region, in a relaxed and approachable manner. The tour group was a nice size - about 12 people - with a good mix of people. We were reasonably lucky with the weather too though it was very chilly, even in June!. Duncansby Head was spectacular and it was great to have a photo by the John O'Groats sign!
October 2014
The weather was very wet and very windy throughout the day, but I admired the way the driver changed his schedule to make the most of the conditions.

June 2013
Sadly we had terrible weather for this day tour - however - that is not the fault of the Tour! You get that in Scotland! Visiting John O'Groats had been on our "bucket list" for a while having done Lands End a few years ago! When we arrived at John O'Groats it was pouring down and freezing - however - we were on a mission to get our photo taken at the "Sign" which says you are "here" at the most northern tip. To our disappointment and frustration we found that the pole was there but not the sign! We went to the kiosk and they explained that you had to pay a fee for the sign to be up for your photo to be taken! This privilege had to be prearranged with a Photography Company that apparently had the "rights" to this tourist attraction. We were absolutely gobsmacked and appalled that this simple tourist attraction of a "sign" was owned and obviously had been exploited over many years! Also we were quite annoyed that we were not advised of this before taking the tour! Our Tour guide claimed no knowledge either (yeah right). By the time we arrived at Duncansby Heads it really was blowing a gale. A few of the braver tourists did the trek with the Guide and came back soaking wet and advised that they could not quite see the Puffins as they were so far away. In summary we found the whole day quite disappointing. Our guide also lacked a bit of personality which didn't add to the day! If you have a car - do it yourself and save your money.
Advertisement
Advertisement