Explore the magnificent Amazon on this 3-day adventure from Iquitos! This all-inclusive 3-day tour is a once-in-a-lifetime opportunity to see the amazing landscape and wildlife of the Amazon Rainforest. Visit a riverside community to see how locals live, and learn about their customs and culture. Take a boat ride to the Sinchicuy Lodge, where you'll spend two nights sleeping with the sounds of the jungle. If you're looking for a unique and fun experience, this is the perfect 3-day tour for you!
Highlights
3-day Amazon Jungle adventure with accommodation at Sinchicuy Lodge

Explore the Amazon Rainforest with your expert guide

Take a fishing trip down the Amazon River and go bird watching
Learn about the Amazon's ecosystems and see exotic plants and wildlife
Spot rare pink river dolphins, howler monkeys, sloths and more!
All meals, 2 nights of accommodation and round-trip airport transfer included
What You Can Expect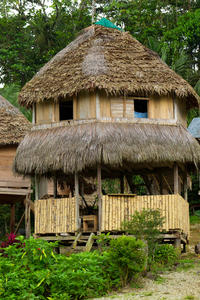 Enjoy three days and two nights at the Sinchicuy Lodge in the beautiful Amazon on this tour from Iquitos! You'll be transferred from the Iquitos International Airport by your guide to a speedboat on the Amazon River, one of the world's largest rivers. Your 3-day adventure begins with a canoe ride to Nueno Pero, a small Yagua community. Tour the Santa Maria del Ojeal farmlands, enjoy early-morning bird watching, take a motorboat cruise along the Amazon River, and hike through the jungle. Discover unique plants and wildlife while learning about the habitat and ecosystems of the Amazon with your expert guide.

See the Itinerary field below for a more detailed tour description.
Itinerary
Day 1:
Arrive at the Iquitos International Airport, where you'll be escorted by your expert guide to a speedboat. From here, ride along the Amazon River to the Sinchicuy Lodge, about 45 minutes from the city. Enjoy a refreshing tropical drink as you get settled into the lodge. Then, take a short walk or canoe ride (depending on the season) to a small Yagua community called Nuevo Peru . Learn about their culture and see how they live their day-to-day lives. Head back to the lodge for a delicious lunch made with fresh local products.

In the afternoon, follow your guide on a nature walk, where you'll see various tropical plant species. Then, tour the Santa Maria del Ojeal farmlands. See cattle roaming as you walk through beautiful fruit orchards and sugarcane fields. Admire a stunning sunset along the Amazon River before heading to the lodge for dinner, and enjoy a storytelling session with locals about Amazon myths and legends. Take a relaxing evening canoe ride and discover some nocturnal animals , including owls and spiders.

Day 2:
Take an early- morning bird- watching tour before a delicious breakfast at the lodge. Then, take a motorboat tour down the Amazon River, where you'll see rare pink river dolphins, playful monkeys and exotic birds. Then, hike or canoe (depending on the season) along the Yanayacu River and see diverse plants and wildlife -- be on the lookout for monkeys and sloths hanging around the forest canopy!

Enjoy lunch at the Tambo Yanayacu lodge before taking a fishing trip, where you'll get a chance to catch a variety of fish, and maybe even a piranha! Enjoy dinner at the lodge and then participate in the reforestation activity, 'Plant-a-Tree,' near the lodge.

Day 3:
After breakfast, head to an Amazon River village and meet some locals. Then, head back to the lodge for lunch before being transferred back to the Iquitos International Airport to conclude your tour.

Please note: itinerary is subject to change
July 2015
Amazing experience with our 2 children ages 7 and 8. We had a wonderful guide, loved all the scheduled daily activities, and enjoyed the food. This place is remote and rustic. You will only have about 3 hours of electricity a day, no hot running water sometimes no running water at all!, no cold refrigerator full of drinks, no cell service, and no walls or ceiling - just mosquito netting and a thatched roof. But all of these cons are part of what makes the experience amazing. You're not at a posh Hawaiian Island resort - you're in the jungle, so just embrace your sweat and deet-covered self and have some fun! Swim with the piranhas. Seriously, do it.
June 2014
It was great. Amazing experience. And our tour guide Francisco was really good and helpful. If you want jungle adventure in Amazon, this is one you should definitely try. Good lodge and food as well, and everything else was well taken care of. All the other support staff was also very good.
Advertisement
Advertisement