15 Reviews
Location:

Iquitos, Peru

Duration:

3 days

(approx.)
Visit the spectacular Amazon Jungle on this 3-day adventure from Iquitos! Cruise along the Amazon River both during the day and at night and see native animals from the water, including monkeys and exotic birds. Hike through the jungle, visit a sugarcane distillery, and be amazed at the impressive jungle landscape. With all your meals included plus two nights' accommodation at the Heliconia Lodge with round-trip airport transportation, this once-in-a-lifetime experience is one you won't want to miss!

Highlights
3-day Iquitos jungle experience with accommodation at the beautiful Heliconia Lodge
Cruise down the Amazon River on a fishing trip
Hike through the Amazon Rainforest and admire breathtaking views
See exotic plants and animals, including monkeys, bats, tarantulas, birds and more!
Visit a sugarcane distillery with your expert guide
All meals, 2 nights' accommodation and round-trip airport transfer included
What You Can Expect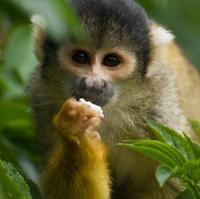 Spend three days in the Amazon Jungle on this exciting Iquitos adventure! You'll be picked up at the Iquitos International Airport and whisked away to the Heliconia Lodge by speedboat on an approximately 1.5-hour ride. Located on the Amazon River, Heliconia Lodge is where you'll sleep and eat all your meals. Your three days in Iquitos will be busy, yet fun! Hike into the Yanamono Reserve, cruise down the Amazon River, enjoy early-morning bird watching, visit a small riverside town, interact with locals, spot native tropical wildlife and more!

See the Itinerary field below for a more detailed tour description.

Itinerary
Day 1:
Arrive at the Iquitos International Airport, where you'll be escorted by your professional guide to a speedboat at Bella Vista Port. As you make your way to Heliconia Lodge, observe the impressive waters of both the Amazon and Nanay rivers. Stop by a native riverside community, where you'll have the opportunity to see the locals' way of life and hear about their customs and culture.
Arrive at the lodge after a 1.5-hour boat ride. Settle into your room and get ready for your first Amazon excursion: a 2-hour jungle hike into the Yanamono Reserve. Spot native plants, including heliconia flowers and the white silk-cotton trees, as you follow your expert guide through this rainforest reserve. Head back to the lodge for some free time before admiring a stunning Amazon sunset. Then, enjoy a delicious dinner at the lodge before heading out for an exciting night cruise along the Amazon River!

Note: arrival flights must arrive before 8am for transportation

Day 2:
Wake up early for a bird-watching tour. Take a boat ride on one of several streams, where you'll spot exotic birds including tukis and black-collared hawks. Then, return to the lodge for a hearty breakfast before taking a fishing trip on the Amazon River. You'll be taken into a small tributary of the Amazon River, and even have the chance to fish for piranhas! Keep an eye out for the famous pink river dolphins as you cruise along the river.
In the afternoon, head back to the lodge for lunch before visiting a lake at Yanamono Island, where you'll see giant water lilies. Enjoy a delicious dinner at the lodge and then venture into the jungle for a nature hike. See tarantulas, fireflies, bats and many other nocturnal animals.

Day 3:
On your last day at Heliconia Lodge, visit a rustic sugarcane distillery after breakfast. Sample exotic beverages made from sugarcane liquors and see the process behind these delicious drinks. Return to the lodge for lunch and enjoy convenient transportation back to Iquitos to catch your return flight.

Note: flights must be after 5pm to ensure there is enough time to travel to the airport from the lodge.
July 2015
It was a beautiful Lodge. I stated at the Heliconia Lodge Thursday-Saturday. I was picked up at my hotel: Casa Monrey where I was introduced by my Guide-Daniel. I was taken to the port where I already had packed by small luggage with everything I would need for three days for my Amazon Jungle Adventure. Daniel and the boat captain where very nice. Daniel the tour guide pointed out where the grey and pink dolphins where half way to the lodge and I was able to take great pictures. When I arrived at the Heliconia Lodge I was greeted by Marina the main hostess and person in charge with a drink AND a brief introduction then I had time to go to my beautiful room that was just across the pool. I really thought the lodge was like a four or five star hotel clean, well taken care of and well kept. They keep you busy with all the inclusive tours and activities. The food is freshly made and they take into consideration your likes and wishes. Actually, it needs to be said they seem to go out of their way to make you feel at home and comfortable. Only thing to keep in mind is the hours the lights are on which really your are so busy either enjoying the tours and activities and the pool and the lodge surroundings that is almost like you don't even give it a second thought. Also taking a warm/hot shower is not a problem the only thing you have to learn to regulate the water: first turn on the cold water knob next after a minute turn on the hot water knob and then next after a minute or so you regulate the two knobs to your taste. I want to say thank you to Viator which is the website that I used to booked the Heliconia Lodge amazing Lodge. Also to all the staff at the Heliconia Lodge and the waiter I think his name was Febursun , Marina the main person in charge and DANIEL the guide you all where so respectful accommodating sweet and just a jewel in the Amazon, Gracias! I had a wonderful stayed I just wish it would have last longer.
December 2014
very well organised, interesting, informative and well executed activities with knowledgable bi-lingual guide, excellent Heliconia lodge, facilities, food, caring welcoming staff... an unforgettable experience in a geographically unique environment.. would highly recommend to others.. Thankyou!
December 2014
If u only have short Time to See the Amazonthis is the trip to take. Our guide Oscar was excellent.
October 2014
Do not come to Peru without experiencing the Amazon. Heliconia Lodge was amaizing - surpassed all my expectations. Our tour guide was Freddy Romaina - he was excellent, ask for him if you can, he would ensure your safety and make your tours enjoyable. The lodge itself was Five-star - excellent room service, location, and food. Be prepared to be without your cell phone annd internet! Choose Heliconia Lodge.
October 2014
Our stay at Heliconia Lodge was simply amazing! Thank you so much for everything!
June 2014
I have to say that this was everything I hoped it would be. Our guide, Antonio, was intelligent, knowledgeable, and efficient, plus a wonderful person. The food at Heliconia was excellent, the staff friendly and courteous. Rooms were clean and comfortable. I would recommend this to anyone who is looking for an enjoyable Amazon experience.
April 2014
Great experience! We were happy with the packed days filled with nature and culture. There were four of us and they gave us a nice upgrade to two three-bed rooms so we had ample space. The lodge also had nice hammocks which was good for the evenings. This was an unforgettable adventure!
April 2014
Great experience! We were happy with the packed days filled with nature and culture. There were four of us and they gave us a nice upgrade to two three-bed rooms so we had ample space. The lodge also had nice hammocks which was good for the evenings. This was an unforgettable adventure!
January 2014
The adventure begins as soon as your plane lands. The pick up was smooth. We arrived with two other couples, they took us through the town and to the port, with some history of the small city along the way. Once at the port, we tried a bite or two of local food, then got on our boat and took us to a replica village of a jungle tribe . The families that live there live the jungle life but also cater to tourists, wearing their tribal outfit and doing dances. Keep in mind, they expect money as a tip, or you can buy some of their jewelry or art work instead of tipping.Next you travel to the lodge, which was well maintained. Upon arrival and receiving the introductory, it is lunch time. The food was fantastic and filling- typical Peruvian food. The room was comfortable, they provided water, shampoo, soap, towel, rubber boots for hiking, and a hammock in a screened in porch. It was lovely. The lodge has limited electricity, so you have to time the electricity if you need to charge batteries. The limited electricity was not a problem for us because they guides kept us busy with activities. However, even though there were at least 3 activities each day for us, there was still time to rest. The hikes in the jungle were interesting, fishing for piranhas was fun even though our guide caught all the piranhas we had for dinner. We also really enjoyed visiting a family that had several young wild life that we could hold. In early January (2014) he had a baby monkey, sloth, snake, turtles and more. Victor was our guide and he did a great job telling us the next item on our itinerary with just the right information. He did a great job over all. One thing we were not aware of was that at the end of the tour, it is expected to tip the guide as well as the staff at the lodge. But over all, those at the lodge do a fantastic job! Other fun parts of the lodge include the pet parrot, banana bunches hanging around which can be eaten as a snack, Foosball, pool, billiards, and a bar.
December 2013
With the help of my excellent English-speaking guide, I did everything on the itinerary and more! My room at the lodge was spacious and clean, with all of the amenities I needed. They provided shampoo, soap, a poncho, flashlight, and rubber boots. Each room has a hammock on a screened-in deck, and all other windows have screens - perfect for falling asleep to the sounds of night critters. The food was delicious and for each meal there was a choice of chicken, fish, or beef, served with rice or potato, plantain, and vegetables. There was always a salad before the meal and dessert of fruit after the meal. Tea and coffee available all day for no charge. Beer was 6 soles, cocktails about double that, all reasonably priced. The pool was small but very clean and very refreshing. Piranha fishing was a lot of fun, and they even let me keep my biggest piranha to eat for lunch - they fried it for me at the lodge! I would suggest carrying a little bit of money or treats with you whenever you leave the lodge, just in case you end up in a village where there are little kids selling crafts or allowing you to hold their pet cayman or pet sloth. The sugar cane distillery was more interesting than I expected, and you can buy small bottles of the liquor they produce there. Bring a plug adapter if necessary - many places in Peru have plug shapes for North America and Peru, but the lodge only has Peru shapes as far as I could tell. It was a fantastic trip, would love to go back!
Advertisement
Advertisement