Explore the enchanting scenery and diverse wildlife of the Amazon jungle on an exhilarating 3-day excursion from Iquitos. Cruise along the tranquil Amazon River on a rustic canoe; see vibrant birds and raucous monkeys frolic in the treetops; and visit a traditional sugarcane distillery to learn of ancient agricultural methods. Absorb the scenic spectacle of the landscape while enjoying all-inclusive meals, round-trip airport transportation and comfortable overnight accommodation on this adventurous tour.
Highlights
3-day Iquitos jungle experience with accommodation at the beautiful Heliconia Lodge
Cruise down the Amazon River on a fishing trip
Hike through the Amazon Rainforest and admire breathtaking views
See exotic plants and animals, including monkeys, bats, tarantulas, birds and more!
Visit a sugarcane distillery with your expert guide
All meals, 2 nights' accommodation and round-trip airport transfer included
What You Can Expect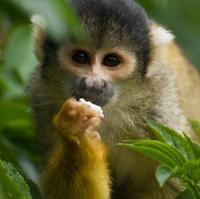 Awaken your senses to the spectacular sights and sounds of the jungle on this exhilarating excursion from Iquitos. Enjoy a smooth and stress-free transfer from Iquitos International Airport, then venture deep into the dense rainforest to the rustic Heliconia Lodge. Enjoy the comfort and tranquility of the lodge, where meals are served and peaceful nights spent. Immerse yourself in the atmospheric Yanamono Reserve on exciting hikes; emerge early to appreciate the fluttering fascination of exotic birds; and interact with the indigenous locals of a small, riverside community to gain insight into ancient cultures.
Itinerary
Day 1:
Arrive at the Iquitos International Airport, where you'll be escorted by your professional guide to a speedboat at Bella Vista Port. As you make your way to Heliconia Lodge, observe the impressive waters of both the Amazon and Nanay rivers. Stop by a native riverside community, where you'll have the opportunity to see the locals' way of life and hear about their customs and culture.
Arrive at the lodge after a 1.5-hour boat ride. Settle into your room and get ready for your first Amazon excursion: a 2-hour jungle hike into the Yanamono Reserve. Spot native plants, including heliconia flowers and the white silk-cotton trees, as you follow your expert guide through this rainforest reserve. Head back to the lodge for some free time before admiring a stunning Amazon sunset. Then, enjoy a delicious dinner at the lodge before heading out for an exciting night cruise along the Amazon River!

Note: arrival flights must arrive before 8am for transportation

Day 2:
Wake up early for a bird-watching tour. Take a boat ride on one of several streams, where you'll spot exotic birds including tukis and black-collared hawks. Then, return to the lodge for a hearty breakfast before taking a fishing trip on the Amazon River. You'll be taken into a small tributary of the Amazon River, and even have the chance to fish for piranhas! Keep an eye out for the famous pink river dolphins as you cruise along the river.
In the afternoon, head back to the lodge for lunch before visiting a lake at Yanamono Island, where you'll see giant water lilies. Enjoy a delicious dinner at the lodge and then venture into the jungle for a nature hike. See tarantulas, fireflies, bats and many other nocturnal animals.

Day 3:
On your last day at Heliconia Lodge, visit a rustic sugarcane distillery after breakfast. Sample exotic beverages made from sugarcane liquors and see the process behind these delicious drinks. Return to the lodge for lunch and enjoy convenient transportation back to Iquitos to catch your return flight.

Note: flights must be after 5pm to ensure there is enough time to travel to the airport from the lodge.
March 2016
This tour was absolutely fantastic. Heleconia lodge was amazing. Our tour guide spoke English clearly and fluently.
January 2016
It was a nicely plan great tour. The tour guide Neal was born and raised there so very knowledgable. They plan all activities 1 1/2 to 2 hours long and then give us 2 hours of rest time so it was nicely planned. The food from lodge was exceptional, the best we had since Peru. Just be aware that there's no hair dryer and only has electricity from 5:30pm till midnight. The dining area and pool was very comfortable.
January 2016
This was a wonderful way to complete my South America vacation. This lodge was extremely clean especially considering that you are in the jungle. This is apparently a resort for the upper class Peruvians, especially those with children. I was the only non Peruvian when I arrived but everyone was so kind. I was traveling alone but I never felt lonely. A few more guests from the US arrived the second day. I was assigned an English speaking guide. He was my guide the entire weekend. All transportation, food and excursions are included. The food was AMAZING!! You are served in a new dining room. Everything is fresh and delicious. I was so impressed with the lack of processed foods especially desserts. The excursions were better than expected. The trip to the village was eye opening. The indigenous people were wonderful and you will fall in love with the children. Be sure to take a large bag of candy to share with them. I highly recommend this to be added to any trip you make to Peru.
January 2016
Well organised and a great Amazon experience.

December 2015
An absolutely amazing experience! The entire tour is perfectly managed, with airport pick-ups and drop-offs, and transport to every point of the entire experience.
At the lodge, our guide Daniel was incredible, and made sure that there was not a single boring moment for the three days. He went out of his way to show us animals and plants in the forest, and impressed us all with his amazing knowledge of the local flora and fauna.
The tour includes fishing and dolphin-watching, as well as night-time boat rides and jungle treks, each a memory for life in itself.
The food at the lodge is phenomenal too.
I would definitely recommend this tour to anyone visiting Iquitos, and would definitely do it again at some point.
Note: The lodge has no mobile signal, but the activities are so well managed that this is not an issue in the slightest. In fact, it is quite refreshing!
November 2015
This relatively short trip felt like it was much longer than it was. It gave me a satisfying taste of what I'd hoped to experience - the wildlife, vegetation, culture. It was comfortable without feeling unrealistically luxurious.
Angie United Kingdom
October 2015
This is one of the most amazing things we have ever done. Huge thanks to Nixon, our guide, and the Heliconia Amazon River Lodge. Their staff are just the best, so welcoming and the food is top notch. Piranha fishing is an experience everyone should have in their lifetime, the competition to catch one gets fierce!!.
The itinerary is very broad and is very interesting. Don't forget your bug spray and camera. We were very sad to leave.
October 2015
very educational about the forest and how to protect the forest.
July 2015
It was a beautiful Lodge. I stated at the Heliconia Lodge Thursday-Saturday. I was picked up at my hotel: Casa Monrey where I was introduced by my Guide-Daniel. I was taken to the port where I already had packed by small luggage with everything I would need for three days for my Amazon Jungle Adventure. Daniel and the boat captain where very nice. Daniel the tour guide pointed out where the grey and pink dolphins where half way to the lodge and I was able to take great pictures. When I arrived at the Heliconia Lodge I was greeted by Marina the main hostess and person in charge with a drink AND a brief introduction then I had time to go to my beautiful room that was just across the pool. I really thought the lodge was like a four or five star hotel clean, well taken care of and well kept. They keep you busy with all the inclusive tours and activities. The food is freshly made and they take into consideration your likes and wishes. Actually, it needs to be said they seem to go out of their way to make you feel at home and comfortable. Only thing to keep in mind is the hours the lights are on which really your are so busy either enjoying the tours and activities and the pool and the lodge surroundings that is almost like you don't even give it a second thought. Also taking a warm/hot shower is not a problem the only thing you have to learn to regulate the water: first turn on the cold water knob next after a minute turn on the hot water knob and then next after a minute or so you regulate the two knobs to your taste. I want to say thank you to Viator which is the website that I used to booked the Heliconia Lodge amazing Lodge. Also to all the staff at the Heliconia Lodge and the waiter I think his name was Febursun , Marina the main person in charge and DANIEL the guide you all where so respectful accommodating sweet and just a jewel in the Amazon, Gracias! I had a wonderful stayed I just wish it would have last longer.
December 2014
very well organised, interesting, informative and well executed activities with knowledgable bi-lingual guide, excellent Heliconia lodge, facilities, food, caring welcoming staff... an unforgettable experience in a geographically unique environment.. would highly recommend to others.. Thankyou!
Advertisement
Advertisement