Location:

Iquitos, Peru

Duration:

4 days

(approx.)
Embark on the journey of a lifetime and cruise deep into the heart of the Peruvian Amazon aboard the luxurious Delfin II. Your four-day all-inclusive Amazon River cruise is packed with comfort, relaxation and adventure. Book now for this unique opportunity to see the best of this amazing region, including wildlife encounters and a visit to the Pacaya Samiria Reserve, a 5 -million-acre (2-million-hectare) piece of rainforest just waiting to be discovered.

Highlights
4-day Amazon River cruise aboard the Delfin II from Iquitos
Get up-close and personal with indigenous Peruvian wildlife

Look for dolphins, monkeys and piranhas

Interact with local Amazonian Indians

Visit the Pacaya Samiria Reserve
Relax in comfort and style and dine on Peruvian cuisine aboard a luxurious vessel
Maximum of eight guests ensures an intimate experience
Recent Photos of This Tour
4-Day Amazon River Luxury Cruise from Iquitos on the 'Delfin II'
What You Can Expect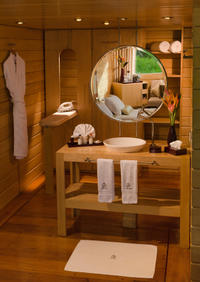 This four-day, top-of-the-line, luxurious Amazon cruise from Iquitos is like none other! Comfort, style and intimacy rule aboard the Delfin II, where the staff strives to ensure that you have the vacation of a lifetime. The river vessel is limited to four suites, so the maximum capacity is eight guests, allowing for a small-group atmosphere and a personalized experience you won't soon forget.

Each day, wake up on the boat and participate in various tours and activities, whether cultural, historical or pure fun! Set off on wildlife expeditions and discover some of the rainforest's most famous creatures: piranhas, monkeys, tropical birds and pink dolphins. Also, interact with and learn from indigenous Amazonian Indians who will show off their village and teach you their customs.

See the Itinerary field below for a more detailed tour description.
Itinerary
Day 1:
It is highly recommended that you take LAN flight 2382 from Lima in order to board the Delfin II on time. If there are any unexpected delays with flight 2382, the Delfin II will most likely wait for your arrival.

After your arrival at the Iquitos airport, you will be met by a representative and taken on a 1.5-hour coach ride to Nauta, the oldest city in the region of Loreto.

In Nauta, board the Delfin II, one of the most unique and luxurious river vessels in the Amazon region. With only four spacious deluxe suites, the Delfin II boasts world-class hospitality and intimacy. Each suite is equipped with a private terrace, a private whirlpool bath, A/C units, hot water, hair dryer, a safety deposit box, an internal communications system and panoramic windows that offer a 180-degree view .

Just before dusk, as the Delfin II starts its journey into the rainforest, the barman will prepare for you a pisco sour, Peru's national drink. Fine regional cigars will also be available as you toast to an adventurous journey in the Peruvian Amazon.

Dinner, consisting of local Peruvian cuisine, is then served in the dining room at the back of the ship's second deck. Because of its cultural diversity, Peruvian cuisine is considered one of the world's finest, making the country an attractive culinary destination.

After dinner, your guides will give you a briefing on the vessel's top observation deck. Using charts and videos, they will tell you about the history and geography of the Amazon basin and outline details of your journey, including the places you will visit and the wildlife you will see.

Finally, under the beauty of the star-filled Amazonian night, the staff will entertain you with live music before you head to your suite for a good night's sleep.

Day 2:
Waking up early in the Amazon is always a rewarding experience, as this is when wildlife is abundant and active. If you want to wake up early, you can enjoy the optional pre-breakfast bird-watching experience!

A buffet-style breakfast is served at 7am. Afterward, take off on a hiking tour through the pristine and unique ecosystem. Pass through a tropical rainforest with emergent trees reaching up to 180 feet (55 meters) in height. Biologically speaking, this forest is one of the richest habitats on Earth, supporting the most types of species and plants per unit area.

During the hike, look for a giant ceiba, or kapok, tree, known for its large diameter, and follow your naturalist guide, who will point out local medicinal plants and explain their unique uses. The forest is also a great place for spotting birds, such as the bluish-fronted jacamar, collared trogon and red-capped cardinal.

Back on the Delfin II, you'll be treated to a world-class gourmet lunch. After resting a bit while the boat makes it way to your next destination, depart on an afternoon excursion to the YanaYacu biological station. A protected area within the Pacaya Samiria National Reserve, the biological station allows for an up close and personal encounter with local wildlife.

As you explore this mysterious tropical destination, watch for the many bird species, colorful butterflies and other diverse insects, noisy troops of monkeys and the unique pink and grey river dolphin swimming in the black river waters .

Back on the vessel, relax for a few hours as you cruise further upriver. At 8pm, dinner is served in the cozy dining room. On this night, far from civilization, the stargazing opportunities are simply incredible! Head up to the observation deck and see the stars of the northern and southern constellations while enjoying the gentle breeze and the jungle's wonderful symphony.

Day 3:
At 7am, a wonderful breakfast full of natural juices and exotic fruit is served. Then, head out for your morning activity – a canopy walkway experience unlike any other. At a height of more than 85 feet (25 meters) and a length of more than 1,580 feet (500 meters), the canopy walkway provides you with unparalleled views of the Amazon Rainforest, its wildlife and vegetation.

The canopy walkway is accessible to all and requires no special skills or equipment. The suspended walkway is spread between 14 of the area's largest trees and is one of the longest canopy walkways in the world. Canoeing back through Tawampa Lake, you'll possibly observe the giant Arapaima, the world's largest freshwater fish.

Back aboard the Delfin II, rest for a few hours and enjoy lunch as you continue upriver. In the afternoon, depart on a small-boat cruise to discover various creeks and lagoons. Head over to a beautiful lake where you'll be able to fish for freshwater fish, including the renowned and often feared piranha.

There are an estimated 25 different types of piranhas in the Amazon, their blood-thirsty, carnivorous image often exaggerated in popular culture. During the rainy season, the river floods the low forest with more than 3 feet (1 meter) of water. Flowering and fruiting coincide with this flooding, helping piranhas and other fish to swim close to the river banks, nibbling on the fresh fruit.

Back on board, as the sun sets, listen to the another installment of the jungle's symphony. Armed with powerful spotlights, embark on a night safari in search of herons, pauraques, owls and fish bats. Black caimans are found in the pristine waters, and your guides will help point them out to you. Stargazing at this time is quite magical, as hundreds of fireflies light up the jungle around you.

Back aboard the Delfin I, relax and enjoy a delicious dinner before calling it a night.

Day 4:
Wake up at the Amazon headwaters, home to the village of San Francisco and the location where the Ucayali and Marañon rivers merge into the Amazon . After breakfast, set off to the origin of the Amazon River for a pink dolphin-watching tour. Because this is one of their favorite feeding spots, the dolphins are abundant and playful.

Afterward, visit the village of San Francisco, a local Indian community. Stroll around the village and interact with the locals, learning about their deep cultural heritage. You'll most likely be greeted by children who will take you to their school and introduce you to their teacher.

Board the Delfin II around 10:30am, and take time to pack your bags. At noon, lunch is served and the vessel will begin heading back to Nauta . On your way back to Iquitos, make a stop at the Rescue and Rehabilitation Center of River Mammals. Meet baby manatees and learn about this endangered species.

To best fit this itinerary into your Peru travel plans, it is highly recommended that you take LAN flight 2283 back to Lima.
Advertisement
Advertisement