Rewind history and delve into the famous battles at Troy and Gallipoli during this 2-day small-group guided tour from Istanbul. Journey to Gallipoli and step on the famous battlegrounds where Turkish troops and the Australia and New Zealand Army Corps (ANZAC) fought to a fatal standoff during World War I. That evening, enjoy staying at a luxurious overnight hotel in Çanakkale. On day 2, you will travel to historic Troy to see where the Trojan War and storied wooden Trojan horse was used to infiltrate Troy's defenses. With plenty of attention from your guide, round-trip transfer from Istanbul and three meals included this experience can't be beat. Since this small-group tour is limited to 14 people, enjoy personal attention from your guide.
Highlights
2-day tour to Gallipoli and Troy from Istanbul, including round-trip transport
See the poignant battlefields of the Gallipoli Peninsula, the scene of one of WWI's bloodiest campaigns
Stand at ANZAC Cove, where Australian and New Zealand forces landed on 25th April 1915
View The Nek, Johnston's Jolly and Lone Pine and Chunuk Bair Memorials
Visit ancient Troy to see its crumbled relics and replica wooden horse
Enjoy one night's hotel accommodation in Çanakkale, and three included meals
Small-group tour limited to 14 people ensures a personalized experience
Recent Photos of This Tour
2-Day Small-Group Troy and Gallipoli Tour from Istanbul
What You Can Expect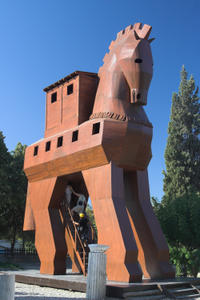 Your 2-day guided voyage to Gallipoli and Troy is simple with transfers to and from Istanbul. Early on day one, embark by air-conditioned coach to Gallipoli for a tour and complimentary lunch. In the evening, head to neighboring Çanakkale for dinner and your 5-star hotel accommodation (both included). On day two, your hotel provides breakfast and then you will venture to historic Troy. After lunch (own expense), you will have leisure time to explore Çanakkale before heading back to Istanbul that night.
Your tour includes round-trip transport from Istanbul, together with a tour of Gallipoli on day one and an included dinner and one night's accommodation at a 5-star hotel in nearby Çanakkale. On day two, your tour includes breakfast at your hotel, an excursion to ancient Troy, and an afternoon free in Çanakkale before your return to Istanbul in the evening. You won't want to miss this unforgettable historic trip.
Itinerary
Day 1: Istanbul – Gallipoli – Çanakkale (L, D)
Leave your hotel on the European side of Istanbul in an air-conditioned coach, and travel toward the Gallipoli Peninsula, the scene of one of WWI's bloodiest military campaigns. Your pickup time is early, so enjoy breakfast (own expense) during a brief stop just outside the city.
After roughly four hours, arrive at Gallipoli, where memorials still testify to the Allied campaign of 1915-1916. On 25th April 1915, soldiers mainly from the Australian and New Zealand Army Corps landed on this now-peaceful peninsula to fight the Ottoman Turks and capture Istanbul, known then as Constantinople. The ANZAC attack met with fierce Turkish resistance and the campaign ended when Allied troops were evacuated in January 1916, only after an estimated total loss of 100,000 men across both sides.
Visit the main battle sites and memorials as your guide explains the terrible events that marked the campaign. See the Turkish and Allied trenches at Johnston's Jolly and view The Nek, a mountain ridge that presided over a tragic Australian attack.
Stand at ANZAC Cove, the beach that saw the first landings, and pay your respects at the Australian Lone Pine Cemetery and Memorial, the latter inscribed with the names of almost 5,000 soldiers without a grave. You'll also visit the New Zealand Memorial at Chunuk Blair, the site of a heroic stand by New Zealander troops.
During your tour, take a break for an included lunch at a local restaurant. Then, when your tour ends, travel to your hotel in nearby Çanakkale for an included dinner and the evening at leisure.
Overnight: 5-star Kolin hotel in central Çanakkale or similar

Day 2: Çanakkale – Troy – Istanbul (B)
After breakfast at your hotel, set off by coach on your excursion to ancient Troy, roughly 30 minutes away by road.
Wreathed in legend, this UNESCO-listed archaeological gem is the location of ancient Troy, a city that many scholars believed, until its discovery in 1793, to have been dreamt up by the poet Homer for the purposes of his great work, The Iliad. The city is best known for the Trojan War of the 13th or 12th century BC, when after a 10-year siege by Greek forces, it fell into their hands after they smuggled soldiers inside its walls hidden within a giant, wooden horse.
Gaze in wonder at the crumbled walls and relics as your guide recounts the city's history, including the Greek myth of the Trojan prince (Paris) whose flight with Zeus' daughter (Helen) triggered the war. You'll also see the huge, replica wooden horse that stands here to commemorate the city's infamous past.
After your explorations, return to Çanakkale and spend the afternoon as you wish. Perhaps have lunch (own expense) at one of the many enticing restaurants, explore the town's other sights, or shop for souvenirs.
At around 6pm, board your coach and drive back to Istanbul, where your tour concludes with a hotel drop-off in the late evening.

June 2016
Great value for Money and plenty of history!

April 2016
My trip was more then i could of expected pick ups and transfers were on time. The Hotel facility was amazing and our tours to Galipolli and Troy lived up to all expectations. Our tour guide was friendly and very knowledgable.
October 2015
This tour was excellent, we got to see a lot more than anticipated. The tour collected us right on time, there was 8 of us on the tour all Aussies, we all had a great 2 days. We changed hotels when we returned to Istanbul, they were able to drop us at the new hotel at the airport, with no problems. We can recommend this company 110, the hotel was great, the food included in the tour was good as well.
September 2015
I was not expecting to see quite so much. Gallipoli was very comprehensively covered and very moving. There is so much more to Troy than I thought there would be. You need a bit of patience because the logistics are quite complicated. Take the boat trip but avoid the Kolin hotel, very poor forr a five star.
August 2015
This tour was great, we also took a boat ride to Anzac Cove, a real highlight. Our accommodation was outstanding and tour guides fantastic.
July 2015
We only did one day of the tour as we wanted to see the Grand Bazaar rather than Troy. What we did see at Gallipoli made the tour very worthwhile.
June 2015
Great guide, good hotel, highly recommend.
Was meant to be a small tour but at Troy there were 22 of us. Nevertheless, it was informative and interesting.
September 2014
Very well organized this particular tour there were 6 of us 4 Aussies and 2 new zealanders so obviously had a lot in common due to where we were visiting. Highly recommend this trip and great value for money. Could not fault the tour , staying overnight broke the long trip from Istanbul.
August 2014
June 2014
This tour is definitely worth the long drives to and from. A comfortable ride in an air-conditioned bus, a lovely lunch before arriving at the Gallipoli memorials, then crossing the Bosporus to Canna-kale for the night in an amazing hotel. Great breakfast with no real rush in the morning, then a great in-depth tour of troy before another bus ride back, crossing the Bosporus again. Credit to our guide as he was very informative and gave us time to explore around at each stop. Great tour to do with the family.
Advertisement
Advertisement