15 Reviews
Location:

Istanbul, Turkey

Duration:

2 days

(approx.)
Special Offer
Book and travel between August 1 and October 31, 2015 and save 10% off our previously offered price!

Visit Gallipoli and Troy, two historic Turkish sites, on a 2-day tour from Istanbul with 3-star hotel accommodation in central Çanakkale included! After traveling to the Gallipoli peninsula with a knowledgeable guide, tour the World War I battlefields and learn about the events and aftermath of April 25, 1915. Visit now-serene memorials such as Lone Pine, Chunuk Bair, Brighton Beach and Anzac Cove on a walking tour, and enjoy plenty of free time to see sights independently, too. The next day, visit the ancient city of Troy for a tour of its archeological site and the Trojan Horse while learning about the mythological Trojan War.
Highlights
2-day Gallipoli and Troy tour with transport from Istanbul
Tour the WWI battlefields at Gallipoli and the ancient city of Troy with a knowledgeable local guide
Visit touching memorials including Lone Pine, Chunuk Bair, Anzac Cove and Brighton Beach
Make the most of ample free time to see the Gallipoli sights that interest you most
Explore the archeological site at Troy, learn about the Trojan War and see the famous wooden Trojan Horse
Enjoy overnight accommodation in a centrally located 3-star Çanakkale hotel

What You Can Expect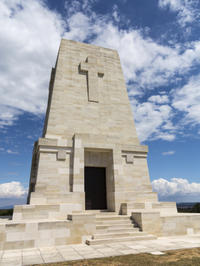 Day 1: Istanbul – Gallipoli – Çanakkale (L)
Leave central Istanbul, and then travel by coach to the battlefields of Gallipoli. Your pickup time is early, so, if you've not had breakfast, enjoy a quick food stop just after leaving the city (own expense).

After roughly four hours on the road, arrive at the historic site where one of the most brutal and lengthy campaigns of WWI was waged. On April 25, 1915, the Australian and New Zealand Army Corps followed Allied orders to mount an attack with the aim of capturing Constantinople. The attack was met with unprecedented resistance from the Ottoman Turks and the campaign dragged out for some eight months, with thousands of fatalities.

As you walk about the area, learn all about the key battles that took place and see several poignant memorials that are visited by people from all over the world. Visit Lone Pine — Australia's main memorial site — and explore the trenches of the Nek while hearing about the troops that stormed the surrounding woodland.

See Chunuk Bair New Zealand Memorial, one of the rare sites that Allied troops captured for a short time, and pay your respects to fallen soldiers at ANZAC Cove where some of the most significant Gallipoli battles took place. Walk around Ari Burnu Cemetery where more than 200 servicemen are buried, and see other touching memorials including Brighton Beach, the Beach Cemetery and the trenches at Johnson's Jolly.

Your day at the site includes ample free time for independent sightseeing, plus lunch in a restaurant halfway through your tour. After exploring, travel to your hotel in central Çanakkale, and then spend your evening at leisure.

Overnight: 3-star Grand Anzac Hotel or Büyük Truva Hotel in central Çanakkale

Day 2: Çanakkale – Troy – Istanbul (B, L)
Check out of your hotel after breakfast, we will be visiting Cimenlik Castle and Nusrat minelayer.
On a walking tour of the site, learn of Troy's history and of its development as a series of settlements. Hear how it originated as a Bronze Age dwelling, and even a had stint as a Byzantine town before falling into a state of ruin. Troy is also famous for its links to the Trojan War, the Greek mythological story of the Trojan prince (Paris) who ran away with Zeus' daughter (Helen) and sparked the 10-year battle. After exploring the ruins, visit the wooden Trojan Horse, which symbolizes the town, and enjoy free time to take photos at leisure.

Before starting your journey back to Istanbul, enjoy a break for lunch in a local restaurant, and then pass through the ancient city of Troy, roughly half an hour away. One of the world's most famous archeological sites, Troy dates back around 4,000 years and is believed to be the city where the first contact between Anatolia (ancient Asia) and the Mediterranean region was made. Then, relax on the journey north, and finish with a hotel drop-off in central Istanbul in the late evening.
September 2015
We had a brilliant trip. Our guide was friendly and knowledgeable and the pace of the tour was perfect.
July 2015
Great value for money. Well organised and exceeded expectations. Well done and thank you !
May 2015
The guides were wonderful throughout, very knowledgeable and engaging. The trip from Istanbul to the sites and to all the places in between were done with great precision and the food given along the way was delicious! Highly recommend these guys.
May 2015
Exceptional. Tour guide and driver were of the highest standard and did all within their power to make the trip one of the best I have been on. Value for money.
Many thanks.
May 2015
Exceptional. Tour guide and driver were of the highest standard and did all within their power to make the trip one of the best I have been on. Value for money.
Many thanks.
April 2015
I went on this tour by myself on a weekend.Stayed at the Sultan Hostel the night before and the return night. All worked out very well. The tour guide, Mr G, was entertaining, informative and helpful. The stay in Canakkale was really nice, great city with night markets and restaurants! Amazing time!
March 2015
It was a perfect organised trip from beginning till end!
Pick-up from Hotel in time. Tourguides on the rides and scenes spoke English very well and were very informative. Drop-off also in time.
In the evening I stayed in an hotel in Canakkele very nice hotel!.
This was a good decision to make because I think in Canakkele there are more bars and restaurants than on the island and this is closer to Troje so my hotel pick-up was at 11:30.
Jeroen
Gallipoli was very impressive especially because I was ther at March 18th 2015.
Troje was also very interesting because of the importance place in historical writing.
I can recommend this trip to everyone!
December 2014
This tour is spectacular.
The driver and guide were superb. Dyugu ,our guide , was very knowledgable and great company
April 2014
Tour guide was the best!! For a bunch of history nerds, this was like two days of perfection!!!
July 2015
Excellent guide who had a lot of knowledge about both Troy and Gallipoli. Itinerary was very good. Only gripes were our hotel too noisy lunch on second day same as first day but inferior and choice of dinner stop not good at all. Still would thoroughly recommend the tour though, especially to Anzacs. Great value for money.
Special Offer
$163.37 Save $16.34
Advertisement
Advertisement