Maximize your travel time in Turkey on this 3-day tour that covers Cappadocia and Ephesus, with flights. Turkey is a big country, packed with many diverse regions, which makes it a compelling place to see but also lends to logistical constraints. This tour will ensure you don't waste any time. First, fly to Kayseri from Istanbul, where you will explore some of Cappadocia's main points of interest during two tours. Next, fly to Izmir and discover fascinating archeology. Enjoy 4-star accommodations. Select to upgrade your tour if you would like the tour to include your return flight to Istanbul.
Highlights
3-day Turkey tour to Cappadocia and Ephesus from Istanbul
Save time on traveling between regions with domestic flights included
Tour Cappadocia and visit UNESCO-listed Göreme Open-Air Museum, Ortahisar Castle, Kaymakli Underground City and more
Take an early morning hot air balloon ride over Cappadocia, if you wish
Explore the archeological site at Ephesus and visit the House of the Virgin Mary (Meryemana)
Enjoy overnight 4-star stays in a boutique cave hotel in Cappadocia and a centrally located hotel in Izmir
Upgrade to include a flight from Izmir to Istanbul at the end of the tour

What You Can Expect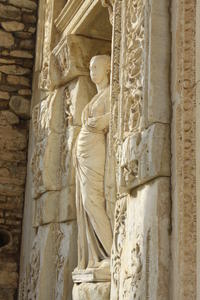 Your 3-day tour kicks off with a flight from Istanbul to Kayseri. Head into the moonscape of Cappadocia, for a great introduction to this otherworldly region. Millions of years ago volcanic ash spewed into the atmosphere, only to fall and cover the earth with layers of ash that solidified. It was then carved out by wind, floodwater, and rain to form the lunar-like landscape you see today.
See the Göreme Open-Air Museum, Kaymakli Underground City, the Rose Valley and select an additional option for a sunrise hot air balloon tour. After seeing Cappadocia's highlights, traveling to Ephesus where you will steep in Turkey's very old history.
In Cappadocia, enjoy a 4-star boutique cave hotel. In Izmir, a city often cited as the gateway to Ephesus, you will reside in a centrally located 4-star hotel.
Itinerary
Day 1: Istanbul – Kayseri – Cappadocia (D)
Start your tour with a hotel pickup from central Istanbul and travel to Atatürk Airport in time for your flight. Board the plane on your own, and relax on the 1.5-hour flight southeast to Kayseri, a city deep in mainland Turkey. On arrival, meet your guide, hop inside your minibus and travel a little further into Cappadocia to see its wondrous sights.
Your first stop is Göreme Open-Air Museum, a UNESCO World Heritage site, home to fairy chimneys and a collection of rocky monuments that attest to Byzantine days in Cappadocia. Explore with your guide, and then continue to the small town of Avanos, which is famous for its pottery production.
After a quick look around the pretty town, enjoy a stop nearby in Pasabag (Monk's Valley), and take a walk through the area's cone-like rocks to see where monks and hermits once lived in isolated seclusion. Continue traveling through Dervent Valley, where fairy chimneys pepper the landscape, and then travel back to your cave hotel in Cappadocia in time for dinner.
Overnight: 4-star Dilek Kaya Cave Hotel or Alfina Cave Hotel in Cappadocia

Day 2: Cappadocia – Kayseri – Izmir (B, D)
Spend the morning at leisure and enjoy breakfast in your hotel, meet back up mid-morning for another tour of Cappadocia. Start with a walk through Rose Valley, a gorgeous stretch of land that takes its name from its abundance of red-hued rock. Straddling the villages of Göreme and Çavuşin, the valley is peppered with rock-carved churches and tunnels, and your guide will point out the best ones as you walk. Finish up in Çavuşin and, after seeing its cave mosque, enjoy some free time for lunch (own expense).
Hop aboard your minibus and continue your day's tour to the town of Ortahisar to see its crowning glory, Ortahisar Castle. Pose for photos by the unique rock fortress before traveling onward to the Kaymakli Underground City, one of Cappadocia's best-preserved subterranean sites. Explore its maze of passages, seeing underground stables and cellars while learning about the early Christians who once hid here to escape persecution. Return to your coach, pass through Pigeon Valley, and then return to your hotel.
Check out in the late afternoon, and travel with your guide to Kayseri Airport for your 1.5-hour evening flight to Izmir. Arrive at Izmir Adnan Menderes Airport on your own, and enjoy a transfer to your hotel. Refuel with a late-evening meal of sandwiches laid on by the hotel and enjoy a good night's sleep in readiness for tomorrow.
Overnight: 4-star hotel in Izmir

Day 3: Izmir – Ephesus – Izmir (B)
Enjoy breakfast in your hotel, and then travel to Ephesus where an important archeological site, considered as one of Europe's best-preserved Classical cities, awaits. Explore the ruins on a walking tour and see sights such as the Temple of Hadrian — a monument built to celebrate the Emperor Hadrian's visits to the city.

Take a break for lunch in the main town (own expense), before traveling to the House of the Virgin Mary, a site that many believe is where the Virgin Mary spent her final days. Enjoy a look around the chapel and hear about its history as a place of pilgrimage from your guide. Finally, return to your coach and travel back to your hotel to check out.

Your 3-day tour then finishes with a drop-off at the Izmir airport,Izmir hotel or Kusadasi hotel. Alternatively, upgrade to include a flight back to Atatürk Airport in Istanbul, and finish your tour there instead.
September 2014
Another Amazing Tour! Everything was so organized and well prepared for us. We loved our 3-day Cappadocia and Ephesus Trip. So many amazing thing to see. Breathtaking view. Our Balloon ride was the highlight of our tour. Unbelievable Experience.
July 2015
really enjoyed this trip. They are long days, but necessary to fit everything in (especially when you add in flights and hot air balloon ride). The tour operators were wonderful and both guides we had were 10/10! Only negative was lack of communication re full itinerary.

October 2014
Very good value. I was a little disappointed with the hotel in Izmir, especially compared with the hotel in Cappadocia.
The flight from Cappadocia to Istanbul then back to Izmir seemed strange, but went without a hitch.

August 2014
I had a great time in this tour. Both my guides in Cappadocia, Burcu and in Ephesus Gulner were very knowledgeable and passionate. We stopped at several spots in Cappadocia. Starting with the Rose valley hike and Cavucin spectacular village, we followed by visiting the Ushistar castle, pigeon valley, lunch and then the amazing underground city. We also visited some fairy chimneys on the way. Dinner at Dilek Kaya hotel. Next morning we visited Avanos, the ceramic capital, the imagination valley ( the devrent valley), surreal fairy chimneys and Goreme open museum. Then I was transported to the airport for my flight to Izmir. Ephesus tour was amazing so was Mary's church and Selcuk. I was then transferred to the airport for my flight to Istanbul. I think it is a great value tour. There was a glitch in arrangement and Akeen ( he arranged the trip) called me at least 3 times to apologize. They really care. The 4 stars instead of the 5 is because of Cappadocia hotel. Although the view was great, I did not like the dining experience. It was not inviting and felt like a cafeteria. The staff looked tired and unhappy contrary to everything I experienced in Turkey where practically everyone was very welcoming and friendly. Otherwise, all the meals offered were really very good. I took the optional tour of hot air balloon. It is not to be missed. It is magical. One in a lifetime experience. Be warned though, they pick you up at 4:15 so you can watch sunrise in the balloon. They offer snack and you return early enough to have breakfast before they pick you up for the second day of the tour of Cappadocia. They were always very punctual. I calIed Burcu when the glitch happened and she was able to make the necessary phone calls. I highly recommend this tour. You won't be disappointed. Oh! And you visit a carpet, ceramic and jewelry centers so you can make all your necessary purchase there avoiding Istanbul inflated prices
May 2014
Punctuality is not their strong suit but in the end everything happens. The tour provider is very reputable in Turkey. The places are incredible, I highly recommend to add the hot air ballon ride to your time in Cappadocia, it is a once in a lifetime experience. I would suggest to request a detailed tour package in advance (including pick-up times, hotels, and airplane tickets/reservations) because two of the three days they gave us a wrong pick-up time and at the airport you don't even know your flight number. I was getting desperate sometimes but that's because I'm a control freak.
August 2014
Both Cappadocia and Ephesus are fabulous to visit. This whirlwind trip allowed us to see these two amazing sights! We added the hot air balloon ride and thought it was well worth it. The Cappadoica tour guide was excellent. He was very attentive and well informed. Our tour guide of Ephesus set a fast pace and could have given more information and attention to his group. I felt rushed in comparison to the previous tour. Several things were not as expected. Our itinerary was for a 6:30 pick-up at our Istanbul hotel. I called ahead for details and was told the pick-up would be at 5:00 am instead. At the that time, I was told the airline tickets would be e-mailed to the hotel. I am not sure what would have happened if I hadn't called. The promise of a "boutique hotel in a cave" in Cappadocia was false. We were in a very large hotel outside of town with no way to leave the hotel for a meal and dinner was not part of the package. The food served at the hotel was good, but the space seemed set up for 100's of people while only a few were there. On arrival in Izmir at 12:00 pm due to a delayed flight, there was no one to meet us at the airport. We were able to call and did eventually get picked up. In general ,Viator tours give little information about itinerary and do not support travel by being in touch with clients about pick-up and departure information. The time spent in two carpet and one ceramic center turned out to be entertaining, but not expected and took quite a lot of time.
January 2016
Negatives:
1 We were not given an itnerary - we were told to call to arrange the pick up on day one and that is the only thing we were ever told to do
2 Because we did not have an itinerary, we did not have any information about what we were going to do or see or where we would be staying or what time the next pick up was going to be - a nightmare for two people that are normally very organised.
3 We did not stay in a cave hotel at all. We stayed in a hotel with cave-textured walls. Our first room was infested with ants, so we were moved. It was VERY disappointing to be told we were staying in a cave and then not actually staying there.
4 We were originally told we could book the hot air balloon ride through our guide when we arrived to Cappadocia. This is 100 NOT TRUE. We spent a lot of time and money trying to make the arrangement after being told that it was completely sold out. This was important to us because it was in celebration of our recent engagement, so we were determined to get a spot. With the help of the guide we got lucky and found two spots, but it was very stressful.
PROS
1 Guides were terrific and really informative and helpful
2 transportation was on time and comfortable
3 hotels were decent with the exception of being extremely disappointed by NOT staying in a cave hotel
Turkey is amazing and I will always recommend to any traveller that it is a must, but I will absolutely not be recommending that anyone book a tour. It would have been cheaper and less stressful to do this ourselves.
Advertisement
Advertisement