Relish an all around perfect compilation of Turkish attractions during this 4-day guided ANZAC tour of Istanbul, Gallipoli and Troy. This tour includes three nights accommodation and all the wonderful experiences visiting Istanbul's historic monuments and the famous battlegrounds once fought at Gallipoli and Troy.
Highlights
Four-day tour of Istanbul, Gallipoli and Troy
Full-day Istanbul tour, including Topkapi and the Grand Bazaar
Gallipoli and the moving memorials to World War One
Famous ruins of Troy
Free time in Canakkale
Three nights accommodation in Istanbul and Canakkale
Choice of standard or deluxe accommodation
English-speaking guide
What You Can Expect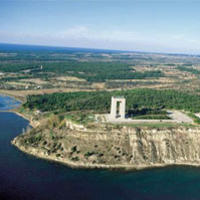 Your 4-day guided trip includes entrance fees to Istanbul's famous attractions Topkapi Palace and Hagia Sophia as well as visits to the Hippodrome, Blue Mosque, and Grand Bazaar. Your two nights accommodation in Istanbul are included with an option to upgrade to a deluxe room. If you wish, you can see a belly-dancing show which includes dinner as well.
On the morning of Day 3, you will journey to Anzac Cove, Lone Pine Cemetery, Gallipoli and other attractions renowned for their historical significance during World War I. After traversing over the Dardanelles, stop in Canakkale for your last night's accomodation (included).
You last day will be spent reliving the legendary Trojan horse story in Troy. You will have the opportunity to spend some free time after lunch in Canakkale before returning to Istanbul that evening.
Highlights on the tour include:
Topkapi Palace:
This famous Ottoman palace commands a stunning lookout from Seraglio point over the Bosphorus and Golden Horn. Once the throne for sultans, this palace is currently one the world's largest museums and is filled with an astounding assemblage of Chinese and Japanese porcelain as well as ornate antique jewelry.
Gallipoli:
Learn about the famous battles fought between Turks and ANZAC troops to a deadlock during World War I. Visit Lone Pine Australian Memorial, see Anzac Cove, and reminisce about the loss of life at the trenches and war memorials.
Troy:
This attraction has become popular on the tour as it shows a fantastic recreation of the Trojan Horse and other remnants discovered by the German archeologist Heinrich Schliemann. Plus, listen to the ancient stories of Helen of Troy.
Please note: On Tuesdays Topkapi Palace is closed and will be swapped with a visit to Istanbul Archaeology Museum. Grand Bazaar is closed on Sundays, so extra time will be allocated to other attractions. Hagia Sophia is closed on Mondays and will be swapped with a visit to Chora Museum.
Itinerary
Day 01: Istanbul
Your first day is free to beginning exploring Istanbul, Turkey's largest city. The city has long been known for it's strategic location at the entrance of Black Sea and for being the traditional crossroads between Europe and Asia. Depending on your arrival time, you may like to take an optional Bosphorus Cruise. Tonight you have the option of dinner with belly dancing entertainment.
Day 02: Istanbul (B, L)

Today you have a full day of sightseeing in Istanbul. You will visit Topkapi Palace and St Sophie, see the famous Blue Mosque and walk to the Hippodrome, to see the place of the former Horse Ground where chariot races and gladiator fights took place during the Roman Empire time. Today you will end your tour with a visit to the exciting Grand Bazaar with over 4400 shops!
Day 03: Gallipoli - Dardanelles - Cannakkale (L, D)

This morning you have an early departure for Gallipoli to see Anzac Cove, Lone Pine Cemetery and Conkbair with the famous first world war memorials. Cross the Dardanell, which is one of the two waterways between Europe and Asia (approximately 30 minute ferry ride) before arriving in Canakkale around 6:30pm where we will spend the evening.
Day 04: Troy - Istanbul (B)

The morning starts with a visit to Troy, the beautiful city of Helen and the Trojan Horse. Around 12:00pm (noon), return to the Canakkale city for a leisurely free afternoon to enjoy the daily panoramas of a small Turkish Town. For those interested in documentary films such as Gallipoli starring Mel Gibson or 4 Corners Documentary "Fatal Shore" a visit to Anzac House (no charge) may be your choice. At approximately 6:00pm you will depart for Istanbul, arriving back in Istanbul at approximately 11:00pm.
September 2012
a great trip, nice hotels, very knowledgeable and friendly guides and wonderful and moving locations.
March 2011
Great trip and great guided
Yvonne D Australia
July 2010
When booking the tour the information that came back included the sentence saying that we would be picked up at the airport and this did not happen so caused some confusion when we landed in Istanbul. The next morning we were supposed to be picked up at 10.30 a.m. and were not picked up until midday due to brake problems with the vehicle. While I accept that as we only had a short time in Istanbul we could have gone for a walk rather than sit for an hour and a half with the only information given was when the hotel rang the company. I felt the first day that us tourists were a bit of a trouble.

The bus drivers and the guides on the second and third day made up for the first day. They were all excellent and very informative and we thoroughly enjoyed the time and learnt a lot about your history. So after a very ordinary beginning it turned out to be a very good ending.
Advertisement
Advertisement