Discover impressive history and landscape of Turkey's north Aegean region and Cappadocia on this 6-day tour from Istanbul. Step back in time and learn how Greco-Roman history influenced Turkey in Hierapolis and Ephesus. Admire the stunning travertine rock plateaus creating one of Turkey's most famous natural wonders at Pamukkale. You will visit Cappadocia and see bizarre yet fascinating geology in Çavuşin, Göreme, Uçhisar and more. Enjoy the simplicity of this trip with three domestic flights included (Istanbul to Izmir, Kusadasi to Kayseri and Kayseri to Istanbul). Plus, five nights of lodging and airport rides are included, so your trip is worry-free.
This small-group tour is limited to 14 people allowing you more intimate experience with your guide.
Highlights
6-day Turkey tour from Istanbul to Kusadasi, Ephesus, Pamukkale and Cappadocia
Visit Ephesus and see the House of the Virgin Mary and Temple of Artemis
See Pamukkale's white travertine rock terraces on a tour of the UNESCO-listed archeological site
Fly from Kusadasi to Kayseri and visit top Cappadocia attractions like Göreme, Derinkuyu Underground City
Hotel/airport transfers, 3 flights (Istanbul to Izmir, Kusadasi to Kayseri and Kayseri to Istanbul) and 5 nights of accommodation included
Small-group tour with a maximum of 14 people ensures a more personalized experience
Recent Photos of This Tour
6-Day Small-Group Turkey Tour from Istanbul: Pamukkale, Cappadocia, Ephesus and Hierapolis
What You Can Expect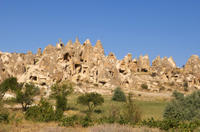 Your 6-day tour of Turkey begins with a pick-up from your Istanbul hotel and a comfortable transfer to Istanbul's Ataturk international airport. If you are arriving by plane to Ataturk Airport, simply meet your guide directly at the airport.
During your tour enjoy three complimentary domestic flights and five evenings at 4- or 5-star hotel lodgings. Spend a pair of nights in Kusadasi, one evening in Pamukkale, and your last two nights in Cappadocia. All hotels are located within the city center, so you can easily access extra venues and establishments on your own.
Itinerary
Day 1: Istanbul – Ephesus (L, D)
On arrival at Ataturk Airport, board your plane and fly to Izmir at 7.30am. From here, the journey to the ancient city of Ephesus is only 1.5 hours, and you'll follow a picturesque route along Aegean coastal roads.
Stop for lunch in a traditional Turkish restaurant and then arrive in Ephesus to discover what life was like for the Turks in Greco-Roman times. On a guided tour around the beautifully preserved Classical ruins, see one of the Seven Wonders of the Ancient World – the Temple of Artemis -- as well as the House of the Virgin Mary, where Mary is said to have spent her final days. See traditional handicrafts being made in town and than head to the nearby town of Kusadasi and check in to your hotel in time for dinner.
Overnight: 4-star Ilayda Avantgarde Hotel or similar in Kusadasi
Day 2: Kusadasi – Pamukkale and Hierapolis (B, L, D)
After breakfast, check out of your hotel and visit a famous leather factory in Kusadasi called Emelda Leather. Turkey is one of the world's leading producers and exporters of leather goods, and Emelda showcases some of Kusadasi's finest leatherwork. Browse the locally handcrafted goods with your guide, and shop for quality souvenirs.
Enjoy lunch in town and then head to the archeological site of Pamukkale by minibus to see its captivating white travertine rock terraces that cascade down from the ancient city of Hierapolis. While walking around this UNESCO World Heritage Site with your guide, learn about the rock's geology, and then visit the ancient city of Hierapolis for a dip in its naturally formed bathing pools (own expense). Walk around its majestic ruins, admiring its necropolis (Roman burial site) and vast Roman theater before checking in to your Pamukkale hotel. Enjoy dinner here and then spend the remainder of your evening at leisure.
Overnight: 4-star Ilayda Avantgarde Hotel or similar in Kusadasi
Day 3: Kusadasi – Cappadocia (B)
Enjoy breakfast and then leave your hotel by minibus for a transfer to Kusadasi Airport. From here, fly to Kayseri Airport in Cappadocia – Turkey's stunning central Anatolian region known for its intriguing volcano-created landscape. After a 1.5-hour flight (including an onboard meal) your guide will drive you to your cave hotel. Spend the evening at leisure in beautiful Cappadocia.
Overnight: 4-star MDC Cave Hotel in Cappadocia
or a similar standard cave hotel
Day 4: Northern Cappadocia (B, L)
After breakfast, depart by minibus for a full-day tour exploring the north of the region. Stop for a walk around the pretty village of Göreme Esentepe and marvel at its colorful fairy chimneys and lava-formed landscape. The cliff-top village of Uçhisar is nearby, so head here next for a visit to Uçhisar Castle. Enjoy panoramic views from the Byzantine castle's windows before walking through spectacular Red Valley to the village of Çavuşin for lunch.
In the afternoon, hop on board your minibus for a drive to see the Pasabag Fairy Chimneys in Monks Valley – widely considered as the best examples of Cappadocia's mushroom-shaped rocks. See double- and even triple-headed chimney formations, and then continue your tour through Devrent Valley. Last stop of the day is in Ürgüp for a tour of Turasan Winery, where you'll sample fine Anatolian wines with your guide. Return to your Cappadocia hotel and spend your evening at leisure.
Overnight: 4-star MDC Cave Hotel in Cappadocia
or a similar standard cave hotel
Day 5: Southern Cappadocia (B, L)
Relax over breakfast and then your guide will collect you for your tour of southern Cappadocia. After a short journey by minibus, arrive in Pigeon Valley to see thousands of sandstone bird houses, carved from the cliffs. Hear about the farmers who for centuries used droppings from the pigeons nesting here to fertilize their crops.
Head back to your minibus and make your way to the quaint villages of Selimiye and Yaprakhisar. Several scenes from the Star Wars movies were filmed in Yaprakhisar, and the views from this picturesque cave village are unforgettable. After lunch here, continue your tour to Kaymakli Underground City to see where Turkey's prehistoric Troglodytes once worked, slept and worshipped.
Overnight: 4-star MDC Cave Hotel in Cappadocia
or a similar standard cave hotel
Day 6: Cappadocia – Istanbul Airport (B)
Enjoy breakfast, and then transfer to Kayseri airport for your return flight to Istanbul, arriving back approximately 1pm
Please note: Tours taken in 2016, no Dinner will be available on day 1 and 2 (own expense)
November 2015
This was my first trip to Turkey and having spent a week in Istanbul I was keen to try more and took the 6 day small group tour which was very successful and highly recommended. Organisation, including pickups, transfers, guides, and hotel selection worked very well. It was a really good way to get a snapshot of the highlights. Ephesus was a great start with well preserved Roman ruins, and Pamukkale was spectacular with it's salt cliffs, travertine pools and the sheer scale of the site which would have been enormous originally. Cappadocia was must-see and am glad we spent several days there - definitely worth it. The hike was different than advertised Love Valley just me and the guide, very easy and peaceful. The rock formations, the Open Museum in Goreme is an incredible experience as was The Underground City, and my guide was able to get me into the hot air ballooning at short notice and was a complete knockout, well worth the high price. If time is limited, you want to see the highlights well without a rush and very comfortably, you won't regret it.
January 2015
Tour was good. Not much of a rush and we got to see many places within a short time which was very efficient. Idyla Hotel in Kusadisi was excellent and the miracle cave hotel in cappadocia was very good too...ask for room 3! 6 days was just right.

KURIAKOSE M J Qatar
October 2014

July 2014
A great trip experience, well organized, from pickups to guides to selection of hotels. It was the best way to see so much in a short period of time, and we had a blast. Ephesus was a great introduction to Roman time, and Pamukkale impressive by its travertine turquoise pools but also by the size of the site - try picturing it when all buildings were up, it must have been gigantic! Cappadocia was must-see and am glad we spent several days there - definitely worth it. The hike around Red / Pink Valleys was a nice surprise and is very easy. You have a couple of up and down, but nothing hard, and we took our time to get there. My father-in-law was very glad he did it. The most surprising though were all these churches carved in the rock formation, and we were amazed by the beautiful and vivid painting we saw - some very basic, and some as beautiful as some you would see in middle age painting in Europe. The Open Museum in Goreme hosts some of the most amazing ones - don't miss the Dark Church! A top notch tour, totally recommended to get a great view of Turkey!
Anonymous
July 2014
First personal experience in Turkey, discovering Ephesus and scenic Cappadocia. Hotels were excellent and the 2 guides, one in Kusadasi and one around Cappadocia had a good level of English and local knowledge. This was a great way to see major attractions in Turkey in a short time.
December 2013
We were picked up at our hotel in Istanbul. We were given our flight information and picked up at the airport at our destination. The guides for each excursion were friendly, professional and knowledgeable. I enjoyed not having to plan each excursion and having to arrange transportation. The guides gave us some history on the cities we drove through and shared a lot of information at each destination. I enjoy these guided tours, and I highly recommend this one to anyone who wants to enjoy the scenery and destinations without having to plan everything .
December 2013
Our hotel in Cappadocia, MDC, was absolutely fantastic! It is unique, clean and the staff are amazing! Overall a very good tour with very knowledgeable and friendly staff.

October 2013
The tour guides were fabulous, professional and knowledgeable. Very service oriented. Logistics in Turkey were very well done. The cave hotel in Cappadocia (MDC) was a highlight of the trip. The manager, Mustapha, was super accommodating, from opening the restaurant early for our departure to arranging a balloon ride, everything was taken care of in a prompt, efficient, and kind manner. The food at MDC was excellent and staff were top notch. 5 star service!
The only downsides are:
1) The 4-star Grand Onder Hotel in Kusadasi was not up to 4 star standards. Buffet was not good, rooms worn down, maintenance sketchy, and swimming pool questionable. There were lots of much nicer places in town.
2) We wanted a balloon tour of Cappadocia. This was not included and we need to arrange this on our own.
3) Viatour was supposed to get us back to Istanbul. They couldn't find a connection to get us to the airport in time for our next flight. We needed to book this on our own and found a corresponding flight quite easily on the web. Not the full service one would expect for a tour of this price point.
October 2015
Overall, the tour went well. Armand our guide at ephesus was pleasant, knew a lot, and spoke good english. The guide on our pamukkale leg had a heavy accent so it was a bit hard to understand her. We had quite a bad experience with regard to our pickup at the airport for our cappadocia leg.
May 2015
We took this tour in May 2015 and were overall very pleased with the experience. The hotels were nice and airport pick up and drop off was efficient and on time. We really loved Pamukkale and Cappadocia. Our hotel Sunak boutique hotel in Urgup Cappadocia was lovely while the hotel in Kusadasi was very conveniently located. The tours were informative and guides were polite. We will recommend this trip to everyone.
Advertisement
Advertisement