Istanbul is one of the world's greatest cities, and this hop-on hop-off Istanbul tour offers a truly flexible way to explore it. Choose a 24- or 48-hour pass, board your open-top, double-decker Istanbul hop-on hop-off bus at any stop along the two routes, and enjoy the views as you listen to the audio commentary. Then, create your own sightseeing itinerary as you hop on and off at any of the stops to visit highlights such as the spectacular Topkapi Palace, the UNESCO-protected Hagia Sophia, the Egyptian Bazaar and many more!
Highlights
Hop-on hop-off sightseeing tour of Istanbul
Create your own personalized sightseeing itinerary and explore Istanbul at leisure
See Dolmabahçe Palace, Sultanahmet Square, Galata Bridge and Taksim Square

Hop on and off as often as you like on a choice of two routes around the city
Enjoy informative and entertaining commentary on board the bus
Choose from a 24- or 48-hour hop-on hop-off tour ticket
Recent Photos of This Tour
Big Bus Istanbul Hop-On Hop-Off Tour
What You Can Expect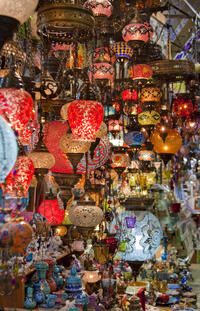 Simply hop aboard the open-top, double-decker Big Bus sightseeing bus and set out to witness the landmark sights of Istanbul, one of the world's most intriguing cities.
Straddling Europe and Asia, Istanbul is brim with UNESCO-listed treasures and historical sites that testify to its days under Roman, Byzantine and Ottoman rule. Add in colorful bazaars, village-like neighborhoods, the waterfronts along the Bosphorus Straits, and much, much more, and there's a plethora of must-sees and attractions for visitors to enjoy and explore.

Sit back, relax and enjoy the views as you travel the two routes around the city and learn the stories behind the sights from the onboard audio commentary.
When you're ready, hop off at any of the stops to sightsee at your leisure. Perhaps step off to visit the spectacular Hagia Sophia — the ancient UNESCO-listed showstopper that served as an Ottoman mosque and a Christian basilica — or the ornate Topkapi Palace, the residence of the Ottoman sultans for more than 400 years.
Or maybe leave the bus to rove around the aromatic stalls of the Egyptian Bazaar (Spice Bazaar), visit the opulent Dolmabahçe Palace, or to soak up the buzz of Taksim Square. These are just a handful of the many things you can see and do during your hop-on hop-off Big Bus tour.

When you book, simply choose a 24- or 48-hour bus ticket for use on the two routes.
Red Route (2-hour full-loop duration with 11 stops):

Sultanahmet Square
Galata Bridge
Tophane
Port
Dolmabahçe Palace
Naval Museum
Beylerbeyi Palace
W Hotel
Taksim Square

Hard Rock Cafe
Egyptian Spice Bazaar
Blue Route (1.25-hour full-loop duration with 8 stops):

Sultanahmet Square
Galata Bridge
Patriarchate
Cable Car
Dolphinarium
Minia Turk
Rahmi Koc Museum
Egyptian Spice Bazaar
Click on the 'View Additional Info' button below to see the route maps.
anjum United States of ...
May 2016
Fantastic, outstanding and a great value for the money. ARUK AND HAITHAM were very very helpful in directing us how to best use the tour !!! would highly recommend this everyone - especially senior citizens, saves you from too much walking !!!
May 2016
Surprisingly good! Staff was on hand two blocks from stop to direct us to the bus. Boarding staff at all stops pleasant and helpful. Enjoyed the ride very much. Only beware is Istanbul has a lot of traffic, so we were extra glad we chose this option.
April 2016
The bus tour was great! The only downside was that the stop closest to us was closed for the day, due to the President coming to town...so we had to walk quite a way to the next stop.
January 2016
Excellent...You get to see Istanbul and all the main attractions.The information on the headphones is very clear and informative and will definitely use this tour again.I did not get to take much pictures as I went on a day that was really cold and my hands were frozen 0and did not get to use my full 48 hours as I was sick with flu the following day, but enjoyed the tour immensely and was the highlight of my trip...100 recommend this tour.Bus is easy to locate and the connecting bus was waiting for us, the staff were helpful and friendly...VERY GOOD/çok güzel 0
January 2016
Great way to see and get around Istanbul. Goes to almost all of the major tourist destinations.
November 2015
It was absolutely worth taking the hop-on hop off bus tour. I only went for 12 hours, and this tour was brilliant. It took us to all the main tourist sites. It is easy to find at Sultan Ahmet and buses run very regularly. Well recommended, and best way to explore the entire city. I would travel again in the Big Bus if i visit Istanbul again.
November 2015
This is a nice tour when you want to see the prime spots of Istanbul and you are only staying for a short period of time. It covers everything in 2 days.
November 2015
Excellent sightseeing tour. I recommend to all.
November 2015
We had a great experience picking up the Bus close to the Blue Mosque and the Tour included crossing the Bridge into Asia I highly recommend both tours that are available
November 2015
My trip to Istanbul was great. The hop on hop off bus is the perfect way to see the city.
Advertisement
Advertisement