Special Offer
Book by May 31, 2016 to save 10% off for all of 2016 on our previously offered price!

Journey to Cappadocia for a comprehensive one day small group tour of Rose Valley, Ortahisar, Kaymakli Underground City and Pigeon Valley. With plenty of attention from your local guide discover this otherworldly UNESCO World Heritage region famous for its mushroom topped pinnacles, subsurface cities and cave carved 'fairy chimneys.' During this tour, stroll the verdant Rose Valley, visit the deserted village of Çavuşin, marvel at Ortahisar Castle, explore Kaymakli Underground City and admire stunning volcanic monoliths at Pigeon Valley.
This small-group tour is limited to 20 people so you can enjoy extra attention from your guide.
Highlights
Full-day tour of southern Cappadocia from Istanbul with round-trip flights
Discover this spectacular UNESCO-listed region of rock formations and cave villages
Explore Kaymakli Underground City, with its subterranean passages and chambers
See Ortahisar Castle, a carved rock fortress towering above Ortahisar village
Walk in Rose Valley, a pink-colored valley of fairy chimneys and cave churches
Visit Çavuşin rock village and Pigeon Valley
Enjoy a personalized experience on a small-group tour limited to 20 people
Recent Photos of This Tour
Cappadocia In One Day Small-Group Tour from Istanbul: Rose Valley, Ortahisar, Kaymakli Underground City and Pigeon Valley
What You Can Expect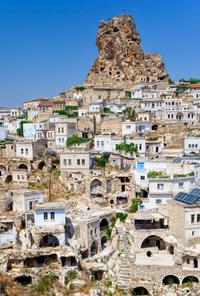 In the morning, meet your chauffeur at your Istanbul hotel for a transfer to Istanbul Airport and begin your day adventure to Cappadocia. After short flight, land at Kayseri International Airport and meet your air-conditioned minivan for a 1.5-hour ride to beautiful Rose Valley.
Arrive and begin a relaxing walking tour with your local guide. Learn about the rose-colored rocks whose tone changes during the day is the reason for Rose Valley's etymology. Then, marvel at the valley's weathered volcanic monoliths, craggy pinnacles, fairy chimneys and dense orchards and vineyards. Continue to Rose Valley's cave churches and hear how their were used by monks before the end of the first millennium.
Onward to a historical deserted rock village filled with ancient houses and churches, known as Old Çavuşin. Here, capture stunning shots of creepy houses and admire the imposing Basilica of St John the Baptist which rests on a clifftop overlooking Çavuşin.
Take a break for lunch at a traditional restaurant (see the sample menu below in the Itinerary) and then head to the old town of Ortahisar to gaze up at the commanding presence of Ortahisar Castle, a Byzantine-era fortification. Stand in awe as you view this 295-foot monolith chiseled into the image of a giant honeycomb. Climb up its narrow passage and pass carved rooms and etched out chambers. At the top, glimpse over the city for remarkable views.
Next, voyage to Kaymakli Underground City and delve into the winding network of subsurface tunnels, living quarters, stables, kitchens and cellars. Hear how this well preserved city was once home to Christians who sought refuge from persecution.
Finally, spend time looking at astounding cave homes at Pigeon Valley. Learn about locals who bred pigeons in their homes to collect poop for fertilizer! As the day comes to a close, journey back to Kayseri Airport to catch your flight to Istanbul. Then, enjoy a transfer back to your hotel where your tour ends.
Please note: Ortahisar Castle may be undertaking renovation, if it is entrance will not be permitted.
Itinerary
Sample Menu:
First course:
Turkish

meze

(small appetizers)

of breads, aubergine, artichokes, stuffed vine leaves, meatballs and yoghurt with cucumber and garlic



Main course:
Chicken, lamb or beef kebabs



Dessert:

Baklava (filo pastry layers filled with nuts and sweetened with honey or syrup) and coffee
March 2016
Pictures can't describe the visual experience of seeing Cappadocia. My guide was great in showing the area and explaining the history of Turkey. It's a long day from 4:30AM to 9:30 PM , but is worth it on any vacation to Turkey.
December 2015
Cappadocia was on my list of places to visit in Turkey, and I'm certainly glad I took the time to visit! Although the tour started off on a rough note with a mix up with the pick-up time 2 hours earlier than noted, thus causing me to run out the door in my pajamas, I was brought from my Istanbul hotel to the airport where I was able to quickly put myself together and board a flight to Cappadocia. The rest of the trip went very well and without a hitch! The guide in Cappadocia had superb English and went out of her way to provide any additional service or piece of information needed for our small group of 3. We visited all the sites listed in addition to two others which my guide wanted to share with me because I had missed the previous days activities which the other two in our group had participated in during their arrival a few days earlier. I highly recommend this tour, as it is not to be missed for those traveling through Turkey. Simply outstanding!
francov Panama
November 2015
Very helpful staff... all from the management to the choffeurs, tour guides... no complaints whatsoever. Would recommend it very strongly... even the lunch was nice.
October 2015
Fantastic!! Unique landforms we will probably never see again. Fairy chimneys, cave houses, underground city of Kaymakli.
The only de traction was the hard sell at the carpet making factory. We wasted 11/2 hours here and nobody wanted to buy a rug or carpet.
No problems with the flight, great guide. Long day but highly recommended.
September 2015
An excellent trip our guide Fatima was great, very knowledgable and friendly. A very long and tiring day 20hours a 4 AM start. Perhaps some of the walks could be shortened.thoroughly recommend it
Korri J USA
August 2015
This is the number one tour you absolutely have to see. It is a little costly because of the plane ticket but was the best tour we took in Istanbul. The lunch was good and in a nice hotel. The tour guide was very knowledgeable. Also we got lost one time which was our fault and they looked/waited for our return before taking off.
August 2015
Try to get tour guide Fatima who is not only a wealth of knowledge but makes sure everyone is well cared for!
June 2015
May 2015
excellent. great tour and guide.
May 2015
Excellent guide, Benjamen sorry for Americanized spelling, Mr. Benjamen. He was knowledgeable, friendly, and had an excellent sense of timing. Thus he kept us out of the crowds and gave us lots of valuable time to explore. This is a fascinating part of the world, one we look forward to seeing in more detail in the future, thanks to the services of our excellent guide. Also, there were some little issues with transfers for our co-travelers, but they were taken care of very capably by the young man who took us to the airport. Altogether a most exciting and excellent experience.
Special Offer
$345.00 Save $34.50
Advertisement
Advertisement