Delve into Ottoman luxury on this 3-hour guided Dolmabahçe Palace tour in Istanbul, plus head over the Bosphorus Bridge to see the Asian side of the city. Prepare yourself for pure extravagance as you visit the home of former sultans and nobility. See its elegant rooms such as the Crystal Staircase and Medhal Hall. Then, climb to Yeditepe or Çamlıca Hill and snap postcard-worthy photos from one of the best view points of the city.
Highlights
Half-day Dolmabahçe Palace walking tour in Istanbul
Admire the palace's Ottoman and European architecture before stepping inside
Explore Dolmabahçe Palace's public rooms including the Crystal Staircase and the Medhal Hall
Learn about Mustafa Atatürk, the first president of the Republic of Turkey, who lived and died in the palace
Cross Bosphorus Bridge by luxury coach and enjoy panoramic city views from Çamlıca Hill or Yeditepe
Recent Photos of This Tour
Dolmabahce Palace Tour in Istanbul
What You Can Expect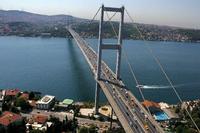 Meet your guide at your centrally located Istanbul hotel, then hop aboard your air-conditioned coach and cruise to Dolmabahçe Palace. During your drive, learn how this palace was one of the final palaces constructed by the Ottoman Empire. Arrive and admire this ornate blend of European and Ottoman architecture that rests along the banks overlooking the Bosphorus Strait.
Step into the palace and discover eye-popping rooms that once hosted sultans and their royal guests. Alongside your guide, stroll into pristine marble rooms and gaze up at twinkling crystal chandeliers.
As you wander down the Medhal Hall, gain insight about Mustafa Atatürk, the first president of the Republic of Turkey. Hear how all the clocks in the palace were set at 9:05am, the approximate time the exalted Atatürk passed away. Then, see the Crystal Staircase and imagine the aristocrats that once sauntered along its red carpets.
Following the palace tour, pop back into your coach and voyage across the iconic Bosphorus Bridge that connects Europe to Asia. Then, depending on traffic on the day of your tour, cruise up to either Yeditepe or Çamlıca Hill. At either location, enjoy marvelous views of the cityscape and gather friends and family to snap photos. Finally, cruise back to your hotel, on the European side, where your tour ends.
Special note: On Mondays and Thursdays Dolmabahçe Palace is closed and will be swapped with Eyüp, Miniatürk and Pierre Loti Coffee House.
June 2016
Thanks to our amazing tour guide the whole trip was excellent, he held our attention and kept a good flow of interest, information and good spirits throughout the trip.
February 2016
This was very interesting. The guide gave us a real look into the past and the wealth and power of the sultans.
August 2015
Although it is expensive, it is excellent. I recommend this trip around the city. You can visit place as Galata Tower and Taksim Square.
November 2014
Well worth a visit. Still mostly furnished so able to see how the last sultans actually lived [ Topkapi Palace older and also very interesting but more of a museum]. Also lovely setting on the Bosphorous. Very good guide and hotel transfers went smoothly. Not enough time to see much of the harem unfortunately but otherwise excellent tour.
October 2014
More than excellent. Had a grt time!! Recommended!
May 2014
June 2013
The tourist guide is full of knowledge,he explain everything and we understand each of it.
May 2013
This tour was perfect. We all enjoyed it very much.
May 2013
Our guide, Osman, was full of energy and knowledge of the palace. Entertained us with stories of the past. A must visit place in Istanbul.
February 2016
This tour was wonderful the guide was entertaining and knowledgeable. Would highly recommend this tour. The Palace is incredible and the view spectacular!
Advertisement
Advertisement